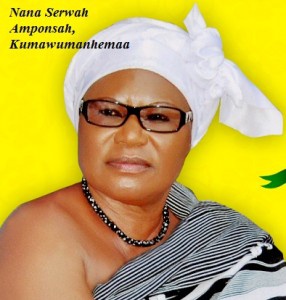 Same as Julius was forewarned to be beware the ides (15th) of March, so do I admonish Ghanaian politicians and law court judges to beware of the tactical inducements by Kumawuhemaa Nana Abenaa Serwaah Amponsah. The ides of March was seen by Spurinna, the seer, to be portentous for Julius Caesar hence warning him to be very careful. The seer wanted Caesar to take all the necessary precautions to avoid the assassination that was ominously looming upon him but which he, Caesar, could not see for his lack of spiritual foresight.
Failing to heed the soothsayer's admonition, but additionally making a mockery of him saying, "The Ides of March are come", implying that the prophecy had not been fulfilled, to which the seer replied "Aye, Caesar; but not gone.", Caesar indeed met his fatal end on the ides of March. Was Caesar not stabbed to death by sixty conspirators led by Brutus and Cassius at a meeting of the Senate?

I have cited this reference to Caesar to emphasize my point to our politicians and judges who are constantly being contacted by Kumawuhemaa and her conspirators with intent to influencing them to twist justice in her favour, with regards to the ongoing Kumawu chieftaincy dispute although the abundant evidence and facts already in the public domain prove her guilty. I am not being prejudicial but that is the fact!

Any politician or judge who allows him or herself to be influenced by promises of money or gifts of any sort to them by Kumawuhemaa to do anything flagrantly untoward, will eventually have themselves not only to blame but also, suffer concomitant repercussions.

Right from the bribery, extortion and corruption events that unfolded in Manhyia Palace on 24th February 2014 during the camouflaged final adjudication of the Kumawu chieftaincy dispute presided over by Asantehene Otumfuo Osei Tutu II and his Asanteman Council, through to the fraudulent gazetting of Dr Yaw Sarfo as Kumawuhene, the evidence and facts are so overwhelming to not being able to be twisted by any politician or judge without publicly being noticed and adjudged as corrupt.

Yes, she has been courting the favours and sympathies of some politicians by lying about some people to them. She is the person causing problems in Kumawuman and nobody else. She is causing the problems by colluding with equally irresponsible traditional leaders who are bent on short-changing Kumawuman by dubiously availing themselves of the wealth of the area to the detriment of the inhabitants.
Has she not been using the police to terrorise the people? If she were innocent in all that she does, why does she always have to rush to arrange the police to suppress the genuine concerns of the subjects of Kumawuman?

No matter what she does, the truth will out and Barima Tweneboa Kodua V, a royal from the matrilineal descent of Barima Tweneboa Kodua I, the originator of the Kumawu Kodua Stool, shall prevail.

The politicians and the judges may allow themselves to be persuaded by Kumawuhemaa to side with her falsehoods, manipulations and evil machinations but in the end, the wish of God in favour of Barima Tweneboa Kodua V and the law-abiding citizens of Kumawuman shall stand tall like the statues of liberty in France and America.

She has been able to convince some politicians to turn against some people, claiming they are sponsoring others to cause commotion in Kumawuman. It is rather Kumawuhemaa and her evil-mindedness, collusion with selfish and greedy chiefs that are causing problems in Kumawuman but not any rich persons.

For what happened at Manhyia Palace which is a breach of the Ghana Criminal Code 1960 (Act 29) and Akan chieftaincy conventions, interested public readers could review this YouTube video link (https://www.youtube.com/watch?v=Ac8wZIPlVu8).
To conclude, I shall advise the politicians she has already approached for assistance to ensure her evilness prevails to be very careful as they will not be spared the wrath of God and exposure by Rockson Adofo, the self-styled defender of the poor and the needy in Kumawuman, if not in Ghana.

Under the government and the watch of His Excellency President Nana Addo Dankwa Akufo-Addo, the rule of law, justice and peace shall prevail with corruption becoming curtailed, if not becoming the thing of the past.

I hope Hon. Albert Kan Dapaa and Hon. Osafo Marfo will be very cautious next time they are approached by Kumawuhemaa.

A word to the wise is enough!