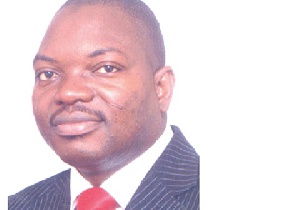 Ei, Hon. Francis Ashenso Boakye, Dep Chief of Staff, Massa, so you celebrated your birthday last Sunday and you did not even say I should come and eat fufu with goat light soup er? Next time, me too my birthday will come oo, yooo. If I don't invite you, no vex o, yoo. May God keep you and continue to grant you abundant grace, favour and good health, Bro. Amen! Fine gentleman from Bantma 'Consiquency'. Massa, I was at the place the last time and saw an obituary near your family house o. It read: 'Grolious Exit'! What do you mean, in fact do they mean? Come and beat me, I dey Weija! E no be joke na in I dey joke? Hahaaaaa!
I have lost contact with a friend I am seriously looking for. His name is Kwami Karikari. Ehern….please o, what is the correct pronunciation of this name 'Karikari'? Is it 'Kakari'? Why so? The thing is clearly 'Karikari' and you are saying 'Kakari'. Abeg, you better make it Kakalika o, yoo! Kwamey, you dey? Your wife Filipa Baefi sef, I no dey hear more of in songs of late o. Make she release one more o make we take dance for church er. Look at these other names and their pronunciations: Edinburgh (Edinbra – why?) At least make it Edinbog er? None confuses me more than 'Leicester'! Anyway, soon I will change the pronunciation of my surname from 'Zogbenu' to 'Zoo'. dasorr!

Jato eeeyi, I have an idea for you o. If you own a fuel filling station and it is located in a water log area and the place gets flooded when it rains, sell it. But please wait. Don't sell it now. Wait till the dry season and then you sell it to somebody who doesn't live in the area. That is the only way you can get value for it, no be so?

Margaret of GTBBank, Airport branch, what was that I saw ballooning in front of you last week Wednesday? Maggie has done the thing o. Clap for your husband…kpaa kpa kpakpa kpa kpaaaaaa! His 'move to the right in the name of Jesus and move to the left in the name of the Lord' has paid off; that's good! Tell him I say he still has a responsibility to be 'pounding' but he should be careful otherwise he would be there and the pikiin would hold his 'this thing' and scream, 'Daddy slow down, you are hurting my eyes'! Greetings to your husband oo, Mr Margaret! Abi you refused to tell me your surname so I choose to call him Mr Margaret, yes o, Mr and Mrs Margaret! But please, stop spitting into that small bottle while on duty wai…!

Now sing along: 'Gbele mormli…slow down…mi sisi y3mi yaa eeei gbele mormli slow down…mi sisi y3 mi eeeei…..Hahahahaha! I just love this ebony's song rof. Shatta Walley makes it even nicer and more danceable! That was what I thought were the lyrics till I saw the real lyrics: 'cool it for me…slow down…mi sisi y3mi yaa….eeeei. cool it for me…slow down…mi sisi y3mi yaa….eeeei. hahahahaha! You see, when the mind is 'rotten and virus infested' with 'garbage', anything that enters it conforms! In any case the context is the same – enjoyment!' What is it? You don't want to cough again? Who cares? Be there!

Oh'Gbele mormli…slow down…mi sisi y3mi yaa eeei gbele mormli slow down…mi sisi y3 mi eeeei…..Hahahahaha!
I suspect there is some chemical in women that makes them sharper and more intelligent with very good memories when they are pregnant o. I have met a lot of women who were heavily pregnant, wrote various academic and professional exams in that state and passed better than their male counterparts. Sometimes, we the men and unpregnant women tend to 'sympathise' with them and wonder how they would pass but before you know it, they score the 'A's'.

The only woman who was so heavily pregnant and still failed her BECE was my classmate, Awo Mitokan! This girl was born to be failing; in fact failing was her hobby too! The chemicals that make pregnant women more intelligent during exams could not locate Mitokan. No matter what, Awo would fail! She is just like me, give me three days to write a Maths exam with an open textbook in front of me, I will still fail! Seriously, somebody has to research this – the reason all pregnant women write exams in that state and still pass very well. They should leave Awo Mitokan out o bcos the research will not work on her or the results may not be a true reflection of what it is. What a poor girl! We were all financially poor but Awo's own poverty was 4G! One could hear her sing 'jan kala yu…ayam here' when it was actually 'jack where are you…I am here!'. Ao! Poverty? Never again oooooo!

'jan kala yu…ayam here''jan kala yu…ayam here''jan kala yu…ayam here''jan kala yu…ayam here''jan kala yu…ayam here'…hahaaaaaa! Another fridayyyyyy and we give thanks to the Almighty for giving us another opportunity to laugh our stress out following yesterday's holiday though I am aware this week practically ended on Wednesday!

Ei Kofi, when you are performing your 'useless conjugal' duties with one of your 'these things' while 'high' on it and her asthma comes and the inhaler is not around what will you do? I don't need your opinion for anything' keep it! The same way I sometimes wonder how my friend Allotey's face will look like if he is having his 'organisation' in the act with his basabasa face! Ajeeeeeiiii! Allotey will seize my car key tomorrow p3333 when we meet at 'the base', I swear! Takashi Allotey, happy weekend and see you tomorrow at the base. I will get there before you with Ablavi at 6.45, when it's getting a bit dark. You are not likely to see my car bcos the guest house boys will cover it with a tarpaulin! Haahahahahaaaaaai!

My friend, please don't tell anybody this o that no matter how clean 'that part of your body' may be, there is a permanent stench that is always omnipresent! Be humble wai and don't think you are too clean. If in doubt, you can try with your fingers now and you would understand the fact that there is never a 'perfect situation'! You can even use omo but still…ony3333! Hahaaaa!
Last week's holiday saw me drinking beer especially as the week practically ended on Wednesday. What exactly are you doing in the office today? Yes, you, you, you! I am sure you are reading this 'useless' lies in spite of the warning not to read. You are waiting for your salary er? Is it big enough to take care of all your financial obligations? If not, go home and start selling sugar cane with effect from tomorrow. Come on, go er! You won't go? Ok. Be there; poverty go kill you!

Happy weekend to all my military friends including the macho and intelligent soldier, Sgt Foster Morttey of the Ghana Armed Forces Pay Office. Massa, I say I go beat you o, yoo! I will slide you to the ground while you are in your green green uniform and soldier boots, put sand into your mouth and then I receive your slaps and blows! So you think I want to take such a risk er? Hahaaaaaa!

Ahua!