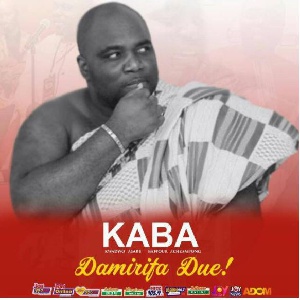 Once again, a prominent and popular Ghanaian has died too soon and too young. This time, it is KABA.
And we have gone into familiar mode:

1: Emotional and anguished tributes

2: A funeral for the ages

3: Consolation of the bereaved

Then, we will move on, satisfied that while we neglect ourselves and loved ones in life, we do right by them in death.

Let this death and this crisis not go to waste.
As individuals, let's care for ourselves better.

He was a prominent member of the media.

Let his colleagues celebrate him by reporting unflinchingly on the Central Medical stores, our sham emergency medical services, the politics as usual management of our healthcare etc.

While we wish that he rest in peace, let this remind us that death is non-partisan and encourage all of us to fight for a better healthcare system. While death is inevitable, let us work to lengthen lives.

It can be done. We can do it. May God console and strengthen all of us, starting with his family.