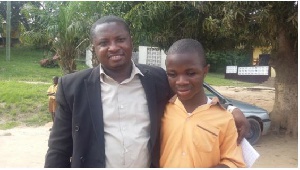 Dear President Akufo-Addo,
CONCERNS OF CAPE COAST SCHOOL FOR THE DEAF AND BLIND AS RAISED BY THE HEAD OF DEPARTMENT FOR THE BLIND, MR. ABUGRI WILSON ON WEDNESDAY, 18TH OCTOBER, 2017

I am Raymond Ablorh, an active young citizen of Ghana from the Ga West Municipal of the Greater Accra Region.

Your Excellency, I deem it expedient and highly imperative to bring to your attention very serious concerns the Head of Department for the Blind at Cape Coast School for the Deaf and Blind, Mr. Abugri Wilson shared with me when I visited the school on Wednesday, 18th October, 2017.

Your Excellency, I was pleased when you called on Ghanaians to be citizens and not spectators; I was encouraged to do more than I ever did. In the past, I would not have brought this to your notice. But, the main reason I want you to know about this is that it would let you understand and appreciate with insight the situation on the ground. That, certainly, will enable you direct your Education Ministers to areas that need serious attention.
I know you are working very hard to transform our country. As you often say, nobody should be left behind.

Mr. President, we need to break all hurdles that are preventing young persons with disabilities from realizing their dreams; and tap into their innate fountains of potentialities. We need to break away from the occasional attention we give them on World Sight Day and White Cane Day after which they are seemingly abandoned as a young pupil of Akropong School for the Blind said about a week ago.

I have a lot of observations to share with you concerning the state of young persons with disabilities in this country, Mr. President, but, what Mr. Abugri shared with me broke my heart and I feel you need to know it. Had I power to address them, I would have done that immediately.

Your Excellency, please, find below the:
CONCERNS OF CAPE COAST SCHOOL FOR THE DEAF AND BLIND AS RAISED BY THE HEAD OF DEPARTMENT FOR THE BLIND, MR. ABUGRI WILSON ON WEDNESDAY, 18TH OCTOBER, 2017

1. Rehabilitated Visually Impaired Girl and SHS Placement

A girl by name Veronica Amuzu was a General Science student at New Edubiase Senior High School. Veronica was in Form Two (2) when she was diagnosed with Johnsons Disease which made her blind. And, she was admitted at Cape Coast School for the Blind and Deaf for educational rehabilitation. After the rehabilitation she wants to change her Course from General Science to General Arts which, requires that she re-starts SHS, but, she is, painfully, being denied access because of Free SHS Computer Placement;

2. BECE Registration
A visually impaired girl called Gifty Korankye registered for Twi in BECE. During the examination, she was presented with Fante exams paper instead of Twi. She complained to the invigilator who said she should write and the officer in charge would put a letter on it. When the results were released she scored 9 in Fante and that is preventing her from being placed;

3. Access to Information

All textbooks supplied to the School for the Deaf and Blind are in print. The sight impaired cannot access print due to lack of vision. The embosser that the Cape Coast School for the Deaf and Blind was using to convert the print into braille is broken down. It is also an old version which is no longer supplied or supported by the manufacturer. The blind students need books in accessible format; and,

4. Daisy Books
Some pupils cannot read print or braille. They need their information in audio. Ghana Blind Union has trained some of teachers to produce Daisy books. We only need a computer with high specification and windows 10 operating system to produce Daisy books for that category of students.

Thank you for your attention.

Yours sincerely,

Raymond Ablorh.