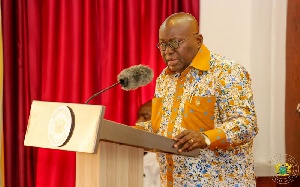 From the time when a young soldier, Flt. Lt. Jerry John Rawlings stepped into the Ghanaian political scene, a certain trend which was quite interesting, phenomenal and thought provoking was that he could have retired and be remembered as one of the most successful coup-maker in Ghana's history but he went on to become the president. From Rawlings who had JOHN as his Christian name, all the elected presidents after him were also called John, namely John Agyekum Kufuor, the late Prof. John Atta Mills and John Dramani Mahama. This amazing trend was broken when Nana Addo Dankwah Akufo-Addo emerged as the president of Ghana after a landslide victory in the 2016 elections, thus breaking the John myth.
In the 2016 elections, a completely different phenomenon came into play: age. In recent times, the age of presidential aspirants became a bone of contention in Ghanaian political discourse. The National Democratic Congress (NDC) party wanted to play smart by using age as a factor in the campaign. Mahama is in his late 50s while Nana Addo is over 70. The well-educated Ghanaian considered competence as a guiding principle for selecting a leader. On the other hand the floating voters, especially the less endowed and those with low educational background cast their votes according to personality traits such as which presidential candidate is more handsome, tall or well built. In the long run, the man who the ignoramuses, the less well-educated and the NDC fanatics cast aspersions on as old, short and less appealing and less charismatic to become Ghana's president.

Many Ghanaians who voted for or did not vote for Nana Addo-Dankwah Akufo Akufo-Addo, believe the state of Ghana is not better today than when it was handed over to Nana Addo. They claim he is too slow and all the challenges persist in shape and form. In his presidential campaign, he correctly identified areas that need to be worked on if Ghana should move forward. The strategy and method to solve these were clearly expressed in the NPP manifesto. President Nana Addo promised Ghanaians, one factory, one constituency one million dollars, one village one dam and many more. They believe that Nana Addo is too slow in implementing these plans. They expect the solutions to be offered by the president to be swift but they feel Nana Addo has not been swift as they expect. How can these people pretend to forget that Nana Addo has been in power for only eight months!

It has also been the concern of most Ghanaians that the president has been very slow in calling for accountability and probing corrupt officials. People are annoyed that Woyome is still a free man. Observers are still wondering why the killer of the former member of parliament, has still not been charged. Nana Addo has been slow in appointing an independent prosecutor to prosecute corrupt officials. Due to lack of swiftness and inaction on the part of the president, these corrupt officials of the former regime have ample time to relocate the stolen funds into foreign accounts and also change the documents of properties they have illegally acquired into other people's names.

Due to delay in prosecuting corrupt officials, Captain Smart took upon himself to gather facts on amounts that have been stolen, diverted or embezzled by state officials. The end result: 1.2billion dollars had gone into wrong pockets! When all the documents including names of offenders were taken to Economic and Organized Crime O Office (EOCO), by Captain Smart and a group of concerned demonstrators, 400 million dollars were secretly refunded to the state by these corrupt NDC officials within a week! Critics and concerned Ghanaians believe that if the president was not too slow in getting the independent prosecutor in place, all these stolen monies could have been retrieved in no time.

To prove his critics wrong, he shook himself and as a first step he has been able to ban illegal miners whose illegal activities have come to be known as "galamsey." This action received national applause and support even from those with different political affiliations. The small scale and illegal mining were "no go" areas because they were heavily and secretly financed by big shots. No government dared to stop galamsey because top executives, MPs and Chiefs are secretly behind these illegal miners. The environment was being destroyed, water bodies were being polluted, until Nana Addo, aka Mr. No nonsense, courageously became the first president to put a halt to galamsey and abate the nuisance.
Going by the promise he made to Ghanaians, the president has recently announced and confirmed that the fee-free SHS education will come into force in September, thereby putting the doubting Thomases to shame.

To honour the many promises he gave to Ghanaians, Nana Addo has begun with the one district one factory project by cutting the sod to begin a pineapple juice factory at Ekumfi. It is an opportune moment for pineapple farmers and those who want to go into pineapple farming. Training and technique to maximize yield will be organized for the farmers. Those days when pineapples get rotten in the farms will soon be over when the factory is built. The factory when completed will solve the problem of rural-urban migration of youths who leave Ekumfi in search of non-existent jobs in the cities. Nana Addo has assured Ghanaians that 51 factories would be set up before the end of 2017.

The fee-free Senior High School education is coming into full force in September. The president is slowly but surely making good his promise of free SHS education come September. The free education will affect only public Senior High Schools. It is going to begin with students who pass the 2017 BECE. Those who are already in the school but have been repeated in form one due to poor performance do not qualify for the free education. At the 60th anniversary celebration of Okuapeman School, he explained what the free SHS would entail. Apart from free tuition, there will be no library fee, no science centre fee, no computer laboratory fee, no examination fee, no utility fee, no boarding and lodging fee and free meals, three times a day. Day students will also have free lunch.

President Nana Addo is very focused and working hard to achieve set goals. Those who think he is slow do not know Nana Addo well. You may be frustrated and angry because the corrupt officials have not been jailed. Unlike Mahama and his NDC who rushed to prosecute alleged corrupt officials but found none of them guilty in the end, Nana Addo and his government are taking their time to find more incriminating evidence against corrupt officials so that it will be easy for the prosecutor. Dear reader, so you see Nana Addo is slow for a purpose, he will surely deliver to the applause of all Ghanaians.