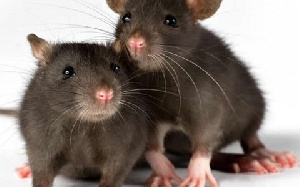 When news about an outbreak of lassa fever in Nigeria made the headlines in Ghana, there was expected apprehension because of the proximity between the two countries.
The Ghanaian proverb that when your neighbour's house is on fire, get some water close to you became clearer in the face of the aforementioned health occurrence.

For others though it did not mean anything because not only did it not happen in Ghana, our country has always been spared such health challenges. But for how long can we enjoy such exemptions? Even though we pray that God continues to spare us force majeure of all forms let us not be too complacent and see ourselves as different from the rest of the world.

The advice being offered by our medical experts should not be taken for granted. If lassa fever, a hemorrhagic disease is spread by rodents in filthy environments then it presupposes that we ensure that our environments are clean and devoid of favourable breeding conditions for the rodents.

We can only hope that our sense of hygiene would be upped during these times as we face a threat of the deadly disease.

The reckless littering of our environments is a sure way of playing into the hands of the disease. At this stage when only one case of lassa fever related fatality has occurred, we are in a better position to protect ourselves from the disease.

Although a few radio stations on their own have started a campaign of educating the mass of Ghanaians about the disease, we ask that this be done in a way as to avoid fear and panic.
The National Commission on Civic Education and other relevant bodies such as the Information Services Department should organize a major awareness crusade about possible sources of the disease and how to avoid it among others.

This concerted operation should have the Health Ministry providing the necessary details. We are confident that with a successful campaign, we would be able to have the populace appreciate the importance of hygiene which for now is anything but acceptable.

Some rats are inadvertently fed so well through our reckless relationship with the environment that they look like young grasscutters.

Sometimes we recall the good old days of the Sanitary Inspectors referred to as 'Samasama' in the North or 'Tankas' in the South especially Accra. 'Samasama' meant 'summons' as in a defaulter being summoned to make an appearance for being unhygienic and Tankas referred to the Town Council personnel going on regular inspection of homes to ensure that a high sense of hygiene was operative.

Even when the 'all clear' signal is given by the Health Ministry, the hygiene issue must be taken up with seriousness. Our filthy environment, especially choked gutters should be an issue of concern to both the relevant authorities and residents. Fecal matter continues to be thrown into gutters close to residential areas with houseflies doing their flights between such places and nearby houses and even kitchens.

Things should not continue this way.