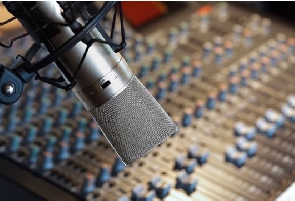 In the age of the convergent media, branding an online radio station means that practically all of your public relations skills must be brought to bear on your team.
But as my mentor has stated, "public relations and the other mass communications programmes for which bachelor's degrees are awarded are not enough to make you a professional."

Currently, this is especially difficult for Ghanaians to understand.

When you switch on and hand over a microphone to untrained and uneducated persons you will always have a real problem on your hands.

Radio station managers therefore have a greater fiduciary duty to save radio presenters from themselves.

Today in ghana, many radio programmes are streamed live on Facebook.

And certainly what we are witnessing is not good- the shouting; loose talk; the poor grammar both in English and other Ghanaian languages; the poor grooming; and everything else is at play.
The problem is compounded by academic departments in mass communication who send young uni students on vacation attachment to some so called "respected" media houses.

The resultant effect is that training, as in, unlearning and relearning becomes difficult.

A few examples will suffice.

By the regulations of National Communications Authority, radio stations are stipulated to keep Off Transmission Recording (the latest six months); store programme preparation sheets (which show that your episode for the day has been approved by your producer or editor); desist from using their medium to castigate or cast aspersions on another nation or media house.

Therefore, when you hear presenters attacking Nigeria or Nigerians, for whatever reason then you know the station is in the hands of improperly trained personnel.

When you hear "rival" presenters sparring on sister radio stations and or engaging in personal fights against each other, then you know that standards are at their lowest ebb.
Here the National Communications Authority (NCA) is quick to remind us that regulation of content is the duty of National Media Commission (NMC).

Are we to understand that they made the rules for NMC to enforce?

There are considerable numbers of young people who want to go on air and start talking. And the unregulated online space poses a serious challenge to training them adequately before they do.

In 2017, the legendary Oko Dagadu, veteran broadcaster of Ghana Broadcasting Corporation told us at a specially appointed media strategy meeting in Accra, that he had to go through a mandatory six month training at GBC before he was allowed to go on air.

No doubt Uncle Oko is a seasoned professional.

Now those who want to implement an anarchic or laissez-faire free for all system of, grooming, diction and content, and are impatient to stream live on social media must find answers to these questions.
One; where are you going and why are you in a hurry?

Two; will your approach offer any valid teaching points to anybody?

Three; why do you talk about the success of Rwanda as if it all happened spontaneously; do you know and understand what transpired before?

Four; "Do you not read any thing important?" as my mentor will ask.

Five; do you understand the implications of what you are doing?

And finally to our PR professionals: if you do know better, then why do you go to these dodgy radio stations who do not adhere to stipulated standards to prepare promotional messages for you; have you really computed the cost?
Feedback; ato@writersghana.com; www.writersghana.com; LinkedIn, Isaac Ato Mensah; Instagram, @atomenswriters; Twitter, @Atomens; Facebook, Writers and Shakespeares Ghana; Telegram, Isaac Ato Mensah; Quora, Isaac Ato Mensah. WhatsApp (+233) 020 022 0353.

Writers and Shakespeares Ghana Limited exist to be a moral and intellectual guide to the best practice of PR and integrated communications around the world, beginning with Ghana.