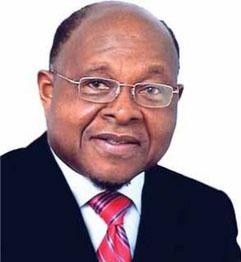 What should one expect from crazy-baldhead adult master politician Prof. Oquaye, a spent horse in the comedy club of Ghanaian paedarchy!
From a trained lawyer who is yet to cover the fullest extent of his emotional ablactation! As if he is carrying a borrowed head that only survives on a stale diet of anemocracy!

This angelic-looking spent horse has no intellectual center, no intellectual bearing, even as he pretends to live and inhabit the much-discredited legacy-margins of partisan antarchy!

A self-hating bugaboo of progressive nationalism, a self-loving bugaboo of schizophrenic historical revisionism, here comes and there goes the omnipresent, all-knowing anaconda-aurochs hybrid Prof. Oquaye, off-center:

"It has been the NDC's game plan to infiltrate the party, and we will not allow it, let me tell you bluntly now, the NDC has done all they can to infiltrate, they have been part and parcel of closing our offices, policemen invading our offices, and all manner of confusion, this has leaked here, that has leaked there, all the confusion that you knew, and you know what let's just be frank with ourselves."

The basket is being unjustifiably blamed for not holding water when no one actually knows who poured water into the hospitable basket in the first place—Ghanaian politics.

Yet the Christian patriarch did not present a shred of evidence for his hyperbolic claim.

Yet the trained lawyer did not adduce any piece of evidence for his woeful jeremiad.

It is all foolish talk.

Also trash talk. Garbage philippic. Emotional baloney.

A scandalous feint of a deep-seated sense of lost of pride in which he had, possibly, quite possibly, expected his party to have stayed ahead of the curve in strategic and tactical matters of intelligence and internal security.
His absolutely feeble causality, based on his unserious experimental assertion, even lacks a forceful explanandum and a convincing explanans. Rabid sophistry of sorts. Clueless syllogism of sorts—Ghanaian politics.

It is all a porous experimental exercise in boastful nothingness, his clueless statement lacking an internal logic of a provable or verifiable sense of well-connected nodes of analytic pragmatism with a satisfying framework of thoughtful sequentiality.

The God of evidence deserted him and then sequestered him in his thoughtless Separatio Leprosorum—Prof. Oquaye.

The law of evidence rejected him and then banished him to his forlorn village of presential immanence—Prof. Oquaye.

The Frankenstein illogic of Prof. Oquaye's stupendous folly arising from his talking-blues dramaturgy knows no bounds, no shame. His is a Naija pepper-soup of irresponsible political drama. Talking trash because of partisan politics. These clueless, blind NPP and NDC folks.

Question is:

How can a weak, clueless, unsophisticated and failed political party like the NDC pull this off, and a party purportedly made up of thinkers, intellectuals, academics, lawyers, PhD-holders the like of which the world has never seen before, not seen this coming?

Not too long ago lawyer Sam Okudzeto caused a national scandal when he said the leadership of the NDC could not read.

Yet, how these NDC "illiterates" could pull this off successfully by "reading" the minds of the leadership of the NPP, including the perforated or leaking or basket one of Prof. Oquaye's, deserves a convincing thoughtful response.

We can imagine this anachronistic professorial phenomenon, Prof. Oquaye, sitting in council and teaching the youth about statecraft (nation-building) and statesmanship and brinkmanship. Even diplomacy.
Even so all that he has been saying thus far are not far from possible though, yet also possibility is far from verifiable concrete factualness. And he knows all too well that circumstantial evidentiality may not necessarily provide useful forensic insights into the logic of commonsense.

What has become Prof. Oquaye's diseased Ghana?

Our armed robbers don't make sense anymore!

Our politicians don't make sense anymore!

Our parliamentarians don't make sense anymore!

Our clerics don't make sense anymore!

Our scientists don't make sense anymore!

Our lawyers don't make sense anymore!

Our journalists don't make sense anymore!

Our judges don't make sense anymore!
Our musicians don't make sense anymore!

Our much-glorified rapists don't make sense anymore!

Nana Obiri Boahen reportedly says he trusts prostitutes over Madam Charlotte Osei.

Kennedy Agyapong reportedly says Madam Charlotte Osei swapped her derriere and pudenda for the chairpersonship of the Electoral Commission (EC).

Kennedy Agyapong reportedly says Asantes should send Gas and Ewes to the gas chamber. Agyapong's genocidal cutlasses and machetes and gas chambers may be coming after or for him, he Prof. Oquaye.

Akufo-Addo reportedly says All-Die-Be-Die.

NPP's internal acid-bathing political technology leads to Adams Mahama's death.

Yaw Osafo-Marfo's resource-rich Akan crony capitalism, ethnocracy and political ethnocentrism.

Ursula Owusu: "But for free education, [NDC] stalwarts like lawyer Inusah Fuseini will be rearing cattle because that is what uneducated northerners do."

Ursula Owusu classifies male chauvinists, like Kennedy Agyapong, on account of his sex-for-role comments involving Madam Charlotte Osei, under the phrasal rubric: "…Some misguided idiots."
These political grave-diggers with stigmatized coffin-bearing snouts, gingivitis-mouths, with desert-minds and cold-store hearts…

These men and women are all NDC moles in the NPP, since NDC elements coached them to make these divisive and unpatriotic remarks!

The psychology of the Ghanaian political leadership, be it the NPP or the NDC, is remarkably not unlike the destructive aftereffects of galamsey and open defecation.

The corrosive stench of political criminality permeates the self-inflicted choked pores of the crooked mindsets of our duopolistic leaderships.

Even Prof. Oquaye sounds more like an NDC mole in the NPP than is otherwise the case.

We shall return with a concluding installment, Part 2.