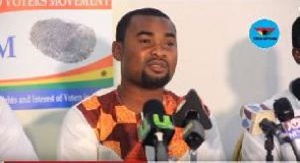 Prof Ken Attafuah, the Executive Director of the National Identification Authority (NIA) should stop the empty boast about his outfit's ability to compile a voters' register for the Electoral Commission (EC).
The NIA boss should stop putting dust into the eyes of Ghanaians and rather concentrate on issuing Ghana Cards to all eligible persons by the end of March.

We cannot as Ghanaians, entrust the serious assignment of voters registration into the hands of NIA because as they put it "when it comes to elections there is no room for jokes."

The Electoral Commission of Ghana cannot and should not rely on the Data from National Identification Authority (NIA) for the compilation of the New Voters Register.

The Ghana Card is not supported by any Legislative Instrument (L.I.) or Constitutional Instrument (C.I.) for the conduct of an elections in Ghana.
There is no provisions in the NIA Act which gives its the necessary legal backing to use the Ghana Card for the conduct of elections in Ghana.

The Ghana Card Registration is NOT done on the basis of Polling Stations unlike Electoral Commission whose Registration is done at the Polling Stations across the Country.

The Ghana Card in its current form cannot be used for the purpose of 2020 general elections, maybe future general elections.