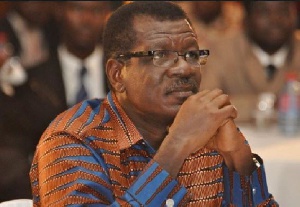 Banks have collapsed; about 4000 innocent Ghanaians are on the verge of losing their jobs without any compensation arrangements, like the golden parachute that the so-called board of directors have enjoyed until the demise of these banks. A deep hole remains in the financial sector. Wampah, Issahaku and even Addison are all complicit. The layers on fraudulent businesses are peeling off as if they had no adhesives. Yet, there is so much laughter. Friends who are in the financial sector are laughing because their institutions are not affected. At least not yet. We are not calling for arrests and heads?we are teasing, gleefully.
I chanced, with surprise, on a hashtag from perceived ICGC members on Facebook. Pastor Otabil has said so many times that we joke too much in this country. Yes, we joke too much, and the joke is now on the #IStandWithOtabil folks who should rather be sharing #IKneel4Otabil before the throne of Grace.

To issue a disclaimer, I am a Christian who knows scripture. It is living the scriptures that is my biggest problem, but I will try not to 'touch our anointed'. Amen! I have attended Greater Works Conference since 2013 and I have been blessed on all occasions. To me, if there was any Ghanaian Preacher who has been so influential on me, it was Pastor Otabil. So, I was worried about Pastor Otabil being at the centre of this scandal. I thought to myself, 'I pray my pastor would not be embarrassed like this'. It is right for us followers to be loyal to our leaders, but that loyalty should not be misplaced. Christianity should not be made to look stupid in the declaration of loyalty to our religious leaders.

Pastor Otabil may not be found guilty in the court of law, but his pulpit is the judge in the court of public opinion. When Ato Essien was asked by Albert Ocran on Springboard Radio Program, some time ago, about his inspiration to start business, he mentioned a message preached by Pastor Otabil as his major motivation in business. Ato Essien is a member of ICGC and rumours have it that he is a leader in ICGC. It does not end there; Pastor Otabil was a shareholder and also a board chairman of Capital Bank.
It is said that he who goes to sleep with an itchy anus wakes up with a smelly hand. It does not matter his level of involvement, human excreta will always smell no matter how small. Whether you like the man or not, something is smelly around him. It is therefore clear why the hashtag in support of Pastor Otabil, on social media, has attracted so much debate. I think the hashtag has not helped the man; it has rather generated an avoidable twitter storm around the man, making him the unfortunate subject of discussion in this embarrassing chaos of competing scandals. Many are wondering how the media would have coined the headlines if Obinim was the Board Chair of Capital Bank.

Followers of Pastor Otabil must understand that the man has educated his listeners so much that they would ask questions. Indeed, we must ask him questions. This is a man who has raised the standards of leadership so high that the devil by now may be taken aback by what he and his board members have caused the country. He preaches Excellence, Perfection, Order, Principles etc. He is the only pastor that qualifies for a business school instructor. At one point, he incurred the wrath of some lecturers of the University of Ghana Business School who thought his lessons were archaic. But he has more to show for his sermons than those lecturers have for their notes.

Here is a pastor who constantly criticised a section of the political class for corruption, and made governance of a country looked so easy, so people wonder why he couldn't manage a small bank. He is accused now of his silence at the current government though similar issues of ineptitude and corruption go on. He preaches integrity while he superintends over his spiritual son to defraud clients and increase the burden on tax payers. When words and actions don't match, integrity is hit. His actions and inactions have contributed to job losses, and I tell you some marriages and relationships are having a hard time as a result. We can build this country only when all people are treated in equal measure. If Ghanaians say pastors are becoming selfish and greedy, they are not saying too much. That is the honest image in the mirror. Pastor Otabil has been preaching equity and his critics are only asking him to wash his own too.