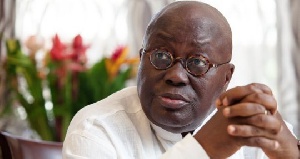 Nana Akuffo Addo the Presidential Candidate of the New Patriotic Party (NPP) was recently reported on a campaign trail at Madina, Accra as saying that-as President, he would not steal Ghana's monies or collect bribes.
The obvious implication in what Akuffo Addo told his audience at Madina is that President Mahama, the sitting President, has stolen state funds and collected bribes without providing any evidence of such claims.

Incidentally, this claim of Akuffo Addo by extension also implies that Atta Mills, J.A Kuffour and J.J Rawlings were all stealing state funds and collecting bribes when they occupied the seat of the Presidency at various times.

Such irresponsible and unsubstantiated attacks on the Presidency portray Akuffo Addo as very desperate and lacking of substance in his campaign messages as he crisscrosses the country. So much so that he has resorted to insults and unsubstantiated allegations of stealing, bribery and corruption as one of his main campaign message.

The problem with such campaign rhetoric is that it impliedly raises the issue of the credibility of Akuffo Addo himself and his fitness and reliability for the office of President of the Republic of Ghana. This is because Akuffo Addo has offered no specific instances of stealing, bribery or corruption against President Mahama to back his claims.

It appears therefore that Akuffo Addo is only interested in throwing mud at President Mahama and the presidency to denigrate the presidency and to create a holier than thou perception of himself to Ghanaians.

Worst still, he has also encouraged his followers to tow the same line of unfounded and unsubstantiated rumours of stealing and corruption against President Mahama as a campaign strategy, without any regard for its consequences.
The pertinent question to ask is, whether it is enough to make general claims of stealing, bribery or corruption against the President without offering any specific instances of such claims to make them credible.

Should Akuffo Addo rather not offer credible leadership by refraining from peddling unsubstantiated allegations against President Mahama and the Presidency, especially since such conduct denigrates the office of the Presidency?

What is the impact of peddling falsehoods on the President and the integrity of the office of the Presidency and Ghana in general? These and various other related issues should engage our political debate going forward..

The challenge to Akuffo Addo therefore is to go beyond mere unsubstantiated allegations of stealing against the President to offer specific instances of stealing, corruption and bribery against President Mahama in order for Ghanaians to take him seriously. Some related instances of unfounded allegations that have been made by Akuffo Addo and some of his followers are as follows:

1. A claim that the sum of USD$10Million was used to purchase diaries at the Presidency which turned out to be false.

2. Allegations of inflated project costs even after such projects have gone through Parliamentary scrutiny and approval.
3. The Ford Expedition gift allegation which was falsely branded as bribery by certain NPP elements against evidence that the vehicle was rather donated to the state and never personally used by the President.

4. Claims by Dr. Bawumia of fraud in the compilation of voters register which were substantially discredited as false due to his inability to furnish genuine proof of his claims when subjected to strict proof. Even the 10% of documents that he presented to support this serious claim were subsequently discredited as fabricated to a large extent.

In essence, the strategy to peddle rumors and falsehood for political mileage is fast losing credibility in Ghana's emerging democracy.

Politicians who employ such methods and strategies should therefore revise their notes and realize that Ghanaians are wide awake, and are very much interested in truth in Ghana's politics.

In a related context, the strategy of issuing promises to Ghanaians to solicit their votes should also be subject to strict scrutiny.

For instance, the recent promise of Akuffo Addo to establish a factory in each district of Ghana should therefore be examined for its credibility with pertinent questions as follows:
1. In all of the eight years of President Kuffour's government, in which Akuffo Addo was a member, how many factories were established in Ghana?

2. In all of President Rawlings 19 years in government, how many factories were established in Ghana by the government?

3. What feasibility studies and research has Akuffo Addo performed in all districts in Ghana to determine the viability of this policy?

4. How are those factories going to be funded even if possible? Is it from Government funds?

5. What is the time frame for setting up these factories?

6. Where in the world can Akuffo Addo point to the existence of a factory in each district of a country?
Akuffo Addo should refrain from taking Ghanaians for granted and think through his promises as he churns them out, because he would be called upon to defend these promises, and in the process, be made to defend his credibility.

A political strategy based on false allegations and wild promises is a sure recipe for disaster for Akuffo Addo in this year's elections. Such a strategy rather exposes him as not a credible alternative to President Mahama.

Sincerity, honesty and well thought out plans and policies aimed to solving problems confronting Ghanaians would rather enhance his credibility in the eyes of Ghanaians. Anything short of this would rather spell doom for him in election 2016.

God bless our Homeland Ghana.

Writer's e-mail: cmdekportor@gmail.com