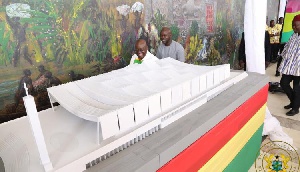 Does Ghana need a national Cathedral attracting a national controversy?
Let's first establish which beliefs or religious groups are using Cathedrals:

The Catholic Church

The Anglican Church

The Orthodox Church

However there is no country in the world where all of these churches or beliefs or "streaming's" of the Christian belief use the same National Cathedral or even any of their churches.

So who is this Ghanaian National Cathedral for?

Is it for our Ghanaian Catholic population representing about 15% of Ghana, or for our Ghanaian Anglican population of about 3% of our population or for the few Orthodox Christians in Ghana, who are even separated in Greek, Coptic, and Russian Orthodox?
I am actually in favor of a beautiful edifice, being a Cathedral, especially when designed by Ghana's only world famous architect; David Adjaye.

But I am against a national Cathedral built and financed directly or indirectly by the state of Ghana.

And I have a few reasons why I am against a national cathedral proposal in its current form.

First of all and in support is: A Christian population of 61% of all Ghanaians it is safe to state that we have a majority Christian population.

Against it: Ghana is a secular state, meaning that state and religion are separated.

Or according to Wikipedia, A secular state is an idea pertaining to secularism, whereby a state is or purports to be officially neutral in matters of religion, supporting neither religion.

Especially the part: SUPPORTING NEITHER RELIGION is very interesting in our current discussion about a National Cathedral.
My second question is: We are a developing country struggling to make ends (and our budget) meet, given all other priorities we have should we invest huge amounts of state money in a national Cathedral?

I think that an initiative to have a national Cathedral should first of all come from the church or churches in Ghana and our government shouldn't be involved other than making a parcel of land at a prominent place available.

Only a year ago the Minister of Tourism, Catherine Afeku announced that a national Cathedral would be part of the development of the seaside between the Osu Castle and Art center, I think that empty land would be suitable without creating costs of evicting and replacing government houses and institutions

I am not aware of any direct investments of the Government but vacating the national passport office and demolishing government owned bungalows, replacing judges, offering them alternative housing is already a huge financial commitment of the government breaking the laws and intentions of Ghana as a secular state.

Another problem I foresee is that other religious groups would also want state funding of their national houses of worship.

Luckily for our 17% Muslim population, Turkey donated a beautiful mosque to the Muslim population in Ghana which could be or is a National Mosque. But even within the Muslim community there are: Shite, Suni, Ahmadiyya, Sufi, Shia Ismali and other groups, do they also deserve a national Mosque with state help ?

The nontraditional Christian churches in Ghana run by Bishops, Prophets, Priests, and Reverends etc. Is the government going to (financially) assist them as well for their national cathedrals? Or should Presbyterians, also a large part of Ghanaian Christians also ask for a National place of worship?
What about other religious groups present in Ghana in Ghana such as other Protestants, Buddhist, nontraditional, traditionalists, and others, don't they also deserve a national Cathedral, mosque or temple?

I hope you are not getting too confused because I have another important question:

If and when our National Cathedral is ready, who is going to own and use this National Cathedral?

I am sure that the government wants to use it in the future for State Funerals, but if there was a national cathedral built and financed by a religious group they could have rented that without acquiring all the costs involved.

I am sure that the Catholic Church in Ghana (who has a Cathedral already at Asylum Down) is very much in favor of this National Cathedral, especially with state funding, but I doubt if they are able to attract enough funding to built a national Cathedral and pay all the relocating costs to the Government.

Many African countries have national Cathedrals and Mosques but it's a fact that most of them have been built and financed by the previous French, British and Portuguese colonial regimes in Africa over 100 years ago.

Morocco has a beautiful National Mosque in Marrakesh built in the beginning of the 1990s, but at least Morocco doesn't call itself a Secular state.
Nigeria and Ivory Coast have used state funding for their National Cathedral and National Mosque.

Is Ghana also going to break their Secular State rules as written in our constitution to have a national Cathedral?

I truly hope that Ghana can have a beautiful National Cathedral, but at the same time I hope the State will officially stay out of it for financial and constitutional reasons.