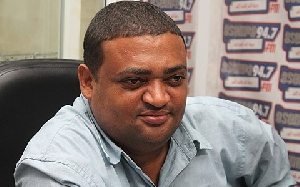 I feel extremely sad for this country, when people who are supposed to know or to have known better are those rather engaging in very despicable acts! How on earth could such a slanderous comment be made by no less a person than a former Deputy Minister who was paid with our taxes?
This is very pathetic and a dissipation of needless bravado, unless of course one tells me, that rape is a course being taught in senior high schools.

To set the tone towards denigrating the free SHS policy, they posited that, free SHS is the cause of swine flu as well as meningitis, I don't know which school taught them that.

Today, they are at it again, in a broad day light display of meritocratic balderdash, a former deputy minister for youth and sports, "dishonorable" Joseph Yamin attributed the Bantama gang –rape incident to the implementation of free SHS, forgetting that, issues of this nature are multi-faceted and primarily has to do with a child's upbringing, thus the environment, growth and personal development and not forgetting the fact that, morality has a key role in all of these.

Now you wonder why lots of sectors in the erstwhile government weren't doing well? A greater majority of the problems faced were as a results of elements like Joseph Yamin who were leading and manning the affairs of this country.

I do not know his motivation for making these comments, but I strongly believe that, he had no clue about what he was talking about and perhaps just wanted to seek some attention; unfortunately he's achieved it, but it's a dent on his way of thinking!
H.E the President, Nana Akufo-Addo accepted the fact, that the free SHS will encounter its own challenges, there's no doubt about it. He further emphasized that, we will falter but we will not fail. This is a mark of honest leadership which was visible missing in the previous government.

Therefore, the fact that these have been foretold with regards to free SHS, does not mean people should try too much, too hard to ascribe to the policy challenges that do not even exist or are unrelated.

Right from the onset, pessimism has clouded their sense of judgment and line of thinking and all they wish, is for dark clouds to engulf this country under Nana Addo. But you know what? God is not human, and Ghana will succeed under Nana Addo. In fact Ghana is currently doing better! Akufo-Addo will not fail, Ghana will not fail!!!

#For God and Country, Ghana Must Stand!