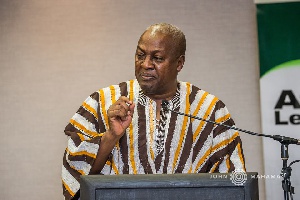 Dear Awonekai Atia Figo,
Deputy Regional Secretary of the NPP,

Upper East Region,

Greetings from Binduri.

When the hawk visits the feast of the Eagles, that hawk is only risking to be part of that feast.

I have read your bastardizing utterances against the respected former President John Dramani Mahama on Ghanaweb. I would give you what befits you most but before accusing the Rope of being too short, check if it is not the well which is too deep.

Indeed when a dog is affected by rabies it barks foolishly. I should not be surprised by your ignorant rendition of super incompetence.

You insulted the former president in a very silly manner without any truth in your balderdash which was published by the sycophantic pro-government portals. You know I will not hit you hard because you did that to please the delegates who considered your deputy secretary ambition which thanks to Mahama, you've pleased them. Early ejaculation though.
Awonekai, you need brain cleansing to understand the issues you put out. Infact, Obinim solution wouldn't be a bad idea at all. First you called the former President, Ghana's biggest problem.

You definitely cannot be serious; I mean that's preposterous. May be you are at the foot of the super incompetence ladder. Ghana's biggest problem is Akuffo Addo and the NPP. A group of gamblers, cons and spin masters who deceived Ghanaians to vote for them to come and establish a looting brigade. You have yet to see a looter government?

It is the current NPP mafia administration headed by the devious old man; the chief priest of corruption and the leader of the 'Wakora '

You see John Mahama is magnanimous; a quintessential gentleman with pearls of wisdom. He's so visionary, and he always thinks beyond his nose unlike Papa Nebuc.

He sensibly gave that Bolga-Bawku-Pulmako road on contract for construction to help the region. Akuffo Addo and your NPP never initiated any such project in the region. It was awarded long before elections 2016 to the Brazilian contractor who constructed the Tamale International Airport, and the Kwame Nkrumah interchange. The contract was signed in 2016 by the NDC government between the government of Ghana and a Brazilian Contractor, Queiro Calvao.

The same contractor constructed the Tamale International Airport which means experience is not a problem here at all. Sod cutting for the construction of the road was done same day with the Tamde irrigation dam by H.E John Dramani Mahama on 11th July, 2016 at Zebilla and Tamde respectively and that is a core fact. It is a 115-Kilometer road expected to be completed in two years.

A portion of the road from Bolga to Nangodi was awarded to a local contractor, MAWUMS in 2012, the company abandoned site for reasons of lack funds. The Brazilian company was expected to continue to Pulmako. 2.5 kilometers was expected to be asphalted dual carriage from Bolga to parts of Zuarungu and streetlights fixed on it.
The Brazilian contractor Quiero Calvao has completed 20 kilometers of the road from Binduri to Bawku as of now. Mobilization was paid before the project commenced. After a change of government, eight certificates have been raised but none have been honored which the firm indicates would stampede work. The type of construction is "Surface Dressing tarring" and it can withstand 10 tonnes of load let trucks. And if this is followed duly, the road can last for seven years.

But if this isn't followed accordingly, the road's lifespan is expected to be four years. In this regard axle load points would be established along the road to check weights. There are also solar street lights expected along the major towns such as Zebilla, Bawku and Widana towns as well as the high security threat areas in the Nango-Tilli forest reserve.

Another facility to be seen along the road is a modern bus stop at Zebilla and Missiga where traders and passengers who ply their petty trade can go on with their business in comfort.

On the issue of the entire road being an asphalt, information is sketchy but sources at the Ghana Highways Authority say the contract has been changed from bitumen asphalting to surface dressing.

Figo, you erroneously stated in your poorly worded release that the contract was awarded after December 7th which of course made you bark like a rabies-infected dog who just saw a ghost at dawn. Assuming without admitting it was indeed awarded after the elections 2016; wasn't John Dramani Mahama the legitimate President then?

The disease that is worrying you now is that you have a looting syndicate set presided over by Nana Akuffo Addo, a shameful development that is destroying Ghana's economy. You said Mahama presided over impunity, immorality with corruption as its hallmark. I see you have reached the apogee of stupor. Your government that is seeking to introduce homosexuality is not immoral?

A family and friends government that is looting the state coffers daily is not corrupt?
A government which has sold its national sovereignty for a paltry $20million; isn't this supersonic incompetence?

Tell me who was charging $20,000.00 before investors can enter the Jubilee House? Whose thieves of staff formed a looting syndicate at the presidency? Who instructed the Criminal Investigations Department to cover up scandals by his appointees? Who stopped investigations into the huge scandal at BOST? Who issued scandalous bonds which money we cannot see working? Who sold Ghana's sovereignty for $20m? Who covered up the rot at the National Premix committee?

On impunity, were you drunk when your president was appointing only his family members into lucrative positions?

What of the appointment of his former girl friend, mother of his first daughter as Ambassador to Czech Republic? I'm talking about Virginia Hesse. If Akuffo Addo is acting morally, will he dismiss public servants illegally and replace them with his girlfriends and former concubines? Tell me, was Akuffo Addo not insulting the nation on television because we kicked against the dubious military agreement he signed before forcing it through parliament?

My brother, your deceptive mafia government is falling down in quicksand, this is not the time to divert attention. You cannot steal the achievements of Mahama, he simply asked your super incompetent government to continue the project he started for the good people of the Upper East Region. You have contracted many billions of loans but have nothing to show for them. Tell your Oga Titus to spare part of these loans to complete the road. We don't care if he completes it and rename it after J.B Danquah; we just want it completed.

Finally, you are a novice. You have a lot to learn. Dr. Mahmoud Bawumia was on this uncouth tangent until he was silenced by the reality of governance. Have you ever heard him say Mahama is incompetent again? It is because the people, the judges, have seen that he Bawumia is rather super incompetent; collapsing in just one year in office. Your incompetent people who are not prepared for the vagaries of governance have resorted to insulting instead of wiping the mess they plunged the country into.

You are a small boy, don't join them. You are just a chick among strong eagles. Even Akuffo Addo cannot compare himself to Mahama, how much more you. Next time brush your teeth before you talk, let us not read that stench from your mouth again. Let Bugri Naabu teach you how the mighty fell.
Then again, you can choose to be a poster boy for crash behavior but next time, make sure it is against the gods with clay feet else you would end up dancing naked in the eyes of the educated public.

Our challenges are really fearsome.

You're kindly invited to Bie'nsua to join me consume 7 pots of fresh pito the gods of Binduri procured.

Thank you.