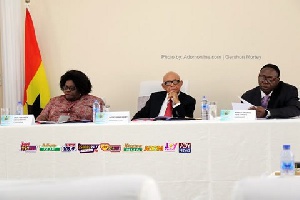 I read with mixed feelings barely a month ago a feature article published by the Daily Guide, Thursday 7th February 2019, Issue 031/19, page 4, and I would therefore like to seize this glorious opportunity to comment and correct several wrong impressions the article seeks to put across. It goes with the title, "Let's Condemn Ayawaso Violence" written by one James Kofi Annan under signature name "Simpa Panyin"(to wit, An Elder of Winneba) seeking to condemn reported violence that took place during the recent Ayawaso West Wuogon Bye-Election in Accra.
Since that incident happened many security experts, law makers, political parties (both the opposition and the incumbent), civil society groups and organisations, ordinary citizens and many other well-meaning Ghanaians, both home and abroad, including my humble self, have all condemned the said violence. We have condemned it in every shade and form with all force and intensity as the situation demanded since it bothers on human lives.

That notwithstanding, I cry within my heart. In fact my heart bleeds that there are certain things that people are not putting in their right contexts. There are a lot of mischiefs, hypocrisies, half-truths, refined lies and misinformation that have unduly saturated the airwaves ostensibly propagated by people who just want to malign the government instead of all of us Ghanaians coming together as one people to find the root causes of the reported violence. The issue has been propagated so much that it has overshadowed the pertinent questions and issues that go deep into the roots of the matter; I mean questions and issues that need thorough and thoughtful considerations which may guide all of us in our future socio-political discourse.

And I would like to state without mincing words that even with my eyes closed I can see these mischiefs, hypocrisy, half-truths, refined lies and misinformation which have been couched so nicely that unless you read the article for, at least, the third time you might think Mr. James Kofi Annan was writing the article for the general good of the good people of Ghana instead of his personal interest.

In the first place the article seems to draw so much unnecessary attention toward Hon. Sam Nartey George, the Member of Parliament for Ningo Prampram who allegedly received two slaps from the security present close to La Bawaleshie Polling Station. Instead of sharing sympathies with the victims who are receiving treatment from gun wounds at various hospitals the article seems to be overly sympathetic for somebody who received two slaps, an MP who, according to public opinion and objective minded people, failed to conduct himself well as befits an MP status.



Is Mr. Sam George by virtue of his position as an MP makes him more important and/or human than the unfortunate guys who are in pains because of the alleged brutalities meted out to them? And more so when Sam George himself refused to go and report the incident at the police station because he suffered no pain? Why didn't Mr. Kofi Annan first of all condemn the attitude of Sam George for coming to the polling station with his convoy accompanied by thugs riding fifteen different motorbikes to the Polling Station despite the fact that the Electoral Commission, prior to the day of election, had agreed with all the political parties including the National Democratic Congress (NDC) that no person should come around any Polling Station with motor bikes? And why didn't Mr. Kofi Annan also condemn his friend Mr. Sam George for verbally assaulting and abusing the security present that resulted in his alleged slaps? Let us as Ghanaian people try to be objective and condemn from all sides instead of being one sided for our own personal interests in the least opportunity that presents itself.

Secondly, the article suggests that the New Patriotic Party (NPP) members are celebrating the violence at Ayawaso which they must stop and for that matter what happened to Sam George would happen to them if Sam George comes to power. In fact let all discerning minds ponder carefully over this allegation. Which NPP officers or members are celebrating Sam George's unfortunate incident? Which NPP member has not condemned the supposed violence at Ayawaso Constituency even though the incident happened just at one place out of over one hundred and thirty polling stations?
The President of the land himself, Nana Addo Danquah Akufu-Addo, a renowned human rights activist, has condemned the reported violence. He has also taken the bold steps to institute a commission of enquiry to look into the whole matter and come out with findings and recommendations for future reference. Why should people try to put the innocent President, the NPP party and the government into bad light without taken into consideration what truly caused the whole violence? It would not have been so painful if it comes from the opposition for that is their hallmark.

But it pains if people who by deception profess to be members of the NPP but on the covert maneuvers of objectivity destroy their own people softly in secret and in subtly elusive ways enrich their pockets from their paymasters. These are the petty things that drive away certain group of sympathizers of NPP on the basis that their own are not able to stand with them in times of frivolous, petty and unnecessary allegations not from the camp of their enemies but from perceived friends within.

Thirdly, I did not personally like—and l'm pretty sure so are most independent people—Mr. James Kofi Annan's diction and expressions. His harsh words and demeaning expressions used against the ruling government are not in good taste at all. To the extent that Mr. James Kofi Annan is bold enough to cunningly tell the whole wide world that the NPP members had gone to cause violence at Ayawaso, their political stronghold at a time that the Emile Short Commission had not even started their work.



Mr. Kofi Annan's action is not for fun. It is deliberate and its purpose is to prejudice and preempt the work of the commission. This is a seriously damning allegation that "book-long" and "most democratic party in the world" NPP members must sit up and watch certain elements within their ranks with eagle eyes. They must not take certain things for granted this time around as they entertained prior to and during the 2008 General Elections which turned out to be one most painful election defeat for an incumbent party ever in Africa if not the whole wide world.

Mr. Annan was not done with his damage yet. He went further. He went a step further to put NPP party communications and the government communication machinery to the cleaners by portraying them as archaic, behind time, lacking content and artistry, and employing no scientific touch of class in their communication exploits. I must confess again that it is a deliberate, carefully orchestrated desire and conscious attempt to sabotage and preempt what would come out of the Commission of Enquiry's report to put the working President in bad light and also to cause government and party communication team to lose favour in the eyes, ears and minds of sympathizers within and outside the elephant fraternity.

Another interesting thing I find in his article is his quick digression of points and crisscrossing from Winneba and Effutu Constituency back and forth. I find myself worried. I was lost reading at this stage. As a matter of emphasis I would like to quote from his article,"…I have seen some really interesting contents in recent times in Winneba and sometimes I wonder what they were thinking when they were generating the contents. Communication… is no longer the availability of platforms. Communication has gone beyond putting information out there whether truth or lies."
But the question still beckons: How could a person use such unprintable expressions on the people who speak for a party? How could you insult the consciences and intelligence of the people of Effutu? This is an indictment, complete hypocrisy based on non-existent facts on the ground.



Truth be told in all solemnity and decency, the above quotation in the article is a total digression from the general purpose of the article if any. What has NPP party communication team in Winneba done to affect the violence in Ayawaso in Accra? I do not get the whole concept. Is it a sheer coincidence? If not then it is an unbridled attempt to cause confusion in the party ranks in Winneba and Central Region for somebody's personal interest.

I must emphasize that Winneba and its environs or the Effutu Constituency as a whole had gone through some bad times in terms of chieftaincy crisis and political tensions and by the Grace of God it is in recent times that things are getting better and friends and families who hitherto saw themselves as enemies because of chieftaincy undercurrents and political tensions are now living together peacefully as families and friends; and for these reasons alone it would be strange enough for any person with good intentions to use pen and paper to disturb that peace and cohesion. Mr. Kofi Annan, Winneba and Effutu people need peace. They beg you.

The article states categorically clear that "Remember that constituencies in Accra are mainly compact similar to the Effutu Constituency. Information flow is quick and nearly manifests in the form of floods.' On the basis of this Mr. James Kofi Annan mischievously concocted a story about a non-existing woman in Winneba/Effutu Constituency. He said "A woman caused her pastor to make announcement for his son MP that there were opportunities for individuals to be recruited into the army, the police, the immigration and all the security services ..."

Throughout that night after reading this article these lines kept ringing in my ear drums. In fact, I could not simply fathom how somebody could sit down in the name of perceived condemnation of violence in Accra decide to cause disunity among peaceful group of people in the land of Effutu. Are the security institutions not warning the Ghanaian public from such deceits and fraudsters who give such false hope to public and swindle them of their hard earned monies? Who would believe these frivolous allegations and name callings?

The allegation against the woman still continued, "...her son had said that anyone in his constituency who was interested in joining any of those security forces should contact him for immediate enlistment… the MP said there is no need for any interested persons to have any qualifications and that even if the person has never been to school he would ensure successful enlistment for those interested illiterates."


I ask once again. Who would believe these frivolous allegations and name callings? Which sane pastor could stand behind the pulpit of God and declare that all those who cannot write or spell their own names should rush in for non-existing security services jobs, enviable and well respectable jobs like the Army, Police and the Immigration? And let me ask you, Mr. James Kofi Annan: Excuse my language, would even a kid in class one of Koti-Ye-Aboa D/A Primary School believe your cock and bull stories and allegations?

He goes ahead to ask rhetorically that, "Do you see how the seeds of Ayawaso are sown?"I am overly disappointed. I can't think far. I can't think far because I do not see any correlation and regression between Ayawaso and Winneba/Effutu in this violence. What have the people of Winneba done to receive these unnecessary backlash and childish counterattacks from a writer who should have used this wonderful opportunity offered by the Daily Guide to, after condemning Ayawaso violence which everyone agrees, foster peace and development among the people?

Which politician in Ghana would be so ignorant to the extent that by himself or herself or through a pastor make such embarrassing public announcements in a market place let alone in a church premises to call on illiterates who cannot spell their own names to come for enlistment in a modern security set up that needs serious academic qualifications and experience?

On the whole Mr. James Kofi Annan by his article chastises the NPP members and copiously demonizes the government as if they asked the perpetrators, the Azorka Boys and the other vigilante groups that had pitched camp in the house of Mr. Delali Kwasi Brempong, the parliamentary candidate for NDC in the Ayawaso West Wuogon to exchange bullets with the security forces; I mean those fire exchanges that led to three or so people sustaining gun wounds. He has also joined the opposition parties to lay blame at the doorsteps of the government and the NPP party and overblown the issue out of proportion as if, among other things, the incident happened at the entire Ayawaso Constituency even though he is aware that the incident happened at La Bawaleshie, just one of the numerous suburbs or towns in the constituency.

For objectivity sake I was expecting Mr. Kofi Annan to, as well, say something small about the conduct of the opposition NDC. This did not happen. Rather he went ahead to praise and eulogized them. This is what he said when he was concluding his article: "The irony is that the NDC can afford to generate negative content, and it will still be to their advantage. That was why the 'all-die-be-die' mantra was planted and it worked… and that is why ex-President John Mahama has emerged with boot-for-boot."

I condemn this statement with all force. It is very pathetic for a democrat or patriot of a country to write this in a national newspaper. Very, very sad and appalling. What still beats my imagination is his concluding part using the Jesus Christ analogy to insinuate that he regrets "we did not think through to know that this constituency is sitting on a rumour-fertile and media saturated environment". By "we" he is referring to the NPP. He then went ahead to ridicule and insinuate that NPP supporters should have ordered the perpetrators of violence to draw away their swords.
Mr. kofi Annan. At this juncture I would like you to make things clear to some of us. After condemning the Ayawaso violence are you now encouraging the members of NDC to continue unleashing violence on Ghanaians? Are you doing that so that after eruption of violence you the same person would turn into an ostrich and come back later to lay blame on the NPP government and party supporters across the globe, castigate the people of Effutu and Winneba, drag the image of government and party machinery through the mud? And what would you gain afterwards?

My advice to you Mr. James Kofi Annan is kindly come out to offer apology to the good people of Ghana, Effutu constituency and Winneba especially members of NPP there.

I end by saying that though Mr. James Kofi Annan's article started on a promising note ended up being full of mischiefs, hypocrisies, half-truths, refined lies, misinformation, and baseless propaganda seemingly written for his own personal, parochial and selfish interests without the generality of Ghanaians at heart. He capitalized on the Ayawaso violence to advance his own cause instead of promoting peace and harmony and taking the opportunity to advise the youth of Ghana to eschew violence and to admonish them not to allow themselves to be used by certain groups of unpatriotic politicians (who have no conscience) to perpetrate violence.

Long live Ghana. Long Live Winneba/Effutu Constituency. Long live His Excellency the President of the Republic of Ghana. Shalom!