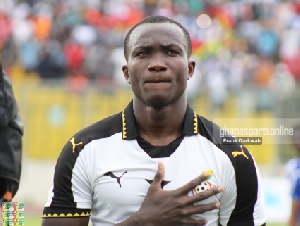 Tue, 22 Aug 2017 Source: Benjamin Nketsiah
It is ironic to think that a few months ago he was the same dude lobbying for a spot on Avram Grant's Afcon 2017 team when the trial games for the players invited was staged at the Saint Thomas Aquinas school park.
When it emerged that the most prolific striker invited to the camp did not make the final squad for the Afcon, a media uproar started but to no end.

The last few years have been a roller coaster for the 21-year-old as he posted a jaw dropping 30 goals in 37 matches in the 2016/2017 season for both Lustenau in Austria and in his first season for Zurich.

The logic surrounding his non-inclusion was hard to fathom as another striker with just a single season appearance and no goals to his name had been chosen ahead of him.

What made Grant's snub of Dwamena more ridiculous was the fact that a combined total of the goals scored by the other strikers picked ahead of him still didn't bring their tally anywhere close to his.

He shrugged it off and revealed he wasn't disappointed with the snub but little did he know that his debut was loading.

I was still in my hotel room and still had three hours to go before Ghana's Black Stars played Ethiopia in the first of the Afcon 2018 qualifiers.

As soon as I woke up from the nap I reached for my phone and as expected, speculative and tentative lineups for the Black Stars had been put out by a section of the Ghanaian media.

One name, however, remained constant, Raphael Dwamena.
A new coach was in charge and Dwamena would be used as the pillar of direction Kwesi Appiah wanted to mark his second tenure with.

A wind of change was blowing with a breath of youthfulness to it.

The classic penalty box finisher, feeding on scraps and fending off defenders in the box to get his shot off is what you will witness on a typical day.

The media stand at the Baba Yara stadium was crammed and in a frenzy and in his bright orange mercurial vapour boots he strolled unto the pitch.

He seemed eager to enjoy the partnership with the veteran Asamoah Gyan,despite the gulf in age.

In the beginning he set about running the channels and sizing up his opponent defenders even though he saw very little of the ball.

The lack of touches meant his feel for the game was out of sync with his team mates resulting in a lot of mistimed passes.

He kicked himself into action when he attacked a cross from the wing which gave Ghana the lead,a goal which was eventually credited to Gyan.
From that point on he had his tail up and turned provider after heading down a ball in the box for John Boye to latch on for Ghana's second.

Seeing him play for the first time I could not help sharing the sentiments of my good friend and colleague Yaw Ofosu who seemed convinced that we just might have a gem on our hands.

Suddenly he grew more in confidence as the match wore on and demanded the ball a lot more.

It also seemed like he spent the first half showing Gyan respect,but once the captain had got his goal it was time to also fully express himself.

He trapped and displayed a back to the goal game that would make Didier Drogba a happy man.

Suddenly he was revealing all the subtle aspects to his game.

A deft flick pass to a teammate and a follow-up run to receive a return pass meant that he was fully aware of his space and how to use it.

When he is in his groove the game slows down for him which means that he can read a play before it unfolds as witnessed in his early reaction to pounce a rebounded effort for his first goal for Ghana.
Not long after that he stayed aware and hungry to grab his second, making it a well rounded debut for him.

His first touch is still a work in progress but certainly above average.

Equipped with a rocket of a left foot, he will on occasion let go a pile driver from distance off a casual push on.

As the cliche goes he has a cultured left foot and it is no surprise that he idolizes Tony Yeboah,one of Ghana's greatest ever players to play in the English Premier League.

Away from the Pitch

His persona and approach was crystallized in the events that happened in the hours after the match.

Unlike a majority of his Black Stars team mates who chose to stay locked away in their hotel rooms after the match,Dwamena again was aware of the importance of the spotlight his performance had carved for him and stayed to deal with any media interactions like a pro who had been doing it for years.

Before I took my leave I probed his level of interest in making the jump to the English Premier League.
His answer revealed a man dedicated to his faith like no other but also one who was clear about his intentions.

"Let us leave all this in the hands of the Lord.

"Whatever it is, if I will get a club in England I will go for it.

"But it all remains in the hands of the Lord,"he indicated.

Fast forward a few weeks and he is on the brink of joining English Premier League side Brighton and Hove Albion subject to work permit clearance from UK authorities and a medical.

There have been mixed results for Ghanaian players that have made the jump to England but taking a cue from Gyan, the man he played his Ghana debut alongside should give him a good feeling about this new adventure.
Source: Benjamin Nketsiah