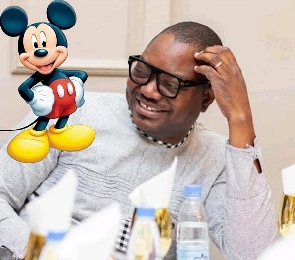 I just realized it's been a long time since I used my tongue o. Abeg, it is not what you are thinking. I just needed something to happy myself because it's Fridayyyyyyyyy! I am not talking about double-edged tongue o. In Ghana every disease is double edged. 'Beriberi' when it could just be 'beri'. 'Dweba dweba' is another. 'Krusankrusan' is yet another amazing one. Have you thought of 'gbligbli'? No wonder our sicknesses kill us faster because they act with double energy.
My car is worrying me but I am managing it so long as it has 4 tyres. The first sign that your second hand car is indeed second hand is when, at that point, you roll the glass window up and it comes down on its own automatically.

It is not a major problem but just to tell you that when something is old, small small problems start coming up. The same way you felt in your body at age 35, is it the same way you feel now at age 45? Who no grow go grow, even machines!

How does the face of an aeroplane pilot look like when he is about to take off or about to land at the airport? Just imagining o because I realized any time I am reversing my car in a tight corner, my lips enter my mouth…unconsciously! Please don't think what I was thinking. This is what happens as soon as the weekend comes around – everything is basaaa to make life feel real without any seriousness.

Before you continue not to read, please turn to the person next to you. Don't say anything. Just imagine how his or her face would look like if he or she is reaching orgazim.

My brother, in my own case, it is not good kraaaa o. I only saw it two weeks ago when my bedroom cctv camera caught me in that state. I don't think any woman would have agreed to marry me if she saw that look first. So where was my wife looking before agreeing? Eish! I worry this woman paaa o but it is for better, for worse!
Hahahahaha! Maybe she was feeling shy to look into my face! I was just imagining how the faces of Arotey Jakops and Patataaa would look like in this state. Abeg, let me walker pass!

Why is it so difficult for men to remove diapers from their baby children but very easy for them to remove 'distin' from fully grown adult ladies? I just asked a simple question and then you've started insulting me in your head. Oo!

When I started growing beard, I sought to know from a postman who apparently had not completed his orientation upon his entry into the service of Gana Post. The simple question I asked was 'Please Sir, what is the meaning of the inscription 'POST NO BILL?' (which we see on some walls). His answer? Hmmm! 'It means here, when you post a letter, you don't have to pay anything'. I started posting letters there but trust me, the letters never got to the addressees. Half orientation at the workplace is worse than no orientation at all! Not so?

When you are 'children', yes, you heard me right. I mean 'children' because you are not the only stubborn 'former child' reading this abstract. Too many ambitions come to mind when you are child. In fact, my nephew, Larry Kojo at age 5 wanted to be a 'shoe shine boy' (SSB) just because at the time, a bank was called SSB and it felt good to see the 'Reps' in town hitting their boxes with small hammers.

He indicated and proudly too that when he grows up because he just loved the music those guys played to advertise their services; he would want to be an SSB. But today, mention it to him at the University of Ghana ICT lecture halls and he would tell you 'damn you; you no know 'wosup'!
How many of us, when in the early stages of our education, were asked by our teachers "what do you want to be in future" and the answer was not "a lawyer, doctor, engineer,…"? No one would actually say a politician apart from my friend Gaba who was 'cursed' to be a politician by his father when he was young. When Gaba asks you to pass left, I beg, go right or don't move at all.

I don't ever remember saying I wanted to be a writer or an insurance professional. I actually wanted to be a wanzam just because of an.

But for a few specialized professionals such as medical doctors and engineers, what majority of us are doing now was not what we actually wanted to do.

Shakespeare said 'there is no art that can find the mind's eye in the face'. The smile on my face here was not real at the time I took this picture. Someone seated next to me passed gas and did not even say 'sorry' but pretended to be reading something on whatsapp. The annoying thing was that he put on a serious face.

In fact anybody who tells you a woman is the weaker vessel is lying to himself. They are not oo! If you like, make a mistake and attempt touching your wife violently and miss a step like Ekli, my neighbor did recently! The beating he received from his wife er! The women are strong oo. As for us men, all we know is takashi and that unnecessary ego thing that keeps us going!
I was driving recently and she decided to be in the back seat as if she was the car owner with me as her driver. I didn't have a problem with that but the slightest move I made, she complained I should have driven in a particular way.

Though sitting in the back seat, she was the first to spot a pothole ahead before I did! Worse of all she would be talking talking talking saaaaaa till a policeman stopped me but even that, she would still be talking talking.

When I taught her how to drive, she was still struggling to join the main road on her own. Would you believe she picked my car and decided to go to Kasoa on her own. For the lack of confidence and for safety purposes, I had in her, I decided to join her. She did the thing again. While approaching the highway from the Westhills Mall side, she was afraid to hit the road. She delayed for more than 20 minutes because according to her, she wanted to wait till the road was fully clear of any other vehicle. 'Let's go', I would instruct or rather advise. 'They are coming oooo', she would scream! Ooooohhhh gbedegbede! I finally had to take over and go and make a turn at the old barrier. That is self-injection.

Talk of injections reminds me of my encounter at Achimota Hospital in 1992. It was a queue of students going for injections for various sicknesses!

Golder Attor was ahead of me and when she entered that green cloth where the injections were being administered, in less than 30 seconds, she screamed 'ajeeeeeeeish' m3wu oo, m3wu oo'. I took to my heels; her screaming healed me instantly. May his soul rest in peace, Dr Soborjor of blessed memory.
Me and injections? Hmmm. Nothing scares the hell out of me than the initial pointing of the needle in the syringe into the air and then they press something and some small small liquids come out. That is what I call 'injection right abuse'. You want to 'kill' me and you display with the weapon. Chai! Have you ever seen a cow about to be slaughtered and how it reacts upon seeing the knife they are going to kill it with?

No one returns a call faster than the man who wants you to borrow him money. I used to have this love for heads without hair when I was a kid. All I wanted was to have 'bor' head. I liked it so much even now. My reason is that almost all 'bor' head men are very rich people.

The only poor one I ever knew was my late maternal Uncle, Adawuso! He carried concrete at construction sites till patches appeared on his head. At a point we wished this was common dandruff but it turned out that they were hardened pieces of cement and ……shwiaa - neither asphalt nor motorway! He used to fight barbers who charged him the full price for haircuts. Jah rasta far I, I used to call him.

Have a thrilling weekend and remember people don't change; they only pretend for a while just to fit in. Happy yourself and leave them alone!