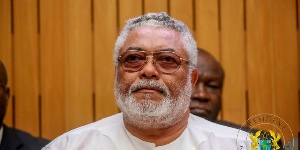 President Rawlings is once again at one of his favourite pastimes-- stoking the grievances of the masses.
Last week, the NDC founder opined that, " The Volta Region have faithfully voted for the NDC on many ocassions but they have nothing to be proud of because they have poverty coupled with bad road network." Wow!

The NDC has had 16 years of power under this constitution. 8 of those were under Mr. Rawlings and the other 8 under Mills-Mahama.

Before his 8 years as President, Mr. Rawlings was the Chairman of the PNDC for a decade.

So if the Volta Region is underdeveloped, whose fault is it? This charge sounds like an armed robber condemning thieves in his neighborhood!

US President Harry Truman had a quote on his desk, stating, "The Buck stops here".
The responsibility for the underdevelopment of the Volta Region should stop with Mr. Rawlings.

If he was still in his accountability mode, Mr. Rawlings would be apologizing to the Volta Region for neglecting them. Unfortunately, he abandoned accountability long ago.

Maybe, the Volta Region should try the NPP--after talking to Ashanti first.

Long live Ghana.