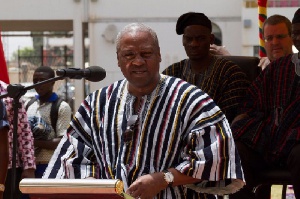 By K Badu
I perused through, albeit with a glint of incredulity, President John Dramani Mahama's somewhat weird caution to Ghanaians not to fall for the 'change' calls being trumpeted by the opposition New Patriotic Party ahead of the December polls (See: Don't change me for changing sake-Mahama; starrfmonline.com/ghanaweb.com, 28/11/2016).

"According to the President, the calls are empty and must be disregarded since the NPP has no good record of delivery when in power."

I have said time and time again that when experienced politicians like President Mahama keep holding on to vague rhetoric and political inebriations with a view to deceiving the unsuspecting Ghanaians, it thus gives some of us the reason to confute the apparent wrench.

I must admit, though, it is, heart-breaking to continue reading and listening to the bottomless claims from the government quarters, given the economic hardships the same government has wilfully imposed on the good people of Ghana.

Tell me, my dearest reader; if this is not a sheer political gimmickry, what would then drive a president who has presided over so much sleaze and corruptions which have resulted in Ghana's economic collapse to gasconade about "unprecedented" achievements?

Apparently, manipulating politicians like President Mahama, having the prior knowledge of their apple-polishing bandwagon's grovelled acceptance of below par performances, continue to manipulate their way to power and then offer laissez-faire leadership.

"They are calling for change for changing sake. If you ask them why they want change, they say oh, he has been on the seat for too long. That's not enough basis to vote for change, rather we must look at the good work the occupant of the seat is doing. The consideration should be the amount of work you've done and those you've started."
I beg your pardon, you are wrong, President Mahama. The fact of the matter is that Ghanaians are calling for change not because you have been in power for too long, but you have rather messed up the economy and the good people of Ghana are facing untold hardships.

So, stop being condescending President Mahama, because Ghanaians are not that gullible, as you think. As a matter of fact, they are experiencing the harsh economic conditions you have wilfully imposed on them, so they don't need anyone to remind them to clamour for a positive change.

Obviously, Ghanaians are feeling the stiff utility bills including electricity and water. And not to mention the ever increasing petroleum prices, among other things, diesel, gas, petrol and kerosene.

And more so given that dumsor has crippled and continues to collapse Ghanaian businesses, it would be patronising for anyone to suggest that whoever clamours for change of government is a grumbler. How bizarre?

Well, if indeed, the previous NPP government left the economy in a terrible state, as you would want us to believe, how come you inherited a favourable economic growth of around 14 per cent in 2012 and have woefully dragged it back to around a mere 3.5 per cent as of October 2016?

"Speaking at a rally at Essam in the Bia West Constituency on his tour of the Western region, President Mahama said the poor record of the NPP during their eight years in power is enough basis for Ghanaians to reject them again."

That cannot be entirely correct, President Mahama. The fact is all available records show that NPP government actually turned around your party founder, former President Rawlings's HIPC economy into a Lower Middle Income economy.
The fact is, former President Rawlings's 228 months (military, 132 months and democratic, 96 months) destabilised Ghana's micro economic indicators.

Ghana was then declared as a Highly Indebted Poor Country (HIPC) in April 2001, three months into President Kufuor's NPP administration.

The benefits of the HIPC were enormous during former President Kufuor's administration.

Consequently, microeconomic indicators begun to stabilize and Ghana's debt stock was significantly reduced by about $4 billion within that period.

Moreover, as a result of the HIPC initiative and prudent borrowing, Ghana's external debt stock actually declined from $6.1 billion in 2000 to$3.8 billion by 2008 (it was "unprecedented" achievement).

It is also true that the average GDP growth of the NDC from 1993-2000 was 3.8% while that of the NPP from 2001-2008 was5.2% with economic growth reaching 6.3% in 2007.

"We realized our young ones complete Junior High Schools with passes without spaces to enter Senior High Schools. This is because the NPP administration didn't even put up a single secondary school when they were in power. Today, we are constructing 123 new secondary schools".
You cannot be serious on your claim, President Mahama, can you? I mean have you soon forgotten what you said in 2008 about infrastructural projects? If I were you, I will shut up so as to ward-off the seeming embarrassment.

Were you not the same President Mahama who said in 2008 that even though you did appreciate President Kufuor's numerous infrastructural projects, including school blocks, you did not think that the erection of infrastructural projects was what suffering Ghanaians needed, amid harsh socio-economic standards of living?

"Mr. Mahama also accused the NPP of abandoning developmental projects the previous NDC administration started in the Western region, when they took over power. He cited the 'Gambia No. 2 Kyeremasu road' in the Western region to buttress his point."

In fact, I have no reason to repudiate your claims on the abandoned projects, but isn't it hypocritical on your part to seek to exonerate yourself from blame?

The fact of the matter is that you have been committing the same "crime" you are accusing former President Kufuor and his government of committing while in power.

Didn't you abandon the important Kumasi-Accra high road which former President Kufuor initiated?

Indeed, you demitted most of the projects former President Kufuor started, including 'Sofoline interchange (Kumasi), all the affordable housing projects, the mini dams meant to provide electricity to small towns and many other abandoned projects started by the previous NPP government.
"The President also dismissed assertion of the opposition that infrastructural projects on their own do not put food on the table saying, "projects are edible given the impact they make in people's lives".

Well, it wasn't the opposition who suggested so in 2008, but it was rather President Mahama who made such an unfathomable statement somewhere in 2008.

Yes, President Mahama said that every government undertakes infrastructure projects, so it would be an exercise in mediocrity for any government to celebrate such an accomplishment in the midst of economic downslide (as it is happening in President Mahama's Ghana).