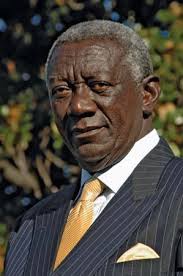 President Mahama is absolutely right on this occasion for insisting that former President Kufuor has an unbelievable discernment and doesn't talk anyhow (myjoyonline.com ; ghanaweb.com, 23/08/2016).
"President John Mahama has commended former President John Agyekum Kufuor for his comment that four years is not enough for presidents to achieve their target".

Isn't it quite ironic that President Mahama is now in agreement with former President Kufuor?

"Former President Kufuor is a sensible person, very experienced president, not long ago he said the four years is not enough," President Mahama said.

Indeed, it is quite strange that President Mahama is now eulogizing former President Kufuor for suggesting that a four year term is not enough for a president to achieve a realistic target.

Is it because former President Kufuor's suggestion supports his claims that he needs more time to solve the existential dumsor?

Apparently, it was the same President Mahama who upbraided former President Kufuor for voicing out his opinion in Kennedy Agyapong's case some time ago.

In retrospect, the Attorney General's office charged Kennedy Agyepong with Treason, Terrorism & genocide and former President Kufuor humbly appealed for calm, and suggested that the government should avoid 'killing a fly with a Sledge Hammer.
President Mahama, who was the Vice President back then, subsequently replied hastily and lividly: "We will kill a fly with a Bulldozer".

Yes, he had an impertinent boldness to tell former President Kufuor to shut up his mouth.

As a matter of fact, former President Kufuor's comment was coherent and benign, so I have been struggling to come into terms with President Mahama's lividness towards him.

Was it because former President Kufuor's comment did not go down well with him?

In my humble opinion, former President Kufuor's comment back then was as sensible as his four year term comment President Mahama has chosen to commend.

Well, it appears as an illustrative case of selective amnesia.

Everything aside, I agree with you that former President Kufuor is sensible. For it is only a sensible leader that can introduce the free Maternal Care, the School Feeding Programme, the National Health Insurance Scheme, the Mass Transport System, the Livelihood Empowerment Against Poverty (LEAP), the National Youth Employment Programme, now known as GYEDA, and many other social interventions.
"Addressing voters as part of his campaign tour of the Northern Region, President Mahama said four years is simply not enough for any government to achieve their campaign promises".

You are wrong once again President Mahama, because four years term is long enough for any serious leader to hit the ground running.

Tell discerning Ghanaians, does it take more than four years to solve a pressing issue such as dumsor? No.

As a matter of fact, any serious and committed leader will solve such an important issue such as dumsor within four years.

"Ex-President Kufuor not long ago reiterated his call for an extension of the presidential term arguing, the four-year term is not enough to make a meaningful impact as president".

To be quite honest, it was President Kufuor's opinion and he has every right to express his opinion.

Even though I respect President Kufuor's opinion, I disagree with him on this occasion. This is because four years is good enough for any serious and committed leader to get things under way as he, President Kufuor, managed to discharge his duties admirably.
"President Mahama said the work of the President is like that of a mason, the first four years is used to lay a good foundation and the next four years is used for the construction of the building adding there are different housing styles in the country".

I must admit, I am struggling to come into terms with the sort of a good foundation President Mahama is claiming to have laid.

If anything at all, it was President Kufuor who laid a good foundation by moving Ghana from the Highly Indebted Poor Country (HIPC) status to a Lower Middle Income status.

By the end of 2008, Ghana's economy had been quadrupled to US$ 16 billion, a period of eight years under the leadership of President Kufuor. The average GDP growth of the NDC from 1993-2000 was 3.8% while that of the NPP from 2001-2008 was5.2% with economic growth reaching 6.3% in 2007 (Daily Guide, 2016).

Dr. Mahamudu Bawumia while addressing students of the Jasikan College of Education, said "In the last seven years alone under this NDC government, Ghana's total debt has ballooned from GH¢9.5 billion to a projected GH¢99 billion by the end of 2015".

"What is clear is that, 90% (i.e. GHC89.5 billion) of Ghana's total debt since independence has been accumulated under this NDC government between 2009-2015 i.e. the last seven years," he said (cityfmonline.com).

So, what good foundation are you talking about President Mahama?
In fact, if anything at all, you've rather undone the good foundation former President Kufuor laid.

"President Mahama told the electorates only a renewal of his mandate will bring about the social and economic transformation he has promised Ghanaians".

I recall you gave a slew of promises, including 'making dumsor a thing of the past, putting money in Ghanaians pocket, creating more jobs for the jobless, stabilising the economy, protecting Ghanaians from the menaces of galamsey and Fulani herdsmen, bringing an end to dubious judgement debt payments, fighting the rampant sleaze and corruption, working with 'lean' government etc.

However, you have reneged virtually on all the promises. So where is the guarantee that you will fulfil another promise?

With all the broken promises, how would you then expect the electorates to take you seriously when you come round next time with myriad of promises?