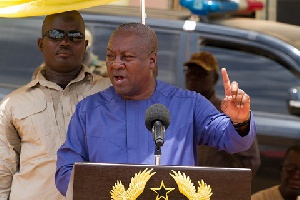 This periodical is a critical assessment of President John Dramani Mahama's recent claims that he has done his best for the country by executing numerous infrastructure projects.
"When former President John Agyekum Kufuor assumed office, he continued from where Jerry Rawlings left off and the late Atta Mills also came to do his part and I also came to continue". "I will not say I have completed all the jobs but I can say I have done my best for my country," he indicated."

My response: If, indeed, President Kuffour and the late President Mills both continued the uncompleted projects by the previous administrations, why have you then refused to continue most of the projects your predecessor, President Kuffour initiated, President Mahama?

President Mahama, what has happened to the Sofoline interchange? Haven't you left the project and rather focused on the interchange projects elsewhere?

Tell the discerning Ghanaians, President Mahama, didn't you abandon an important project such as Accra-Kumasi main road which was started by President Kuffour? You've been playing politics with such an important national project, aren't you?

What about all the affordable housing projects that President Kuffour initiated? Haven't you left them to the mercy of squatters'? How bizarre?

President Mahama, you must be told in no uncertain terms that your best is not good enough. You have indeed failed abysmally in that department.

"Addressing supporters of the National Democratic Congress (NDC) in Sekondi on Thursday as part of his four-day campaign in the Western Region, President Mahama disclosed that when he assumed office, his government decided to invest in five key areas- water, electricity, health, education and roads".

My response: Well, President Mahama, the investments in those key areas are either minimal or just a mere vague rhetoric and political inebriations. This is because the citizens aren't reaping any benefits from such much touted huge investments in those key areas.

"He pointed out that currently about 76 percent of the people in the country have access to good drinking water while about 80 percent of the citizens have access to electricity."

My response: President Mahama, have you managed to drive out the lunatic fringe of Chinese immigrants who are forcibly digging our natural resources, destroying the environment, including the water bodies which are the main sources of our drinking water?

In fact, President Mahama, you've lost touch of the reality. Just visit the rural areas and find out for yourselves how the village folks are struggling to lay hands on good drinking water.

Well, Mr President, you may be right that about 80 per cent of the citizens have access to electricity. The overarching question is: where is the electricity? Haven't you failed woefully to end the existential 'dumsor?'
"President Mahama noted that over 75 kilometres of asphaltic concrete roads had been constructed in the Sekondi-Takoradi metropolis alone while 97 percent of children of school-going age were in school".

My response: Yes, you've constructed about 75 kilometres of asphaltic concrete roads in the Sekondi/Takoradi Metropolis, but at what costs? Isn't it all about 'create loot and share?

We may have all the children of the school going age in classroom, but what is the standard of our educational system now? Aren't the children failing their final examinations?

Apparently, you've failed to implement your manifesto pledge of quality education, ---it was all political gimmickry. You talk to talk and deliver less.

I am afraid your best is apparently not good enough, President Mahama.

"President Kufuor once said the four-year term of every president in Ghana was meant for laying solid foundation".

My response: Yes, it was President Kuffour's opinion and he has every right to express his opinion. I respect President Kuffour's opinion, but I disagree with him on this occasion, because four years is good enough for any serious and committed leader to get things under way as he, President Kuffour managed to perform incredibly well.

Tell me, does it take more than four years to solve a pressing issue such as 'dumsor'? No.

Clearly, any serious and committed leader will solve such an important issue such 'dumsor' as quickly as possible.

"I am saying I have built a good foundation so I am calling on you to give me another four-year term to put up the building," President Mahama told the NDC supporters".

My response: What do you called a good foundation, President Mahama?

I am afraid Mr President your analogy of 'a good foundation' is skewed. For if anything at all, it was your predecessors who laid a marvellous foundation, only for you to needlessly dismantle it.
Honestly, I am struggling to come into terms with what sort of good foundation you are claiming to have laid.

Actually, it was President Kuffour who moved Ghana from the Highly Indebted Poor Country (HIPC) status to a Lower Middle Income status.

For example, "during the year 2001, debt as a percentage of the GDP was not only unsustainably high and crippling but also deprived Ghanaians from money which could have been used for needed developmental and social projects".

"The benefits of the HIPC were unprecedented during the Kuffour's regime from (2001-2008). Microeconomic indicators begun to stabilize and Ghana's debt stock was significantly reduced by about $4 billion within that period".

"There were Rapid infrastructural developments as well as social and policy reforms". "Ghana was then elevated from a HIPC economy to a middle income economy under the Kufour administration" (Mutaka Alolo, 2012).

"By the end of 2008, Ghana's economy had been quadrupled to US$ 16 billion, a period of eight years under the NPP". "The average GDP growth of the NDC from 1993-2000 was 3.8% while that of the NPP from 2001-2008 was5.2% with economic growth reaching 6.3% in 2007" (Daily Guide, 2016).

"The high inflation rate remain elevated at 18.5% in February 2016 compared to 17.7% in February 2015, even after the Central Bank's 500 bps policy rate hikes. Ghana's economic growth slowed for the fourth consecutive year to an estimated 3.4% in 2015 from 4% in 2014 as energy rationing, high inflation, and ongoing fiscal consolidation weighed on economic activity (World Bank, 2016").

Dr. Mahamudu Bawumia while addressing students of the Jasikan College of Education, said "In the last seven years alone under this NDC government, Ghana's total debt has ballooned from GH¢9.5 billion to a projected GH¢99 billion by the end of 2015".

"What is clear is that, 90% (i.e. GHC89.5 billion) of Ghana's total debt since independence has been accumulated under this NDC government between 2009-2015 i.e. the last seven years," he said.

He added that "few months ago, President Mahama stated in Ho that 41% of Ghana's external debt of $14 billion was accumulated by the NPP government between 2001 and 2008. This is clearly a falsehood".

"The truth is that, as a result of the HIPC initiative and prudent borrowing, Ghana's external debt stock actually declined from $6.1 billion in 2000 to$3.8 billion by 2008 (the first time in history)".

"The debt has since increased by $10.2 to $14 billion in 2015. So how is what the President said in Ho possible?"
"The facts therefore show that 72% of Ghana's external debt stock and 90% of Ghana's total debt stock was accumulated during the last seven years," he noted (cityfmonline.com).

President Mahama, what foundation are you talking about? Please, tell that to the Neanderthals because the discerning electorates won't buy your dishonest pleonasm.

"President Mahama said the timber business was also declining due to climate change and deforestation".

My response: Did I hear you say deforestation, President Mahama?

Well, is it up to you being a leader to put practicable measures in place to check deforestation. Let's remind you that you are there to solve problems but not to highlight the problems. Please just solve the problems for God sake.

"In my second-term in office, the Port and Railways would emerge as it used to be during the regime of the first President of Ghana, Dr Kwame Nkrumah to help revive the railway system and create jobs, he indicated".

My response: Goodness. Does anyone believe what you are saying?

Have you been sleeping on the job up till now then? Hasn't the NDC government been in charge for the last seven and half years? And what prevented you from undertaking such an important venture?

Please, President Mahama, enough of your vague rhetoric and political inebriations. Your best is not good enough.

"The president told the people that his government had not discriminated against the people of Sekondi and Takoradi even though the NDC has not won the seats for a very long time".

My response: Well, you've done the right thing for not discriminating against the people of Sekondi and Takoradi because they pay their taxes as anyone elsewhere. And more so they are not obliged to vote for you before you develop their area. So, you've not done anything extraordinary for developing their area. It is your mandated duty, so please give us a break.

"Our opponents are saying the roads, hospitals and the other projects are not edible and that my government is only incurring huge debts and embezzling state funds, but I want to ask them if people have money in their pockets but can't get any hospital to go to when they are sick, then you ask yourself what then is the use of the money?" he quizzed.
My response: Aren't you the same person who said in 2008 that it is an exercise in mediocrity for any government to boast about infrastructural projects? What has changed in 2016, President Mahama?

Did you also say what would be the use of money in people's pocket if there are no hospitals when they fall sick?

Please tell me, where do you lots go for medical treatment? Don't you fly across the globe to seek medical attention? Yes, you do, because you have deep pockets and can afford the excellent medical facilities abroad.

So, please give us a break with your vague rhetoric which is only designed to proselytise unsuspected electorates.

Please come again, President Mahama, because that was a mere vague rhetoric and political inebriations devoid of substance.

References:

(See: 'I've done my best-Mahama; dailyguideafrica.com; ghanaweb.com).

www.cityfmonline.com www.dailyguideafrica.com www.ghanaweb.com Mutaka, Alolo (2012) 'Micro Economic Indicators Exposed Government' (www.ghanaweb.com) www.worldbank.org