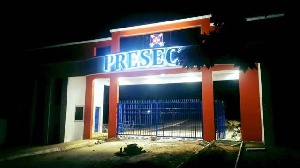 We publish this rejoinder without comment and we promise not to comment for another three years.
April 23 2019

Mr Isaac Ato Mensah

writersghana.com

Accra
Dear Mr Isaac Ato Mensah

Re: OLD STUDENTS AHOY; PART 1 (PRESEC NEEDS AN E-LIBRARY, OLA-HO NEEDS WATER).

We wish to react to a section of your article on writersghana.com with the above subject and published on April 22 2019. In the said article, Mr Richard Agyepong is quoted as saying "the 91 Group, for example, started a gym and when their job for hosting the speech day was over, they abandoned the project"

The above quote is wholly untrue. It portrays the 91 Group as irresponsible people who are unable to fulfil their voluntarily pledged obligations, and we are unsure what could have informed such an unfortunate and unfounded statement, especially from an Odadee, who could easily have checked on the status of the Project.
We, Odadee 91, have not abandoned the Fitness and Wellness Centre Project. The Global Executive of the Odadee Global Association are fully aware of this and are supporting us in various ways to complete it. Such unguarded statements only make our untiring efforts at raising the necessary funds and support for completion even more difficult.

Ours is one of the few completely new (from scratch) brick and mortar projects that any year group has embarked upon in the school. We chose this project in line with our annual support and sponsorship of the Inter Houses Football Competition, which we have done for the past 9 years. Just like many good projects, we have had some funding challenges along the way, and so were unable to complete it within the target period, but this delay does not denote nor connote abandonment. We are Odadees; we do not give up; we were not taught to do so; we did not learn to do so. Rather, we trudge (not necessarily run) along to happy victory over any and all hurdles.

We have received substantial actual and pledged support from some senior Odadees, well-wishers, as well as from the 91 Group itself, and therefore expect to complete the project by the end of 2019.

We, therefore, call on Mr Richard Agyepong to retract the unfortunate statement, and on you and writersghana.com as author and publishers respectively, to correct the wrong impression created.
We are aware that the best response to such publications is to "Just Do It". In this vein, we would like to invite all Odadees and their families to come along and join us on the school field on May 11 2019 from 6:00 am for a Fitness, Wellness, and Penalty Shoot Out Fundraising Event.

In Lumine Tuo Videbimus Lumen. In Thy Light, We Shall See Light

Yours sincerely

Patience Mantey (Mrs)
Interim Secretary

Odadee 91

Feedback; ato@writersghana.com; www.writersghana.com; LinkedIn, Isaac Ato Mensah; Instagram, @atomenswriters; Twitter, @Atomens; Facebook, Isaac Ato Mensah; Telegram, Isaac Ato Mensah; Quora, Isaac Ato Mensah. WhatsApp (233) 020 022 0353.

Writers and Shakespeares Ghana Limited exist to be a moral and intellectual guide to the best practice of PR and integrated communications around the world, beginning with Ghana.