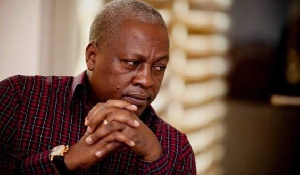 It would appear that His Excellency, Ex-President Mahama, is still living in a denial over the 2016 humiliating election defeat if his recent utterances are anything to go by.
Isn't it quite ironic that with all the harsh economic conditions, amid corruption allegations (Bus branding, SADA, SUBA, GYEEDA, Ford Expedition Vehicle amongst others, President Mahama can still go ahead and accuse Akufo-Addo of promising the electorates heaven during the 2016 electioneering campaign which led to his humiliating defeat?

Apparently, Ex-President Mahama is still wondering why Akufo-Addo should promise discerning Ghanaians of free SHS, $1million to each of the 275 constituencies, one factory in each of the 216 districts, and do away with some nuisance taxes amongst others.

Bizarrely, Ex-president Mahama is reported to have said that he cringed when Akufo-Addo made the numerous promises to Ghanaians because as president then, he knew the state coffers was not healthy to support all those ambitious promises.

"We were in government and we said it is not possible to give $1million-to-each-constituency."

Let us be honest, though, former President Mahama has been telling the truth by disclosing that his government emptied the coffers before exiting from power on 7th January 2017.
Addressing NDC followers during their recent unity health walk at Tarkwa, former President Mahama asserted: "the NDC is a party that do not tell lies. What we cannot do, we do not say we will do it and whatever we promise to do, truly, we deliver"

Indeed, I am in puzzled countenance as to why former President Mahama should consistently blame his 2016 election loss to supposedly unrealistic promises by his opponent.

Take, for example, speaking at the World Economic Forum in Durban, South Africa on Thursday 4th May 2017, former President Mahama noted that he had an "incumbency disadvantage".

Back then, former President Mahama who was sharing some of the things that led to his loss in the 2016 elections added: "I had managed the economy and I knew what the economy could give the people and I told the people the truth that we need more hard work to be able to get out of where we are; my opponent promised heaven and you have the constraints of not being able to promise all the rosy things he was doing" (See: www.graphic.com.gh/politics).

I must admit, former President Mahama earned my topmost respect when he handed the baton peacefully to the incoming President Akufo-Addo on 7th January 2017. However, judging from his recent public remarks, I am tempting to believe that he is a sore loser, notwithstanding the fact that his defeat has nothing to do with Akufo-Addo's promises according to Professor Kwesi Botchwey's report.
Dearest reader, if this is not sheer political gimmicks, what would then drive a former president who presided over so much sleazes and corruption which brought about Ghana's massive economic downslide to accuse his opponent of masterminding his humiliating election defeat?

With all due respect, former President Mahama must accept the fact that his woeful errors in judgement which sent Ghana's economy deeper and deeper into the mire to some large extent cost him the presidency, but not the promises by his opponent.

Given the huge economic mess amid untold hardships, discerning Ghanaians had no other option than to put their trust in NPP to set them free from the NDC government's needless economic enslavement.

Consequently, the good people of Ghana embraced NPP's advantageous policies such as one district one factory, one constituency one million dollars, one village one dam, free SHS, tax deductions amongst others.

Back then, anytime the suffering Ghanaians complained about the economic hardships, former President Mahama and his appointees would ungraciously chastise the same people who gave them the electoral mandate for expressing their grievances.
Believe it or not, the NDC's 'Babies with sharp teeth' would insult every Ghanaian that would dare complain about their maladaptive administration.

And what is more, whenever the good people of Ghana expressed their doubts over the much touted numerous infrastructural projects, the humble, patient and tolerant President Mahama and his vociferous communicators would reply: "It is only those that are blind that do not see the good work of the NDC government."

As a matter of fact, the good people of Ghana stencilled the needless attacks on their mental sheets and waited for an opportune time to teach the non-performing NDC government a great lesson.

7th December 2016, so to speak, was the right time for the good people of Ghana to vent their spleen on Mahama's coarse government.