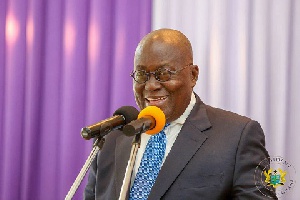 Dear Nana Addo,
Greetings from Binduri.

Nawa for you ooooooo. Why have you decided to disrupt my meeting with the gods of Binduri? We were drinking pito together at the Bansi Mountains as we deliberate on how we can de-escalate the District Assembly relocation tension you have imposed on us through your clueless and incompetent DCE and Regional Minister.

Why do you want to plunge the District into chaos? The people of Binduri are wiser than you think and will not spill any innocent blood for you to achieve your parochial interest. Water, roads, schools, health facilities are our priorities not war. Shame on you.

Eheeeee there is news in town that Ghana is worsening in the Transparency International CPI thanks to your corrupt governance. Hahaaa, a woman can claim virginity until a gynecologists confirms her protruded stomach is not a result of fibroid but a pregnancy.

Ghana is currently ranked 81st in the world in the last Corruption Perception Index survey conducted by Transparency International representing a drop of 11 clear points. We were 70th in their last ranking under John Dramani Mahama. The report consist of 9 data sources/surveys, of which Only 2 came from 2016 (under NDC); 7 from 2017 (NPP just a year). The CPI report is very revealing!

Mr. President, corruption is not fought through media advertisement. I have noticed GTV currently runs such adverts on behalf of the Ministry of Information. What a shame? Really? Advertisement can't fight corruption when you have turned yourself into a clearing agent exonerating your corrupt appointees whenever they are exposed. Hell No!

Mr. President, how do you fight corruption and protect the public purse with over 2000+ presidential staffers? If the media cabal hide you, transparency international will expose you in grand style and that's what just happened.
I can see the cabal notably Citi fm trying so hard to distort the report in their desperate attempt to shove it down our throats but be they informed that we know too well to be misled.

The real hypocrisy in our media and in journalism is when uninformed opinions are clothed as objective facts and passed off as such to justify a story that either has a political ending or trying to dissuade the public! Our media station lost it long time ago, in serving the good people of Ghana as the 4th arm of government, which requires them to be 'watch dogs' not 'guard dogs'.

They always quote "Sources" which are imaginary. Our media is rogued. Brown Envelope Journalists are what we are currently having and that's how come we are where we are.

Your Presidential staffer in charge of Legal Affairs have blamed the poor performance of our country in the fight against corruption to the erstwhile Mahama regime. You appointed him, so I would like to enquire from you if he actually utilizes his brain properly. Is John Mahama the one covering up the shady deals in the monument of corruption under your watch?

The worst thing that ever happened to Ghana was when 53% of Ghanaian voters elected you as president. The higher an ape climbs, the more he exposes his bald ass. You failed woefully as an opposition leader in fighting corruption in the NPP and that's how come Paul Afoko, Kwabena Agyapong and Sammy Crabbe were suspended for fighting corruption within the NPP where you were benefitting much from such ungodly acts.

I have never trusted your ability to fight corruption and my reason is simple: 'No serious minded person learns moral lessons from the brothel'! It is as simple as A, B, C. Leadership by example.

Mr. President, the problem is that you've hired blumbers who are goofing all over and doing more damage than blind horses in empty barns. They're like gutter rats at midnight, they are not paying attention to anything. All they are interested in doing is eating the garbage cans.
Transparency International report isn't intriguing. They were here when Boakye Agyarko bribed the parliamentary appointment committee with GHc 150,000 which you covered up with an embarrassing committee full of noble men of no integrity.

They were privy to the fact that Ghana spent GHc 20million in a 2 hour Ghana @60 ceremony. Surprisingly enough, the Ghana @60 organizing committee haven't been able to render proper accounts to Ghanaian taxpayers to date.

They are fully aware Mr. Alfred Obeng Boateng, the Managing Director of BOST sold 5million litres of contaminated fuel to his own unregistered company which was unlicensed. Your Energy Minister who upon a public outcry decided to set up an investigation committee was reprimanded by no less a person than you. The scandal was cleared and covered.

Transparency International knows that your Cousin, the Finance Minister, Hon. Ken Ofori Atta, issued a scandalous family and friends bond within 4 hours. The bond's issue was shrouded in secrecy.

The bond was issued without recourse to laid down procedures and industry best practices requirements. There was no Security and Exchange Commission board in place to supervise the issuance of the bond. There was no cabinet or parliamentary approval in the issuance of the bond. The attorney general who is the principal state attorney was not aware of the legal implications of the deal.

They are aware several tankers of premix fuel were dubiously diverted by a brother of the Minister for Fisheries and Aquaculture with impunity.

They are aware investors pay $20,000 to Presidential staffers as gate fees in order to access the Presidency.
They're aware the highest seat of our country, the presidential seat can be accessed with $100,000. Sometimes with Lebanese food.

They're aware you packaged 197 nonentities to UNGA with the taxpayers' money which even included the celebration of the birth days of a prominent Akyem chief. And I can go on and on!

They know very well that you and your Veep are just a weaker overlords who are just seeking the aggrandizement of yourselves, families, friends, associates and concubines who are quicker to despoil their subjects than govern well with so much avarice, acquisitiveness, and cupity with rapacious propensity.

I can't believe the Sanitation ambassador who happens to be a high moral grounds preacher have suddenly become passive spectator always singing praises on you. He has been exposed with this report. Judgement day would be interesting and if I happen to be there early, I would plead with God to be at the gate to see how people like the old chameleon are going to be judged.

Mr. President, what has really changed?

How did we get here?

Why the sudden turn of events?
Anyway, this is what you get when you send the monkey to the banana market. I mean if we elect 'Wakora' (Rogues; the most organised sector of criminal elements ) into government, this is the outcome.

Very sadly,

Assibid Dauda

The Binduri Youth Activist