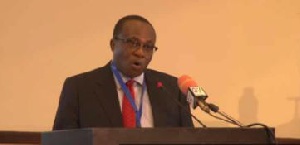 Plaintiffs in the case involving former staff of the National Communication Authority (NCA) have petitioned for the recusal of Kyei Baffour over what they describe as a possible unfair judgement from his Lordship who is handling the case.
Their request comes after a recent revelation by social media commentator Kevin Ekow Taylor.

Kevin Ekow Taylor, in a video on Facebook, alleged that Justice Kyei-Baffuor, an Appeals Court judge, was promoted merely because he was doing the bidding of Akufo-Addo's government in the trial of some five people accused of embezzling $4 million belonging to the National Communications Authority (NCA).
more to follow