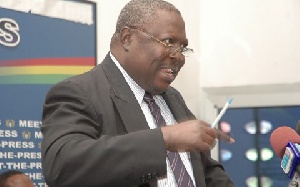 Finally, President Nana Akufo-Addo nominated Martin Amidu as the first Special Prosecutor for the newly created Office of Special Prosecutor (OSP) in the fight against stealing of public resources (corruption). What does this mean for Ghana and the fight against stealing of public resources by Ghanaians, especially politicians and public servants? In this brief article, I will analyse the appointment and what holds in future for the office.
So far, public response to Martin Amidu's nomination is overwhelmingly positive, except of course, some members of the main opposition party, NDC who may have skeletons in their closets. The nomination is unprecedented in Ghana's partisan politics of NPP/NDC. It also shows the political shrewdness of Nana Akufo-Addo. Against all odds, he surprised the nation by appointing someone from the main opposition party to such a politically sensitive position, when a couple of days ago, the media was awashed with the names of Akoto Amapw as the first Special Prosecutor with Charles Addison as his deputy.

The appointment is a positive one for a number of good reasons. First, from his past experience as anti-corruption crusader, Martin Amidu, alias Citizen Vigilante stands tall above others. His stature and boldness in standing up to his superiors, even if it meant losing his ministerial job is also an indication that he is capable of asserting his independence from the Executive, especially the appointing authority.

Second, and as already made known by some NDC leaders such as Kofi Adams, if NDC complains of political persecution, President Akufo-Addo could tell them that Martin Amidu is one of them and not from NPP. This is a crafty political calculation or miscalculation that could also turn sour in the mouth of the president and his NPP.

Third, if he is able to assert his independence and has the resources with independent minded qualified and experienced men and women who are passionate about reducing corruption, then, his office will also prosecute the president's own appointees and party members when they are found wanting whilst in office and not wait till a new government from a different party takes over.

This is where the appointment could be controversial and turn sour grapes in the mouths of President Akufo-Addo and NPP because a successful corruption prosecution and conviction of his appointees and NPP figures could spell doom for his government and party. Should that happen, some leading party figures could blame the president for his decision to appoint someone from the NDC and even agitate for his removal through impeachment. That could plunge NPP into civil war as well as risk losing the 2020 general elections. Alternatively, the Executive could sabotage him by denying him resources and access to state documents that could be used as evidence against corrupt government appointees and NPP figures.
Another risk to his effectiveness or otherwise, is that his appointment could be just in name as a figure head. The real movers and shakers could his deputy and others holding leadership roles within OSP, appointed by the president who would hold strong political allegiance to NPP and could frustrate Martin Amidu's efforts in prosecuting political appointees and NPP (leading) members. It's watch this space.

Fifth, though Martin Amidu is out of favour with his own party, if he is able to work effectively as an independent prosecutor and succeeds in prosecuting cases involving both NDC and NPP as well as non-party thieves, should NDC come to power, they are more likely to listen to favourable public opinion and reappoint him.

However, the good appointment could be a bad omen should Martin Amidu decide to be vindictive against his fellow NDC members for the way he was treated and made an outcast within the party. This is not to suggest that the OSP should not pursue former NDC appointees and officials if they stole public funds whilst in office. The office should go where the evidence leads them to and as long as there is credible evidence, it does not matter whether the thief or thieves are NDC, NPP, or a mere public servant.

After the euphoria of the nomination, the question is, do Ghanaians really believe that the OSP is the answer to the increasing menace of corruption across the breath and width of the country? What would the OSP do differently that could not have been done by the existing institutions, including EOCO, CHRAJ, the police and the judiciary? How many offices and staff across the country would OSP have? Who would be these, Ghanaians or foreigners? If Ghanaians, are they angels?

To be honest, I am the least enthused about the OSP. In fact, I told the president when he addressed the Cambridge Union on November 20, 2017 that, the answer to reducing corruption does not lie in the creation of new institutions but rather strengthening and resourcing existing ones to do their job effectively.
I added that, there were more than enough laws, rules and regulations on Ghanaian statute books and institutions to check theft by politicians and public officers across Ghana. However, the failure, inability or the unwillingness of these institutions to enforce the existing laws, rules and regulations as well as the failure, inability or the unwillingness of the citizenry to comply with same are what fuel and sustain this cancer of state theft.

Finally, I concluded that what Ghana needs to do to fight this cancer is strict enforcement of the existing laws, rules and regulations and the establishment of an independent State Prosecution Service separate from the Office of the Attorney General and Minister of Justice but not the duplication of prosecution powers by the establishment of OSP.

Moreover, and as we all know, corruption has a giver and taker. Most often, one of them (the taker) is a Ghanaian, if not both. In a society where it's the norm to offer something in return for public service fully paid for by the state, unless there is attitudinal change in the behaviour of Ghanaians by saying no to giving and taking bribes and no to stealing from the state, the OSP would at best, be a nine day wonder and could suffer the same fate as CHRAJ and EOCO when appellate courts reverse some of its successes or actions.

In my candid opinion, the most effective way to reduce stealing from the state is the strict enforcement of the existing laws, rules and regulations through due process with punitive sanctions for those caught, prosecuted and convicted across the country. Such an approach would coerce or compel the citizenry to also comply with the laws, rules and regulations.

In a country where judges were found to have taken bribes and set criminals including murders free, yet not a single judge has been prosecuted, made to refund all the ill-gotten wealth and jailed; a country where political vigilante leader claims his members should not be arrested by the police when they commit crimes; a country where public servants openly collect bribes and steal from the state, yet, their only punishment is a transfer from Accra to Wa; a country where police officers collect bribes daily and openly and nothing happens to them, you tell me, the OSP will end all that? I am not persuaded.
It would not take a group of individuals or OSP to successfully prosecute the fight against corruption. Corruption is endemic in Ghana and a national disease of epic proportion, so it would take the whole nation and its citizens to reduce it. A cultural, attitudinal and mindset change by Ghanaians everywhere and anywhere is what is required.

My rough estimate is that over sixty percent of internally generated revenue is lost to individual revenue collectors through theft. These are ordinary Ghanaians in offices, across the country, at ports and police officers on roads and offices, etc. The OSP cannot be everywhere but Ghanaians are everywhere and collectively, if the will is there, they can reduce stealing of public resources to the barest minimum. That would lead to increased revenue generation to fund development and Ghana would not have to go cup in hand begging for aid.

Having said the above, I will give the OSP, the benefit of the doubt and pray that it would be successful and effective in reducing theft in public places in Ghana.

However, the appointment of Martin Amidu, a strong man from the main opposition NDC is a poisoned chalice because if he is successful in asserting his independence and effective in prosecuting thieves from both NDC and NPP as well as non-politicians, the hue and cry from NPP could result in his office being starved of resources, being denied access to public documents and non-cooperation from the Executive because it could bring down the government that appointed him.

In fact, NPP would accuse him of being politically motivated against the party.
In other words, Martin should tread carefully and not abuse his new-found authority. I know him from our PNDC days, he is an honest man and would serve Ghana well in the fight against public stealing. But a poisoned chalice role, he is between a rock and a hard surface. He is damned if he does and damned if he doesn't. As long as he remembers that he is not there to serve neither NPP nor NDC but Ghana, he could be successful. I wish him good luck.