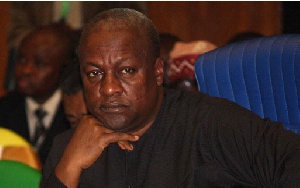 By K. Badu
Education indeed plays a pivotal role in the development of a nation, thus, the proactive approach to improving accessibility and quality is not through political gimmickry, but through well-thought through policies.

It is, however, not expedient for any authority to attempt to bridge social inequalities through irrational distribution of national resources (Li, Savage , Ward 2008).

Clearly, our current crops of politicians are playing with our educational system. For, if that was not the case, how could a whole government promise 'one student one tablet as a means of advancing the students social mobility?

In Ghana today, it is pretty normal for many young people to come out of higher institutions without superlative employable skills that can improve their chances of securing a desirable employment that will help them realise their potential and enter the social mobility pipeline.

Sadly, however, we have arrived at this unfortunate situation because our politicians have failed miserably to provide the necessities for quality education.
In fact, it is not just the matter of the children passing through our unequipped educational system that will bring about their social mobility, but it is rather by providing them with positive outcomes (Bridge 2016).

To be quite honest, the NDC Party's manifesto pledge of 'one student one tablet' is a sheer political inebriation that cannot be deemed as a well-thought through policy. For, it appears as a hasty votes buying gimmickry that won't add to the needed advancement.

The advantageous policy, however, is to go the United Kingdom's way of providing study resources to schools.

In the United Kingdom, schools have learning resource centres or libraries that are replete with study equipment such as computers, fax machines, scanners and printers.

As a matter of fact, the UK government does not buy individual students study equipment. The only exception though, is, the disabled people, who are often entitled to learning support, including study aids and equipment.
In fact, the eligible disabled students can get help towards their education under the Disabled Student Allowance scheme.

For example, the help towards the purchasing of specialist equipment such as accessible computer because of a disability (Full time and part time student may get £5212 for the whole course).

However, from 2015/16 academic year, eligible students will pay 200 pounds towards the cost of purchasing a new computer.

Moreover, a disabled student may get a non-medical help of up to £20,725 for full time students a year and £15,543 for part time students a year.

The non-medical help includes funding towards a notes taker or personal assistant.
Besides, an eligible disabled student may get help towards the costs of travel. A full time student may get £1,741 and £1,305 for part time student a year.

Lest I forget, the preceding disabled student entitlements are for the eligible undergraduate students. Whereas the eligible disabled postgraduate students may receive a lump sum of a little over £10,000 towards the procurement of study equipment such as accessible computer, and other expenses.

As a matter of fact, I view the UK's Disabled Student Allowance scheme as an innovative policy that ensures that eligible disabled students get help and support to go through the educational system and gain meaningful employable skills and qualifications.

Obviously, such an advantageous policy will produce more independent disabled people in society. They won't have to sit on streets corners begging for alms.

Now back to the NDC Party's irrational policy of 'one student one tablet' ; once again, I must state that it is not an expedient policy that any serious and a committed leader has to put forward.
For if anything at all, the government has to set up community resource centres or libraries and equip them with study equipment that will help those school children in the vicinity.

In fact, there are similar community libraries in the United Kingdom that children whose parents could not afford study equipment often take advantage of. I strongly believe we could do similar thing in Ghana.

Let's face it, though, the school children don't need a gadget called 'tablet', they rather need free education that will equip them with critical thinking skills.