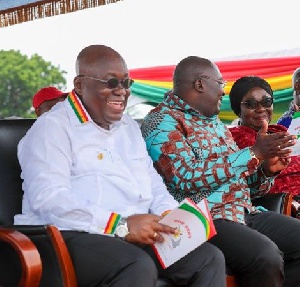 It is absolutely true that education plays a crucial role in the nation building, thus, the anticipatory and logical approach to improving accessibility and quality is not through political rhetoric and insobrieties, but through well-thought through policies such as the Akufo-Addo's free SHS.
Given the enormous benefits therein education, it is, indeed, prudent and somewhat forward-thinking for Akufo-Addo's government to seek to bridge the ever widening social inequalities chasm through rational distribution of national resources in the form of free SHS.

And, considering the fact that the erstwhile ambivalent NDC government needlessly left behind a huge debt, it is, indeed, estimable for Akufo-Addo's government to afford to implement the seemingly admirable, albeit costly social intervention such as free SHS.

It is, therefore, gratifying that the policy is being rolled out by the current NPP government as the free SHS programme could only be sustained under the auspices of a serious, a committed and a forward thinking leadership.

Let us however be honest, despite the endless and gratuitous attacks and criticisms, the free SHS policy will at least bring enormous benefits to the students, parents and the nation as a whole.

And what is more pleasing to some of us is that, the social mobility improvement free SHS should at least provide a sound and congenial environment for the students to develop to their full potential and to have a reasonable chance of leading productive and creative lives.
But all said and done, I cannot, however, vouch for the sustainability of the free SHS policy should Ghanaians make a catastrophic mistake and hand over the poverty alleviation free SHS programme back to NDC Party futuristically.

Our fears stem from the fact that since the implementation of the free SHS policy by the NPP government, the minority NDC operatives have gathered momentum and called uncountable press conferences with a view to discrediting the approach of the government.

Somehow, the minority NDC operatives prefer "progressively free" (whatever that means) to NPP's comprehensively free.

In fact, unless I come across as the worst performer in mathematics, I cannot fathom how and why GH48 per student is better than GH1500 per student.

Let me however be honest: the minority NDC operatives would have gained my unflinching support if they had based their argument on quality education.
The fact is, in as much as developing people's abilities and giving them a chance to improve upon their lives is necessary and extremely crucial, it will be no good if important steps are not taken to advance their aspirations.

So it is not just the matter of the children passing through the education system that will bring about their social mobility, but it is rather by providing them with positive outcomes.

Take, for example, educating a large number of children would somehow build their skills, but it will be little or no use, if they are denied access to jobs, or do not have the right skills for the local labour market.

Take, for instance, in Ghana today, it is pretty normal for many young people to come out of higher institutions without superlative employable skills that can improve their chances of securing a desirable employment that will help them realise their potential and enter the social mobility pipeline.

Disappointingly, however, we have arrived at this unfortunate situation because the successive governments failed miserably to provide the necessities for quality education.
I must admit, though, I do not accept the minority NDC operatives somewhat spurious argument. Well, you may choose to call it progressively free or comprehensively free, the fact however remains that the policy will return huge benefits in the long run.

Indeed, the vast majority of Ghanaians will benefit immensely from the policy, including my maternal uncle, Oliver, who has been needlessly criticising the apparent poverty alleviation free SHS.

But despite my uncle Oliver's needless and never ending pessimism, he is likely to reap tremendous benefits eventually.

Apparently, credible sources have it that the government will spend a staggering amount of GH5532.83 over a period of three years on each student.

So, my uncle Oliver, who is going to have three of his children in SHS by 2019/2020 academic year, will be pocketing not less than GH16598.49 over three years.
Aren't you delighted, Uncle Oliver? I am pretty sure you are!

Well, uncle, if you are so pleased with your huge savings from the free SHS, then let us extol President Akufo-Addo for his exemplary leadership.

K. Badu, UK.

K.badu2011@gmail.com/please visit me at: alljoycom.wordpress.com