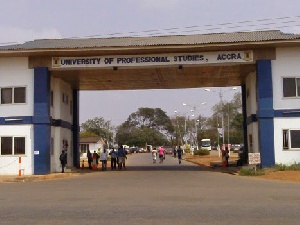 Rejoinder: "Developing a Responsive Human Capital for Growth – A Forward Looking Progressive Approach by UPSA"
We write to commend the administration of the University of Professional Studies (UPS), which has been identified in our investigative report and many other articles in recent times on the question of academic standards, for coming up with a press statement on the issues. Unfortunately, the responses to the substantive issues, by any standards, are unimpressive, drab, and naive.

Before we delve into the main issues, we call upon the UPS administration to acquaint itself with the process of accreditation, locally and internationally. On the press release document are two logos: one for UPSA and the other for ACBSP with the word "Accredited" beneath it.

For the benefit of readers, ACBSP is a body in the USA that accredit business programs offered by institutions. The two logos posted side-by-side suggests UPS is accredited by ACBSP. But this is gross misrepresentation because ACBSP does not have the jurisdictional mandate to accredit UPS! It may only accredit the business programs offered by UPS. These are two different things.

Academic standards should not be trivialized. It is irrelevant whether or not the university (UPS) was pressed by circumstances at the time of making the decision to seek online doctorate degrees for its teachers. The idea of creating opportunities for junior lecturers at the university to upgrade themselves is laudable but this should be done the right way.

It is regrettable that the University has taken the position that residential doctorate degree training is outdated. On the contrary, it is the convention all over the world, especially for individuals who aspire for academic jobs in properly accredited universities.

Indeed, we are utterly surprised that the UPS administration got this wrong. The notion that over time, all doctorate programs will be offered online is not only ridiculous and absurd, but a clear manifestation of an institution whose leadership lacks a thorough understanding of the academic trajectory.

This speaks loudly to the lack of understanding of what Ph.D. training entails, particularly for aspiring academics, and is an affront to the dignity of universities of good standing globally.

But we can understand the position of UPS, considering the fact that a large number of its faculty members either do not have a Ph.D. or are now in the process of pursuing one.

The point is that if the Vice-Chancellor of UPS, Joshua Alabi, had gone through the rigors of Ph.D. training himself, before attempting to transform an institution—which offered professional programs mostly by distance education—to a university status, his grasp and appreciation of standard practices and processes, including the peer-review process would have been different with desirable outcomes for his students, faculty, and the entire UPS as an institution.

Universities are places of academic excellence. As a result, a university teacher who is seeking an advanced credential must go through rigorous training from a recognized institution of higher learning.
A typical Ph.D. training include about 2-3 years of coursework and 1-2 years of dissertation writing under the strict supervision of a number of renowned professors in a particular field. Unfortunately, online doctorate programs, which are usually setup for profit, do not measure up to these expectations.

It is not uncommon to find an individual who has absolutely no training in a discipline parading as a professor in that field in an online institution. A typical example is Dr Hardy Bouillon who read Philosophy at both undergraduate and graduate level claiming to be an Economics professor at SMC (http://www.smcuniversity.com/about/our-faculty/department-of-economics/).

This is the main reason good ranking universities in say Africa, such as University of Cape Town (UCT), rubbish such certificates.

On the issue of SMC, we wish to commend the management of UPS for making attempts at establishing its credibility from the National Accreditation Board (NAB) and the Swiss Embassy. Both letters attached to the press statement noted that although investigations revealed that SMC is accredited, they urged the then Institute of Professional Studies (IPS) contact person to "contact one of the institutions they are accredited with for verification of their status."

The fact is that the content of the letter from NAB clearly indicates it plagiarized Martin Saladin (Counsellor & Economic Advisor of the Swiss Embassy). This makes it hard to believe that the verification was independently sought. Secondly, Switzerland has a national board which accredits institutions of higher learning.

If SMC offers full time training in Switzerland, as purported by the Swiss Embassy, why is it not accredited by the Swiss National Accreditation Board? What is not good for the Swiss cannot be good for students of UPS and Ghanaian students generally.

We would like to state unequivocally that ACBSP in the USA does not have the mandate to accredit any foreign institution, including SMC. The ACBSP can only certify (or accredit) a program BUT not accredit foreign institute like SMC, which does not have a national accreditation from Switzerland. And an institute that is not accredited places its students and graduates in a dilemma as the one we are discussing. Again, it is rather unfortunate that UPS misrepresented this in their press statement that SMC is accredited by ACBSP.

It sounded so bizarre that a public university in Ghana could resort to pettiness and insinuations in response to a genuine quest for academic excellence by well-meaning academics. Again it is a fact that SMC is not accredited in Switzerland by the nation's recognized board for accreditation, and it is not accredited by ACBSP (by their own admission). Perhaps even more troubling is the duration of the doctorate program, which is typically one year (not 4. 79 years falsely reported by UPS).

A typical case in point with regard to individuals with doubtful credentials is the current Pro-Vice Chancellor of the UPS, (Prof.) Abednego Feehi Okoe, who completed a master's degree in Marketing at the University of Ghana on July 25, 2013.

By 2015 he held two doctorate degrees: One from SMC and the other from Central University of Nicaragua. In 2016, he was promoted to Associate Professor (by the UPS Council) and also becomes the Pro-Vice Chancellor of UPS. We are not aware of any serious person in academia who will be jealous of a degree from Central University of Nicaragua and SMC.
On the contrary, it is an indictment on our profession and to be quiet is tantamount to connivance and condoning of a dubious scheme that would dilute the substance of the community of scholars that a legitimate Ph.D. Conferral engenders.

While, out of respect for the decorum that should characterize the academic an discourse, we have decided not to join in the degradation ceremony of the UPS (as evidenced in its press statement), we would not countenance any further act involving abusive language, insinuation, and intimidation from any quarters, including that of the UPS.

We are not sure any reader of average intelligence will need a torchlight to locate where Ohio University and Georgia Institute Technology are. We emphasize that if it would take our purported "mischief and ignorance" to prevent the franchising of poor academic standards on Ghanaian students, particularly students of UPS, so be it.

At least, we have not extended our mischief and ignorance to other academics whose credentials are without blemish. If we did the research out of envy because those involved obtained a Ph.D., why should it not be about any other Ph.D. holders in Ghana but those included in the case? In fact, some of the responses sounded childish and painted a sordid picture of the state of academia in UPS.

Perhaps, even more troubling is the promotion process at the University of Professional Studies (UPS) which brings the credibility of the university council into question. Universities are supposed to be power houses of knowledge creation and transmission. The very reason accredited universities all over the world emphasis research as the dominant criteria for promotion.

In all disciplines, academic research from university teachers and researchers are supposed to be published in journals that are recognized by scholars within a discipline. Conversely, any publication in a journal that is not approved by the scholars within the discipline is considered inferior or worthless.

The normal publication process starts with conception of a clever idea (value addition is extremely important); developing the idea into a serious research product; submitting the draft paper to a recognized journal; waiting many months for the journal editor's decision, which is aided by comments from a number of reviewers of the journal; addressing the comments and resubmitting the revised draft; receiving further feedback from the editor; submitting a second revised version; receiving a final decision; and then waiting for it to be published.

In the social sciences, such as economics, this entire process could take up to 5 years! It could even be longer if the first draft is rejected by the editor, which normally occurs over 80 percent of the time, and has to be submitted afresh to another journal. This is exactly the reason why it takes quite a bit of time for someone to meet the publication criteria for promotion to say a senior lecturer or professorial rank in a good university.

All credible journals are established by institutions and professional bodies. In recent times, however, tons of fake journals, also called "predatory journals", have emerged on the Internet, aimed at extorting money from unsuspecting lecturers and researchers in Africa.

These journals are established by individuals who largely have absolutely no knowledge of the fields of research purported by the journals. They accept all submissions for publication, provide no or superficial review comments, publish within days or weeks after submission, and charge submission fees ranging from US$80 to US$2000 and upward.
The consequences of this is far reaching if a university accepts such "garbage" for promotion. An individual who is only qualified as a lecturer (as per his/her research experience) could be carrying a senior lecturer or professorial title. With such a title, the taxpayers has to "reward" that individual with a higher salary and allowances.

Next, he/she may end up designing and teaching upper level courses to students, who upon graduation could become lecturers too. This obviously creates a vicious cycle of knowledge poverty or deficit. Furthermore, the inferior research published in a predatory journal may wrongly inform policies within the country and the continent.

Finally, since the international community cannot be fooled, our universities may retain low rankings and fail to attract foreign students and research collaboration from their Western counterparts.

The UPS, which is supposed to be a public institution, has set the bar too low on many fronts denting the reputation of other good standing public universities in Ghana. Besides allowing its staff to go online and buy doctorate certificates from Nicaragua for $10,000, lecturers are promoted based on sub-standard publications in predatory journals.

There has even been a situation where a journal was setup at UPS (Journal of Business Research), with a master's degree holder who had no knowledge of research as the chief editor, serving her interest and that of her husband.

This stands on the roof of ethical misconduct in academia. According to the UPS's own criteria for promotion, 11 and 18 research articles in refereed journals are required for promotion to the ranks of Associate and full Professors, respectively. We challenge the UPS governing council to respond to this letter with proven evidence of refereed/credible publications of the individuals promoted to such ranks.

We would like to remind the media and the general public that as contenders in this debate, we have furnished the Ministry of Education with our report through the Ghana Embassy in Washington, D.C. We have also made the documents available to the media and the general public.

Similarly, the UPS and all the alumni of SMC who are moving from one media house to another to state their position have done so. We were not expecting those affected by the report to have acted differently to our findings, as ours was not a hallelujah chorus in celebrating them. As a matter of fact none of us—the authors of the report, the SMC, the alumni of the SMC, and the NAB—can be judges in our own arguments.

In our report, we highlighted the conflict of interest position of Professor Paul Buatsi, who concurrently served as a representative of the SMC and at the same time a board member of NAB. We are also aware that after receiving the questionable degrees from the SMC, graduates were made academic auditors for the NAB (e.g., Goski Alabi, the wife of the Vice-Chancellor of UPS, who served in the past as an academic auditor for the NAB).

For these reasons, we are not really expecting any meaningful interventions from the NAB at this time. We are patiently waiting for the Ministry of Education and its Minister to study the report, conduct its own investigations, and state its policy position.
While we await the Minister of Education and the Education Ministry to respond to the findings in our report and to determine the way forward, we believe that individuals and institutions who have been identified in the report have an image to protect. Thus, whoever (both individuals and institutions) feels maligned by our report can head to court to seek legal redress under our constitutional provisions.

For now, we would like the Students Representative Councils (SRCs) on Ghanaian university campuses, including the Ghana National Union of Students (NUGS), to independently take up this issue, examine the cases presented carefully, draw their own conclusions, and come up with a position statement on the matter.

We also wish to remind the general public and the media that we have identified over 10 institutions and more than 40 individuals in our report. Our discussion should, therefore, not be solely centered on the SMC and the UPS. Let us examine each case and the evidence provided. This way, our discussions would be more encompassing and focused than focused on only institution stated in the report.

It is only by so doing that we can appreciate the magnitude and the scope of the problem. May we express our profound gratitude to the general public for the spirited debate following the release of the report. Let us all come together and save UPS from itself. The future of our children who find themselves in that school are at stake.

It is also heartwarming to learn that the NAB has withdrawn its registration of the SMC and halted any new admissions into its programs. What we make out of this sudden turn of events is that the NAB itself seems to be confused about the actual status of the SMC in Ghana.

Based on this new development, there is the urgent need for the evaluation of the course content and the dissertation of the SMC degrees by any of the recognized business schools in Ghana—University of Ghana Business School, the University of Cape Coast Business School, and the Kwame Nkrumah University of Science and Technology Business School—in order to establish if those degrees are equivalent to any descent or legitimate doctoral degrees either from Ghana or overseas.

If they fall short, any of local universities can help in the upgrade and re-confer those degrees. Otherwise, their recognition could be withdrawn.

Finally, we urge the Minister of Education to set up a task force to conduct a wholesale cross-examination of qualifications and publications submitted for promotion in our universities. The threat of dubious qualifications and publications in predatory journals and using them for promotion and tenure is alarming.

We will be on hand to provide the needed support to the Minister in unravelling the complexities of predatory journals, should the Minister find it necessary to engage our services.

Prosper Yao Tsikata, Ph.D. is Assistant Professor of Communication Valdosta State University. E-mail: pytsikata@valdosta.edu