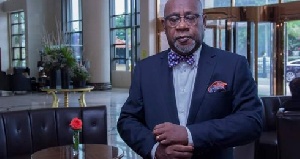 I will like to add my salute to Kofi Bucknor and express my deepest sympathy to his family especially Jude Bucknor. Unlike many Ghanaians, I am a late comer to the Quincy Arthur Bossomfield admiration club. I wish I had been there from the start.
Here's a little story. Last year, a friend introduced me to Heritage Africa. I immediately recognized the face as a familiar one. I kept saying that I went to school with his children because I knew their father worked for Ghana Broadcasting Corporation and would be into acting. The more I watched the movie, and the more I stared at the chin of Quincy Arthur Bossomfield, the more I got an eerily feeling that Charles Bucknor was walking in front of me. After reading the credits and finding out that the movie was made in 1988, I realized that it was Charles Bucknor walking in front of me.

As young boys, our paths crossed at Catholic Jubilee School in Cape Coast. I was already a pupil there having started school there from Class 1. Charles and Jude came as transfer students. Charles, though as old as I was, was my senior. I don't know how he managed to do that. Jude was my class mate. Jude liked to play and I liked to play so becoming friends came rather quickly.

Charles being my senior turned out to be the most memorable thing for me. We called our seniors with the title, 'Senior'. I am sure I called him senior a time or two. I was used to that. What I was not used to was the senior calling the junior with the title, Junior. Charles called all his juniors with the title, Junior. I was not surprised to hear that; I was shocked to hear that.

Suddenly Jude, my friend, and Charles left our school and moved to Accra. I didn't see them again until they both showed up at St. Augustine's College and I went to Ghana National College. I would occasionally run into one or the other or both. I guess Jude left Ghana and went to Columbia University in New York City and worked for Bankers Trust, I believe. Friends who knew him would occasionally mention running into Jude, but I never saw Jude nor Charles until I saw Heritage Africa. Among other things, the movie brought back memories of Ghana (Gold Coast) that our generation was probably the last generation to see.
I was struck by how great an actor Charles turned out to be. I hoped our paths would cross again. I was sure to look him up next time I was in Ghana. I knew I would call him Quincy Arthur Bossomfield if I saw him again but little did I know what God's plan was.

Well Senior Charles Bucknor, here is Junior Pobee-Mensah saluting the memory you brought back; the great skill you showed on the screen and on TV, and the shock you left me from a very young age when you made me realize that juniors have a title too. Best of all, thanks that our paths crossed.

To Jude: Please accept my sympathy. I have read of the great things you have done in Ghana. I am glad that I can put a young face to the Kofi (Jude) Bucknor. I hope our paths cross again. My prayers are with you at such a trying time.