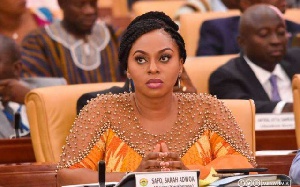 There is a popular proverb in Dagbani that says, "Kundung yelmang'li yizani, nyi nzangtou ka ozang kpe mogu". Literally translated as, when the truth is the hyena's, give unto it so it takes into the bush! This proverb buttresses the fact that, there is no alternative for truth, when your enemy/rival is right, accord him/her the honour if even he/she does not need it.
After the 2016 landslide victory of the New Patriotic Party (NPP), I was removed from a WhatsApp group platform that was formed to garner support for NPP and its presidential candidate now, President of the Republic of Ghana, Nana Addo Dankwa Akufo-Addo. I was expunged from the group "Crusaders for Change" for speaking a palpable truth about the outburst of Honourable Alhassan Suhuyini, the Member of Parliament for Tamale-North Constituency during the Vetting Committee of Parliament's sitting and the subsequent over ruling of Honourable Joseph Osei Owusu. As if the expulsion was a deterrence for speaking the truth.

Though one of the group administrators spoke to me and wanted to put me back I declined, because I would continue to express my views in the same or similar fashion if I deemed them right and truthful, any time issues of national nature were on the burner. I would not praise-sing my leaders just because they are leaders. Why should I ignominiously sing your name when in fact, I know you are roundly wrong? I cannot praise when there is no course to praise. That would be hypocritical of the highest height and amounts to blandishments. I, rather, would speak with my instincts and personal conviction. I would tell you the hard truth in the best and most respectful possible means for you to sit up or correct your mistakes.

I hope we have heard the revelations made by Rojo Mettle Nunoo on reasons why NDC lost the 2016 general elections. The leaders wanted to hear their praises which NDC foot-soldiers and faithful dished out to them in multitudes. Some supporters of the party knew that they were not being frank with themselves. But that was what their leaders wanted, so, they pretended as though everything was on course and behaved like the proverbial ostrich.

They could not believe what they heard and saw after their infamous quotation "John 2016: Thou shalt forever be in a comfortable lead thy kingdom cometh". They have come to terms with the reality, though they are yet to recover from the shocks of the piles of lies and denials of the economic hardships Ghanaians were going through.

Revelations from the Professor Botchwey Committee and other quarters paint picturesque plot of the erstwhile NDC government and many amongst the reasons for NDC's shameful defeat were propaganda by party functionaries, show of arrogance and avarice by some government officials. Ineptitude, economic mismanagement, misappropriation and lackadaisical attitude towards fighting corruption. Trying hard with all their minds and might to justify obvious lies and defend the indefensible. Parading a bunch of incompetent guys and apparatchiks. Showing gross disrespect and disdain for wisdom and common sense. When leaders are observed to be fond of acting these ways, followers feel cheated, dumb, stupid and taken for granted, so they count their days. Most politicians after obtaining our mandates become obviously oblivion to their obligations. Yes! Meanwhile, true power belongs to us. So, when this happens, we will wait patiently for the right time to show them the exit, especially in a democratic society such as ours.
Not to sound pessimistic whatsoever, in all sincerity and honesty, it seems to me that six (6) months into office, a good number of government appointees and NPP adherents have soon forgotten why the party was voted into power. If this voice in my mind is right, I have no advice to give except to say, the ordinary citizens of Ghana are still aware of the reasons why they voted NDC out of power. We are witnessing weird repetitions of some mistakes of NDC in an NPP government. I do not know whether these mistakes are occasioned to underscore the popular notion that, "all politicians are the same".

We have witnessed some unpleasant developments in the Akufo-Addo led government and no concrete solutions have been designed to resolve or prevent their recurrences. We have heard and seen the apparent disturbances meted out by hoodlums in NPP regarding nominations/appointments of DCE/MCEs and some local government officials (Savelugu readily comes to mind), the Bugri Naabu and Afisa Djaba's row, Honourable Kennedy Agyapong's serial outbursts in the media and the 'BOST' boss brouhaha and most recently, Mr. Ahomka-Lindsay's whining comments and the social media trolling of Honourable Sarah Adwoa Safo. These are many concerns among others that, some of us who believe in the prospects of Akufo-Addo's government are disquieted with.

Despite the above examples, I still have unflinching and unfettered faith in Nana Akufo-Addo's government and believe strongly that better things will happen to Ghanaians in his administration. Just yesterday, he launched the National Entrepreneurship and Innovation Plan. This is a flagship programme that is primarily geared towards providing funds for start-ups and small businesses. One hundred million US dollars ($100 million) is to be injected into this programme and government has already allocated ten million dollars as seed capital for the fund. This would inherently curb the unemployment menace Ghana currently faces. So, the teeming unemployed youth have no excuses any further than to be innovative and genius in ideas.

Despite the president's good intentions and great ideas, some of his appointees are indulging in acts that have the potentials to take the shine away from his efforts. And, I am particularly not happy as a citizen about some of these happenings and I would like to talk about them, especially the most recent instances. My disappointment is premised on the fact that, Nana Addo Dankwa Akufo-Addo as our head has shown us the lead. He encouraged us in his maiden speech to be "... citizens, not spectators; citizens, not subjects." The following quotes from his inaugural speech should be our watch words especially those in government. "There should be no higher praise than to be able to say 'I AM A GHANAIAN'. Being a Ghanaian must put certain responsibilities on each one of us. Calling yourself a Ghanaian must mean you have signed up to a certain definable code and conduct. Being a Ghanaian puts an obligation on each one of us to work at building a fair, prosperous and happy nation.

And calling yourself a Ghanaian must mean we look out for each other. The change we have voted for has to start with each individual. I ask you to be responsible citizens."
These words of the president are very powerful and inspiring. But over the weekend, some video clips went viral on both social and mainstream media about comments made by Mr Robert Ahomka-Lindsay, the Deputy Minister of Trade and Industry and Honourable Sarah Adwoa Safo, the Member of Parliament for Dome-Kwabenya who doubles as Deputy Majority Leader and Minister for Procurement. These are no means, small persons in government.

In the case of the Mr Ahomka-Lindsay, he made a comment which was clearly innocuous in all respects but some people understood it out of context and tried to make issues with it. Mr Ahomka-Lindsay was reported to have passed a comment that did not sit well with some people when he spoke at a Diaspora Homecoming Summit at the Accra International Conference Centre. To me, this was an admonition proffered by the deputy minister to the 'diasporans'. He advised that "Nobody likes whiners, people that spend all the time whining all the time really get on people's nerves so stop whining,". Good and gentleman as he is has since apologised. "I wish to assure the people of Ghana and all those who have been offended by my comments that I did not in any way intend to sound offensive in my presentation. I hold all Ghanaians in the greatest respect and would not in any way do or say anything that would impugn their integrity." I'm humbled by Mr Ahomka-Lindsay's humility and I salute him. As it is said in Dagbani, "Gilma gari salma" (meaning, humility is worthier than gold). We all raise each leg up against the other on the ground in order to wear a boxer shorts or under pants. So, why should you feel bigger than an apology, especially when you are wrong? An apology would not take anything away from you as a leader except to enrich your personality.

On the other hand, Honourable Adwoa Safo was reported to have claimed that, Kwabenya Senior High School, constructed as one of the two hundred (200) Community Day Senior High Schools promised by president John Dramani Mahama and his NDC government, was actually built through her hard work, intense lobbying and connections with the World Bank. She claimed to have lobbied the World Bank to build that Senior High School in her constituency. She contended that, when she contacted the World Bank for such assistance, the World Bank asked her to provide it with a litigation free land so, she acquired a parcel of land for the current location of the said school from Ghana Atomic Energy Commission (GAEC) for the construction of the school.

Even on the surface of this, it would be very difficult for any Ghanaian to believe her words because we all knew that, the two hundred (200) Community Day Senior High Schools project was a counter campaign promise by the NDC during the 2012 general elections when NPP promised Ghanaians free SHS education if they won power. Sadly enough, NPP did not win that election, but NDC did. The NDC government was not able to fulfil this promise in its entirety, it managed to build only forty-six (46) or so out of the two hundred (200) promised. So there is no denying the fact that the few built, is President Mahama's legitimate legacy. So how do we believe Honourable Adwoa Safo's claims?

Again, checks conducted by Mannaseh Azure revealed that Honourable Adwoa Safo never contacted the World Bank and in fact, the World Bank said, it does not deal with individuals. The World Bank said, it dealt with the government of Ghana (the then NDC government led President John Dramani Mahama), and funded twenty-three (23) of the forty-six (46) or so Community Day Senior High Schools. It said, aside specifications it did not determine locations or preference in terms of siting the 23 schools it funded. That was entirely the government's decision.
It is also an open secret that, these Community Day Senior High schools though, a failed campaign promise, were built across the ten regions of Ghana in districts which did not have Senior High Schools. These included some districts from Ashanti and Eastern Regions, the stronghold regions of NPP. Because Honourable Adwoa Safo wanted to claim credit for one of these schools, she peddled a very palpable falsehood to her constituents and told them that the Senior High Schools built by the NDC government were all sited in its strongholds, so, it is evident that, Kwabenya Senior High School is not one of NDC's and that, her constituency was the only NPP stronghold in the whole country where we had the Community Day SHS. As revealed by Mannaseh Azure once again, "Adugyaman SHS near Mankraso in Ahafo Anor and Agric Nzema SHS near Kwadaso" are among the Community Day Senior High Schools built by President John Dramani Mahama.

I thought she, together with all persons who associated themselves with these lies would have kept mute if not apologised, especially when the facts on this matter were brought to the public know. Because this was a case of broad daylight evasion with malicious intent. Instead, the Communications Director of NPP for the Dome-Kwabenya Constituency, Nana Nkrumah came out to say that Honourable Adwoa Safo negotiated for land for the construction of the school at its current site. He brandished a letter from Honourable Adwoa Safo's office, in which she requested the Ghana Atomic Energy Commission (GAEC) to release a track of land for the school project. I see this attempt of Mr Nkrumah as diversionary because Honourable Adwoa Safo's claims were mainly not about acquiring a parcel of land for the project. If she wanted to say so, she could have said that plainly.

I do not wish to impugn the verisimilitude of the said letter, but I shudder to think, why it did not have a reference number. The letter also referred to the project as "as part of the One Hundred (100) [200*] Secondary School Project initiated by the government" and not Honourable Adwoa Safo. This letter is purported to have been written on 4th May 2015, and we all understand that the party in power at that time was NDC. Unless Honourable Adwoa Safo wants to re-write Ghana's political history. The first sentence of the second paragraph of Mr Nkrumah's exhibit letter indicates that there were some prior deliberations which Honourable Adwoa Safo was part of, as contained in the first paragraph of GAEC's letter to the Municipal Chief Executive of Ga East Municipal Assembly. What baffles me is that GAEC only copied Honourable Adwoa Safo's office. This presupposes that Honourable Adwoa Safo was not the original or the intended recipient of that letter. So how can we believe Honourable Adwoa Safo's claims and Mr Nkrumah's subsequent lame defence that Honourable Adwoa Safo single-handedly worked hard, lobbied for both acquiring the parcel of land and securing funding from the World Bank for the construction of Kwabenya Senior High School?

The last straw that broke the camel's back was the definite debunking of Honourable Adwoa Safo's claims by The Communications Director of GAEC - Mr. Kwasi Sarfo "The first request was from the Ga East Municipal Assembly, so we responded to the Ga East Municipal Assembly giving them where the secondary school has been situated now,". He also refuted the assertion that, that portion GAEC land was purchased with Honourable Adwoa Safo's Common Funds. "I don't know about the demarcation of the said land. I only know about land being given to Ga East Municipal Assembly. I don't know about any payment whatsoever. According to the record available to the commission they wrote requesting for the land we responded to them giving them that piece of land."

This is nothing more than a complete case of prevarication and fabrication of facts to obtain political mileage over one's opponents. The people of Ghana are watching; we are discerning and not zombies. Honourable Adwoa Safo or better still, the Communications Director, Mr Nkrumah should have rendered an unqualified apology to the constituents and Ghanaians, rather than mounting this porous weak defence.
My little advice is, let's all learn to honour credit where it's due! We should not try to usurp or paint black people's glory and good name if even we assisted in their achievements or successes. Create your own success story. If you carved a niche for yourself, no one could take it away from you. It would be seen and acknowledged by all. You would not even have to tout it yourself. People will sing it in your praise and glory.