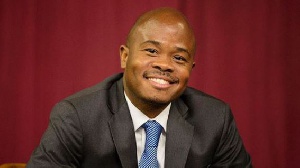 Listening to Fred Swaniker makes me dizzy. So I reach for a chair.
His lofty goals tower over his short frame. This soft spoken forty two year old Ghanaian is a giant volcano of ideas. These ideas erupt continuously, day and night, disrupting the status quo and challenging anyone around him. When I ask an employee of his to describe Swaniker in one sentence, she only managed two words "Hmmmm…..Pressure!" And I can see why.

What currently consumes Swaniker is perhaps an impossible mission. To create three million new generation African leaders who can transform the continent in this century, by 2060. Run the numbers and you'll see why. He'll need to train 75,000 leaders a year for the next 40 years.

Swaniker, who apparently never appears stressed, doesn't exert any energy on whether his goals maybe a tad unrealistic. He believes Africa will be made or broken by the path of its leaders. So he forges full steam ahead.

African Leadership Academy (ALA)

Africa Leadership Academy (ALA) last week celebrated its decennial having already graduated about 1000 alumni from 46 African countries. ALA, which Swaniker co-founded with Chris Bradford, a Stanford MBA classmate, claims to be Africa's first and only pan-African boarding high school.
Each year, for the past ten years, ALA has been bringing to Honeydew, Johannesburg, 100 exceptional students, typically between ages 17 and 19 from across Africa, to feed and house them, and to challenge them in a two-year programme, with the problem, "what is the potential that you have for transforming Africa?". ALA helps them identify their potential, encourages them to explore by working hands-on on problems they want to solve, and connects them to opportunities and a powerful network to help them realise their solutions. In addition to the typical A-level subjects, they are required to study African history and Entrepreneurial leadership.

ALA's alumni have their pick of the world's elite institutions. Over $107m in university scholarship has been awarded to ALA alumni, who have been accepted into 148 leading universities across the globe. And 177 ventures have been founded by ALA alumni.

Africa Leadership University (ALU)

In 2015, Swaniker set up ALU on the idyllic island of Mauritius where he now lives with his wife Amanda and dog Iggy. ALU, already being referred to as "the Harvard of Africa" provides its students a foundational programme in critical thinking, analytical reasoning, leadership of self and others, and project management in first year. From the second year onwards, students engage in rigorous intellectual work based on their own stated mission in life. By aligning their education with a purpose, they're able to curate their own learning. Instead of majors in the typical silo model, ALA offers multi-disciplinary education where related disciplines are grouped under schools and a mandatory four month internship that helps students test their solutions as they experience their problems first hand.

Africa Leadership University School of Business (ALUSB)
And in 2016, set up ALUSB in Rwanda initially to run a variety of short intensive leadership and management programs for business executives. In addition, it now offers a 20-month MBA programme, billed as "the first pan-African programme of its kind". It combines interactive, online education with in-class sessions, allowing students to build their studies around their work schedules "while applying new skills, tools and frameworks directly to their organisations".

Swaniker himself teaches on this programme alongside the likes of Donald Kaberuka (previously President of the African Development Bank and Rwandan Minister of Finance and Economic Planning), Santie Botha, (previously Chief Marketing Officer of MTN) and Peter W. Baird, Managing Principal for Investec Asset Management's Africa-oriented Private Equity funds.

ALUSB combines a unique curriculum with an ambitious model to fund its students' tuition that demonstrates its faith in the programme. Through Swaniker's Africa Leadership Finance Corporation, students may obtain funding for their courses, by participating in an income sharing arrangement. Students agree to pay back a share of their income for a defined period after they have graduated.

Africa Leadership Network (ALN)

Swaniker's other venture, ALN, is an annual gathering of leaders and emerging leaders, structured to give attendees time to reflect on their own leadership journeys and to build powerful relationships against the backdrop of a deeper understanding of Africa and key trends shaping its future. ALN gives Swaniker an opportunity to "bring people together and see connections happen" which he admits to love doing. Apparently, his match making though goes beyond business and has "made many marriages happen".
When I ask him what the secret of his success is, Swaniker who spends 50% of his time interviewing people and finding great talent responds "Ultimately, it is about surrounding yourself with great people. I focus on finding the best possible people. Life is ultimately about who you spend it with".

The apple doesn't fall far from the tree. Swankier's 'mum, a teacher, started a school in Botswana and taught him the ropes on building a great school. His sister Constance Swankier is the celebrated sculptor and entrepreneur.

In the next few decades, Africa's youthful population will either become an engine for wealth and prosperity or a fount of unrest and despair. Though we be running out of time to diffuse this ticking bomb, perhaps Fred Swaniker is the man we need to turn the continent's age-old mission impossible into a 'mission is possible'.