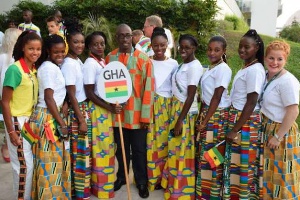 Tue, 23 Aug 2016 Source: Amenyo, Kofi
2102 medals were awarded at the just ended Rio Olympics. The International Olympic Committee has records of all the results but does not have an official medals table that ranks countries according to performance. It regards the games as a friendly one, not one in which the countries are competing against each other to determine which is best. The medals tables you see are the work of journalists and sports enthusiasts who know the public likes such rankings.
Africa's haul of 45 medals is very meagre. Our continent won 10 gold, 18 silver and 17 bronze medals – as many gold as won by seventh placed France. If Africa had competed as one country, we would have barely pushed France to an eighth place by a mere three bronze medals. According to the official games site, Africa took "only" 5% of all the medals at stake. Africa did not do well in these games. We have never done well. What explains our poor performance?

The first reason is clearly the fact that African countries participate in too few events. As a single category, Athletics (Track and Field) has the greatest number of medals to be won. But the Olympic Games are much more than just Athletics. There were 42 sporting disciplines according to some counts. And it is in the non-athletic events that Africa is extremely poor. The main reason why Africa is poor in these other events is because we do not have the resources to invest in them. As a result we do not have a tradition in those events that our youth can easily follow. The number of different events a country takes part in roughly reflects that country's level of economic development. Africa's low level participation is just a reflection of our economic difficulties.

As so many times, Kenya came up as the best performing African country with the most gold medals won. Their 13 medals were made up of six gold, six silver and a bronze. This year, the highlights of Kenya's performance include Rudisha Lekuta who became the first man since New Zealander Peter Snell in 1964, to successfully defend the Olympic 800 metres title. Noteworthy also is Kenya's two places in the finals of the 400 metres hurdles – an event that is not traditionally their strength. Tumuti Mucheru took the silver. Yego Julius could not repeat his gold winning Javelin throw from last year's World Athletics but a silver medal place is still great. Kenya also presented a Rugby sevens team in this new event of the games. They didn't go far.

South Africa may not have won as many gold medals as Kenya but they come out clearly as the best all-round African performer. Their ten medals were spread over different events: two gold medals in athletics (Wayde van Niekerk's 400 meters record and Semenya overcoming her tumultuous years to finally win an Olympic gold in the 800 meters, and a silver medal each in the men's Long Jump and women's Javelin). They also took three Swimming silver medals and one in Rowing, a bronze medal each in Men's Rugby Sevens and Men's Triathlon. No other African country has won medals in as many different events as South Africa.

Côte d'Ivoire, our next door neighbours, got gold and a bronze in the men's 80kg and a bronze in the women's 67 kg respectively in Taekwondo. Ta Lou Marie-Josee, the 27 year old Ivorienne, found herself in the 100 meters final. Running in lane 2 in a strong field, she made a personal best of 10.86 which was the same time as the bronze medallist, Frazier-Pryce. It was only a photo-finish that denied her a medal. Taking herself to the finals is in itself a remarkable performance by any standard. And to have fallen outside the medals zone by a photo-finish just broke my heart…
Ayana Almaz of Ethiopia bettered the women's 10,000 metres record on the very first day of the athletics events. Ethiopia ended with eight medals all in long distance running and a silver medallist who is afraid to return home after his political gesture at the finish line.

Apart from Kenya, South Africa, Côte d'Ivoire and Ethiopia, no other African country won any gold medal. Makhloufi Taoufik of Algeria won his country's two silver medals when he came second in both the 800 and 1500 meters races. Niger won its second medal in Olympic history when Issoufou Abdoulrazak took silver in the men's 80kg Taekwondo. Egypt won three bronze medals (two in weightlifting and one in Taekwondo) while Tunisia's three bronze medals came in in Fencing, Wrestling, and Taekwondo. Rabi Mohammed of Morocco won boxing bronze in the Men's Welterweight division.

For some reason, African countries seem to have a soft spot for Taekwondo. Four countries won a total of five medals in this event including Côte d'Ivoire's gold.

Nigeria, Africa's most populous nation and a continental sporting powerhouse beat Honduras 3-2 to take bronze in the football event. It was their only medal in the games. Nigeria went with a huge delegation including two team events – Football and Basketball. They had a man in the semi-finals of the 200 metres. Much has been made of Nigerian beating Croatia in Basketball but it was in the last group game against an already qualified Croatia. The Nigerians may have gained much needed experienced, though.

South Africa, Egypt, Seychelles and Angola presented teams in some sailing events. Egypt and Tunisia represented Africa in the men's handball and Angola reached the quarter-finals of the women's event. Senegal women's basketball team lost all its games by huge margins. There were a few African also-runs in some other non-traditional African events.
As for Ghana, the less said about our performance, the better. We were nowhere near any medal. If you watched the games on the telly, you were lucky to see a Ghanaian shirt. Alex Amankwah run the 800 metres heat and came a distant last. John Ampomah cast 80.39 meters of the Javelin to place 11th in the B qualifying group – long outside the final rounds. The records say Ghana has participated in 14 Summer Olympics and one Winter Game. Our total medal tally is four – one silver in the Rome Games of 1960 (Clement Quartey in Welterweight) one bronze each in Tokyo 1964 (Eddie Blay, Lightweight), Munich 1972 (Prince Amartey - Middleweight) and Barcelona 1992 (Football). We have made stamps to commemorate the medals winners. Boxing has been the event we have done best in so the commemorative stamps have mostly been of boxers. The records also say we took part in the Helsinki games of 1952 but our seven athletes did not win any medals.

The Ghana Olympic Committee sent a modest contingent of 16 to Rio – less than the Nigerian football squad. It was made up of 11 athletes, two swimmers, one weightlifter, one judoka and one boxer. Noteworthy of the Ghanaian contingent is that many of them were born or live outside Ghana. The judo star, Sandra Szogedi, was born in Hungary, lives in England but chose to compete for Ghana. The youngest of them, swimmer Kaya Forson, (14 years) lives in Spain. Two of the 100 meters relay team members live in the USA. Sprinter Sean Safo-Antwi's switch from being a competitor for the UK to that of Ghana was approved by the IAAF only in March. Sprinter Flings Owusu-Agyapong lives in the USA and Canada. Alex Amankwa was born in Ghana but moved to the USA with his parents. The irony of the situation seems to be that one has to move outside Ghana to be a better athlete. But if all these foreign born Ghanaians had been good enough to win medals, would they have chosen to compete for Ghana? Indeed, many of the African teams had members who were born and brought up outside the continent.

Africans are said to have difficulties with the purely "technical" events like Gymnastics, Diving, or Synchronised Swimming, and "elite" games like Golf, Lawn Tennis, Fencing, Equestrian events, Archery, Shooting, Canoeing, Rowing, Sailing, and even Water Polo. These elite events require huge financial inputs. The horses that take part in the equestrian events are pedigreed beasts that cost thousands to breed and train. When you see these horses perform, especially in the dressage, you will see how special they are. They are so graceful you wonder if it is the beast or the rider whose effort is greater and who really deserves the medal. No wonder the equestrian events are the only ones in which men and women compete together! The Equestrian events have six gold medals on offer: Eventing, Dressage and Jumping each having individual and team variants. Africans have nothing to do here. There are 16 gold medals in the Artistic Gymnastics alone, an event unknown in Africa.

Once again, the US emerged unarguably as the greatest sporting nation on earth. Its 46 gold medals and 121 total medals haul places it far above its second place rival. USA's cold war rival, Russia, bereft of its Soviet era enforced sporting greatness was a pale shadow of its former self. Having lost many of the erstwhile soviet republics, it is no match for the USA in the sporting field. And China is not yet ready to match the USA.

The Olympic Games is not a single event competition. The countries that win the greatest number of medals prove themselves over several sporting disciplines. And the USA is supreme here. Yes, it is true that 16 of the country's 46 gold medals came in Swimming alone and 13 in Athletics. But the country comes out as the one with the greatest number of medals spread over the greatest number of disciplines. Of the 31 (or 42?) disciplines on parade, the USA took medals in 21 of these. There is a table that shows the number of medals won by all countries since the modern Olympics started in 1894. The USA tops this list by a huge margin!
There are some events that the USA has virtually monopolized. Basketball is one. Long Jump seems to be a US speciality from Jesse Owens (1936), Bob Beamons (1968), Carl Lewis (a record four consecutive Olympic gold medals – 1984, 1988, 1992, 1996), Mike Powell (denied gold by Carl Lewis in 1992 and 1996) and now Jeff Henderson. In the women's event in Rio, they came first and second. They also took gold and silver in the triple jump – an event which, in my day, was called Hop Step and Jump. What makes African Americans jump so long? And while we are at it, I wish to pose the question: who is the greater athlete – Carl Lewis or Usain Bolt?

But the surprise of this year's games is Great Britain. They have shown that their good performance as hosts in 2012 was no fluke. They have done even better and came ahead of China on the medals table – something their journalists are falling over each other to tell the world. Analysts say the British success depends on increased investments in sports. According to The Economist, British funding of athletes rose fivefold between 2000 and 2012 from $76 million to $380 million. The medals count rose 40% within roughly the same period. Much of the money came from the National Lottery and went to covering even some of the daily living expenses of athletes. Prospective winners were identified and money diverted from those with little prospects to those with greater ones. The British also specialized in events other countries tend to neglect but which have many sub-categories like cycling. The strategy has worked.

People often say the "real" Olympics begin half way through the games when the Athletics events start. Perhaps it is so when one thinks of the ancient games. But we are a long way from the ancient games and the beginning of the modern games. Today, there are many sporting events the ancient Greeks could never have dreamed of. The Olympic motto Citius, Altius, Fortius (Faster, Higher, Stronger), now applies to many events that can no longer be categorized along those lines.

Golf made a comeback after 112 years. It was part of the programme in the Paris (1900) and St Louis (1904) games. A few of the pros stayed away but the field still included some of the best. Golf, Lawn Tennis and Basketball are three events which the highest paid professionals compete in for free. They are games in which Africa has no world stars.

Many countries specialize in fields that give them medals. The Koreans are good in Shooting and Archery. Turkey, Iran, and Bulgaria are all good in Weightlifting. Indonesia, Malaysia, Japan, are the best Badminton players in the world. The Chinese have always been good in Table Tennis. The Australians produce great swimmers. Jamaica has carved a strong niche for itself in the sprint. In Africa only Ethiopia and Kenya have displayed some advantage in long distance running. Their success is not the result of any specific investment in sports that other African countries failed to make. They are just simply naturally endowed with long distance runners. In other events, they are as ordinary as other African countries – even worse in many cases.
Ghana does not seem to have any natural talents in any game. We love football but we are not world beaters. Perhaps we should invest more in Taekwondo if we want to win Olympic glory! I have also wondered why, if the best sprinters in the world are black persons, Africa, (and especially the most populous black nation on earth, Nigeria), does not produce world stars in the sport. Twenty years ago, Nigeria had some world class sprinters. What happened? Are Jamaica and the other small Caribbean island countries doing something that we cannot also do? Have we lost the parent genes that make the descendants of African slaves in the New World run so fast?

Can Africa ever host the games? Cape Town lost a bid for the 2004 games. Now Durban is bidding for the 2024 games that will be awarded in 2017. The games are becoming ever more costly. They cost a lot more than the FIFA World Cup. Unlike the World Cup, there are many different games with a lot more sportspersons and officers and only one city to host most of them. South Africa is the only African country with enough resources and the infrastructure to host the games.

The next games will be held in Tokyo, 2020. Before then, Pyeong Chang in South Korea will host the winter games in 2018. Beijing will host the Winter Games in 2022 to emphatically stamp its feet as a nation that has really arrived. Will it be Africa's turn with the Summer Games in Durban 2024?

Kofi Amenyo (kofi.amenyo@yahoo.com)
Source: Amenyo, Kofi