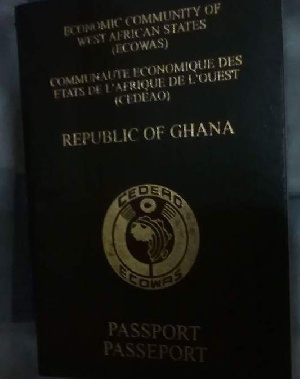 We all know living in Ghana is tough.
Now when was the last time you tried leaving Ghana, starting from renewing your passport?

Last week I tried renewing my passport by buying an online application form.

I'd never heard of an online passport application form until I got into the Osu Oxford Street Ecobank where the teller told me hard copies were not available.

He said the online form works just the same.

I believed him.

I started the online process on Friday through to Sunday midday.

Then I gave up.

It's far easier to wake up at 4am and join the queue at the passport office, that is, if you live in Accra.

Besides I was buying for four persons.

Whilst I have a flexible weekday schedule, the other three persons do not.
From 1st September, they will struggle to find time.

Even though, I couldn't guarantee which date the online application will give us to visit the passport office for our photographs to be taken, I thought I could do any corrections myself online and hence, it was the better option.

I made a mistake; I broke my rule- 'Just stick to your routine when accessing services in Ghana.'

Why did I break my rule?

All four of us don't need the passports urgently to travel, even though we have no reliable ID cards.

On that score I forgive myself even though three days of continuous logging in was more than hell.

Different email addresses, different phone numbers, different passwords- for all four applicants were tried by us several times over several days and nights.

We moved from a Tigo internet connection to a Vodafone's and to an internet café and back and forth with different permutations and combinations.

Three precious days of anxiety- just like the disciples on the road to Emmaus, who waited for three days for the saviour to be raised from the dead.

My heart started racing.
How will I explain to Ecobank Monday morning to refund the monies without they talking us into retrying?

We don't wanna retry; we just need the paper application forms.

An advertised service- a website, should deliver on its brand promise.

The believability in a product or brand is only attained by consuming the product- no PR or advertisement can replace brand experience.

We never believed the given telephone numbers of the passport office would work on weekends, but we decided to try Sunday afternoon, just so that we won't regret not having taken a leap of faith.

0303978370 – 'Cannot be reached…please leave a message.'

Suffix 372 – 'Same, same'.

Suffix 369 – 'Nah, nah'.

371 – We tried the third and fourth lines just to confirm our slowness.

'How foolish you are and how slow to believe all that the prophets have spoken,'- Luke Chapter 24 verse 25.
Please replace prophets with scientists.

Some persons advise that once you haven't gotten through the system you shouldn't criticize or write about your frustrations because you could be frustrated further.

'Just pamper them and lobby your way through influential persons.'

Or maybe, 'Just offer some "envelopes" as inducement'.

'Showing appreciation,' we call it.

'It makes life easier. It's never a bribe. It depends on how you look at it,' is a possible response to the despondent.

'There is the Ghanaian way, your writing about this is abrasive and will offend the passport office and the honourable minister of foreign affairs,' is another probable response.

'You can ring a friend and share all the complaints like we all do, but don't write about it please,' could be yet another advice.

'Just use your connections and contacts within the system,' is yet another view.

'Everyone will either insult you or avoid you at the passport office when they see you- and you'll suffer,' will be another response.
One reassuring comment from Naeem Ahmed Ghafaar, a member of our editorial team is, 'They know the challenges that we have but they're using it to make their money. When they're out of power you'll see them talking, challenging the government. They'll complain about the same thing that they used to do. It's just like the right to information bill- who'll come and pass that bill'.

'Are we supposed to just know, but not say?' the charge flashed back into my memory.

Or can we say as everybody else, but we should not write?

Have we scandalized or defamed Ghana's ministry of foreign affairs and Ecobank?

Naeem Ahmed Ghafaar surmises, 'Given a particular context of understanding and expectation of a speaker, if he decides not to talk as expected of him, refusing to talk will never eliminate or erase the content of his mind.'

What do you say?

Email:ato@writersghana.com