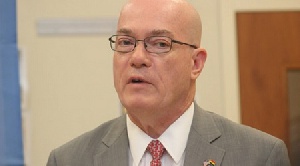 Such a nuisance isn't worth our recognition or appreciation for anything that Ghana can depend on as far as its bilateral relations with the United States are concerned. For the records, Ghana has had hefty benefits from envoys sent to it by the US since Ghana got into its own as a force to reckon with in local and global politics.
Had the US not valued Ghana, its President at the time that Ghana under the Great Osagyefo Dr. Kwame Nkrumah was imprinting itself on global politics wouldn't have sidelined the retrogressive Danquah-Busia fogeys working against Ghana's interests to give it the financial support that Nkrumah needed to launch Ghana forward. That support resulted in the emergence of the Akosombo Hydro-Electric project to uplift standards.

And the US helped in diverse ways that were to prepare grounds for Nkrumah to be the first leader anywhere in the world to accept the United States Peace Corps Volunteers as partners in rural development (even if they turned out to be the local spy network to feed the United States system with vital information on how to remove Nkrumah from office. The CIA knows it all).

The reality is that despite all the whirligig of trust-distrust-mistrust in diplomacy, Ghana and the United States have been good pals of sorts over the years to the extent that two former US Presidents (Bill Clinton and George W.H. Bush) chose to visit Ghana, which is a hugely positive development in diplomacy.

No matter the cloud of suspicion hanging over such diplomacy, the US has been very tactful in dealing with the Ghanaian Establishment so as not to revisit the nastiness of the anti-Nkrumah era to dampen hopes. Unfortunately, the tenure of Robert Jackson painted a different picture, particularly with his obnoxious insertion of himself into local politics, making ugly utterances to betray preference for the NPP faction in power and damning the NDC either in power or opposition. No decent Ambassador worth his calling will stoop so low.

Thank God that he has ended his tenure, even after creating more problems with the issue of establishment of a US military base in Ghana (something that first cropped up when Kufuor was in power and has now been resurrected under Akufo-Addo). Ghana knows more about itself than the US or any other country does. Only fools will rush into making plans to twist its arms for their good. The Ghanaian situation is inscrutable to outsiders. No more here, folks.
In making his brazen comments that we are against, this Jackson comes across to us as one who would come home to dance feverishly on the graves of his murdered relatives. When the fight was on, he ran away to save his own life, returning to the doom that has befallen his lot, hoping against hope to rejuvenate everything. He is not the kind that should have been sent to Ghana.

Where was he when in the mid-1980's the Rawlings administration disgraced the United States and its subversive armada in Ghana (namely, the Michael Soussoudis case) and proved to the US that it couldn't take Ghana for granted after its despicable activities that led to the overthrow of Nkrumah with the CIA's connivance in 1966?

To me, this US Ambassador is leaving Ghana as the most uncherished envoy ever posted to Ghana in "difficult" times. He didn't know what he was sent to Ghana to do and failed woefully by allying with those running his misguided fools' errands. He and the former British High Commissioner (John Benjamin of sorts) rank really high as misfits in the diplomatic service in the Third World (if it ever exists anymore).

I hope this envoy won't be sent to any other country after his disastrous spell in Ghana (as I have judged him). The US has a lot of such "skeletons" to deposit where they belong and be forgotten. A waste pipe that the tax-payer in the US (like me) should haul before the court6s to justify his inclusion in the senseless waste of public funds.

To hell on earth he must go!! And in replacing him, the US' Donald Trump should take note of his own damning of Ghana and others in the Third World as "shithole countries" so he doesn't send down an envoy who will prove to be more of a shithole dweller!! Ghanaians are naturally intelligent to pass.
The records speak volumes that credible and well-intentioned envoys sent to Ghana and other countries by the US worked well to improve circumstances, not to destroy them.

And Ghana under Nkrumah set the pace by allowing the United States to send its first batch of the newly created Peace Corps (a cover-up for the spy agency) in 1962 to operate in Ghana. That was to turn against Nkrumah, after all. But the US Peace Corps Volunteers, just like their supporting Japanese ones entered Ghana to do what would advance their quests to undermine progressive systems.

No more, folks. If they feel hurt, let them cry out loud, and we will react by giving them more of what their leaders have denied them so we can help them plug the gaps in their knowledge base.

This outgoing US Ambassador is a classic example of those who need more education before they are sent out to do what they aren't equipped intellectually to do. He has turned out to be the most abysmal of all. Shame to him wherever he goes!!

I shall return...