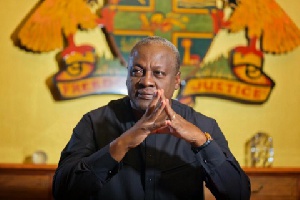 ( John Dramani Mahama) and his celebrated legacies
Geography lawyer abdul hadi writes………………………..

It is often said that a man came to do his part and not to do all. That seems to be true right? But some men still have their works in progress even if they are not personally in control of affairs. And JOHN DRAMANI MAHAMA is no exception.

A servant leader who actually served his country and people with passion, humility and loyalty, a man who lost power on the principle that, 'an angel does not get recognition from his own people', A man whose vision is still benefiting Ghanaians even after 19 months of power drop.

Posterity, they say, will judge every man, has started its judgments in our political landscape. The strong foundation "trees planted" by JDM would have bear sweet fruits for many Ghanaians but for some 'know all' politicians, our promising country is now on emergency sick bed and being taking care of by a 'political lawyer' and a hopeless 'economic doctor'.

Ghanaians are suffering because of 'political plagiarist' who do not want to give credit to whom credit is due. But that notwithstanding, who "Jar blessed, no one curse".
There are clean evidences that, the legacies of JDM are the hopes for Ghanaians in these trying times. It only takes visionary leaders like JDM, to govern or rule from the bench (opposition) because his well thought policies and programs will continue to improve and transform the lives of the people, unless they are negatively manipulated by political populist.

And that is what is happening in Ghana now!

Some of the governing from opposition legacies of JDM includes but not limited to the following;

1. Transformation of energy sector which led to the 'killing' of dumsor and efficient stable power supply for Ghanaians.

2. Building of senior high schools which have also led to the implementation of free SHS. Even though "we have the men" government has failed to think through it before its implementation.
3. Building of numerous hospitals and other health facilities which are now creating opportunities for doctors and nurses. Even though 'we have the men' government said it was not a necessity.

4. Expansion and building new airports etc……you can add more to my list.

A servant and visionary leader whose massive infrastructure developmental agenda crown him the title of COMMISIONER GENERAL, a servant visionary leader who is still considered as a commissioner general after 19 months in opposition because his 'leftover' projects are being commissioned by 'we have the men' government who wickedly lambasted and sabotaged the sensitive projects.

I am not surprise that the legacies of JDM has created avenue for a system of family and friends government to be smoothly implemented in Ghana. The expansion works and job vacancies that were created for ordinary Ghanaians and qualified citizens are now being occupied by the relatives of a 'king promise' president and a doctor of "mouth diarrhea economist".

We are where we are now because we have failed as Ghanaians to foresee the future this country but rather, our immediate pocket. Political leaders having known our weakness will always promise us 'pocket economy' and neglect our long life prosperity. We need a mental revolution to be able to predict the mind set of our politicians.
#istandwithJDM #istandwithghanaians #istandwithNDC

Thanks for reading and sharing.

©2018