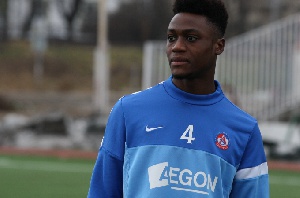 Tue, 20 Oct 2015 Source: Alfred Obeng Dompreh
"Talents are born; Potential is nurtured"-Unknown.
The preceding quote speaks volumes of how substantial and important Stars can be molded when one is meticulous in finding the Stars and harnessing the potential in them.

Germaine Ofori, a product of Green Management Agency, is one such talent, who is gradually but speedily being recognized on the green turf of football.

He is such an exciting talent, formerly of Championship side, Reading FC and currently on trial at Premiership club, Watford FC.

His motherland, Ghana, recognizing the budding talent of Ofori, has thrown an invitation to him to feature for the national U19 side, the Black Satellites.

With a premiership club whose request for his services been turned down; and two other championship clubs (names withheld) on his heels, it only stands to reason that Ofori's talent and potential is due for the highest level of football.
The Green Management Agency, a career development agency, provides a comprehensive number of services to talents within the sporting and entertainment worlds. They have a vetting system in place with professional scouts and coaches assessing players before putting them up for clubs.

"We have a particular focus on finding and nurturing young talent but our key distinguishing factor and one we hold at the center of all we do is that we take a holistic approach to building our clients future," according to the management of the agency.

The Green Management Agency's approach seems to be winning them much favour amongst young talents and thus place the outfit in a position where many opportunities will be provided to those they are currently dealing with.

Below is a clip of him playing against Charlton Athletic and a bit of his time at Reading:


Source: Alfred Obeng Dompreh