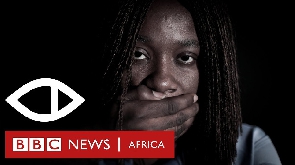 The BBC "Sex for Grades" documentary has achieved its aim.
"This is nothing more than a 'sting' operation," clarifies my mentor. "Or if you like, a quality assurance/control audit of the compliance of lecturers – who are public servants, to accepted standards. In the US, every now and then a male urine/blood sample was taken to the lab for a pregnancy test. If it came back positive, the lab was closed down."

This addresses the concerns of Prof Kwame Karikari, founder of Media Foundation for West Africa: "In investigative journalism, the journalist is known by the subject that the journalist is investigating, in other words, the journalist doesn't hide."

He is worried that BBC is inventing news instead of waiting for news to happen and then covering it.

Is that not an unnecessarily restricted view?

Dr Margaret Amoakohene, chair of the Anti-Sexual Harassment Committee at University of Ghana, Legon, observed that there are no sex scenes, and concluded that the headline was misleading.

Clearly, her intervention at that stage was imprudent and unnecessary.
Those who wish to seek clarification from various regulatory bodies on the conduct of BBC should be encouraged to do so, whilst others who wish to pursue the salience of issues angle should also be free to do so: no one should gag anybody.

Salience is an offshoot of the Agenda Setting Theory.

There is a strong correlation between media headlines/topics and what respondents say is topical on their minds, according to Maxwell McCombs and Donald Shaw, in an article titled "The Agenda-Setting Function of Mass Media" published in Public Opinion Quarterly in 1972 (Volume 36, No. 2).

Since that publication at least another 400 subsequent studies on the subject "agenda setting" have helped establish this theory.

The media can and often does set the agenda. Why do you think politicians pay so much attention to it?

The media can make anything salient: salience of issues; salience of topics; salience of personalities (Gyampo is now salient in our homes, offices and schools); salience of media (Ibrahim Sanni Darrah, a former BBC reporter has told the media the BBC Africa desk is desperate to win back its African audience); salience of sources (what our mass communications professors say on this matter is important for the media hence they choose to interview them); salience of location (West Africa- University of Ghana and University of Lagos); and more.
The media indeed can make anything salient.

An article published on theconversation.com on 24 May 2018 should allay the fears Prof Ransford Gyampo expressed about the "colonialist" agenda of the BBC in his initial public response: "Social media presents a powerful platform for creating multiple stories about Africa.

Embracing the accessibility of modern technology, African social media bloggers and commentators are using Facebook, YouTube and other platforms to undermine longstanding "Afro-pessimistic" stereotypes – the backward continent characterised by strife and poverty."

Besides are we not tired yet of flogging this bogus "we are Africans" ploy especially when our standards are sub par?

Nothing now remains but what my mentor recommends: "We need law enforcement (our Police! no smirks please) to conduct a robust and thorough investigation. The state has a duty to make it possible and safe for other victims and informants to come forward boldly.

Clearly, that cannot be achieved by a university committee investigation……which is not necessarily looking for criminal conduct but only administrative and professional lapses.
We need to look for and if found prosecute criminal conduct; that can only be done by law enforcement.

To talk about the BBC video as evidence for prosecution is disingenuous."

The silence so far from law enforcement is dangerous. The excuse that no complaint has been made is risible and untenable.

Have they not recovered from their altercation with the law students or they are still busy bullying night time taxi cab passengers on the Teshie Bush Road and at other road blocks?

Make no mistake; the crux of the "sex for grades" investigation is to ensure that fraud has not been committed by the subversion and manipulation of the university degree system.

That is non-negotiable irrespective of whether the lecturers take Ms. Cynthia Morrison – the Deputy Minister of Gender Affairs' ludicrous advice "to propose marriage to the female students instead of harassing them".
Feedback; ato@writersghana.com; www.writersghana.com; LinkedIn, Isaac Ato Mensah; Instagram, @atomenswriters; Twitter, @Atomens; Facebook, Writers and Shakespeares Ghana; Telegram, Isaac Ato Mensah; Quora, Isaac Ato Mensah. WhatsApp (+233) 020 022 0353.

Writers and Shakespeares Ghana Limited exist to be a moral and intellectual guide to the best practice of PR and integrated communications around the world, beginning with Ghana.