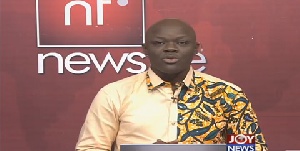 A 5.7 km road was opened to traffic even though it wasn't complete. It was left with 6 footbridges to complete. This clear death-trap of a road, in less than 1 year has killed 1,2,3,10, over 20 people (the media has been reporting 194 killed so far) and left 164 others with injuries. Why, because the state has failed to fix the footbridges and won't take temporary measures to keep pedestrians safe despite loud cries about the carnage there.
The 24th young citizen was killed on Thursday. The people blocked the road and burnt tyres. They got chased like common criminals. Overnight, there is a huge police presence including other safety measures on the road with a promise to fix the footbridges in a matter of days. Suddenly all the excuses vanished!

Do you know how many lives have been lost to the now dangerous 19km Tema-Motorway where the state mobilises over GHC 200,000 each week? On April 5, 2017, a man hit a pothole, burst his tyre, his Tema-bound car tumbled, hit the ditch in the median, flu up high, landed on my car, swept by the pressure into the bush. Amazing grace! I only bear mental and physical scars of that accident.

The accident that destroyed my first ever savings in a 4-wheel vehicle completely beyond repair. The elderly bread-winner died instantly. It shouldn't take more deaths and a protest to fix the economic commercial motorway on which some 30,000 vehicles ply each day paying some GH¢30,000 each day at the 12 toll booths. Where is this money?

We will talk about fallouts from Anas' No. 12 investigative film as well as the row over the creation of new regions.

Martin Luther King Jnr once observed a truth that "[o]ur lives begin to end the day we become silent about things that matter." The lawyers' favourite judge Lord Denning put it this way "[s]ilence is not an option when things are ill done."

Join me on this platform and tell me how you intend to exercise your constitutional preamble and article 35 (1) power I discussed last week. It provides that "Ghana shall be a democratic state dedicated to the realization of freedom and justice; and accordingly, sovereignty resides in the people of Ghana from whom Government derives all its powers and authority through this Constitution."
Rise up! Demand the right thing be done! We will be right back to deal with the vexed matters.

Samson Lardy ANYENINI

10th November 2018.