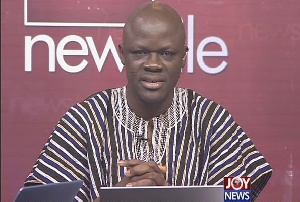 My Take today is brief on two issues. The President fell for a fallacy repeated so often it has almost gained the semblance of fact and law by default to chip away the sovereignty of the state and weakened the power of its lawful agencies to police the GFA. The second issue to do with saving children and mothers is most important to me, but let me correct this wrong impression that may promote the unintended boost for impunity and corruption among managers or soccer first.
I will simply stick to the well-researched presentation by the Justice Senyo Dzamefe Commission of Inquiry into the scandalous and abysmal showing of the Black Stars in the 2014 Brazil World Cup. I led a client to the commission, so it could be said I had a vested interest in its Report. Please refer to pages 132 – 138 of the Report for the sound education that the organisations and officers of FIFA, CAF, the GFA and allied bodies are not, have never been and can never be immune from legal actions by sovereign states for unlawful or criminal acts.

The commission was emphatic in stating that "they escape public accountability by relying on a depraved concept of third-party interference".

It noted that there was "systematic abuse of the passion of the citizenry of the World for football and other sports and a flagrant exploitation of public funds of Nation States for the benefit of International Sporting Organisations..."

The commission was unequivocal in reaffirming settled legal principles that "[t]he regulation of the activities of Domestic Sporting Associations and their capacity to organise sports in a particular country is the sole prerogative of that sovereign country".

There is so much to be said about the subject but the critical point for the present purpose is that it cannot be correct and leaders especially ought not be heard to make comments that promote the idea that states could yield their sovereignty to FIFA and its allied bodies.

The GFA cannot be on Ghanaian soil, claim to be a Ghana body, rely on the country's finance and human resources, operate in Ghana and not be subject to Ghanaian law. The point had been made to drive home the correct position of law by asking if an FA could endorse homosexuality in a country that outlawed same because FIFA endorses same?
The recent arrests of senior officials of FIFA by Swiss police and the corruption charges pressed against them in the US is a clear vindication. The recommendation for international and regional bodies like the UN and African Union to pass the necessary resolutions to emphatically denounce the erroneous concept of the sort of autonomy asserted by FIFA and its allied bodies must be pursued with dispatch.

Let me conclude on the second issue and most important news by celebrating Seth Kwame Boateng and his kind of journalism that gives prisoners a bit of decent life and saves babies and mothers from dying needless deaths. The First Lady Rebecca Akufo Addo and Samira Bawumia, these two unelected individuals, deserve all the congratulations for the salvation they have worked for babies and mothers at the Komfo Anokye Teaching Hospital in Kumasi. Seth told the unbelievable story of how four babies died each day and some together with their mothers because the state has abandoned a building project for nearly forty-five years.

Managers of Multimedia Group Limited worked together with the Rebecca foundation to raise funds and yesterday a modern mother and baby unit was commissioned. By the way, the magnificent and well-equipped facility was started and finished in less than six months. There is obviously a lesson here for those at the helm especially political leaders. Congratulations to all!

Samson Lardy ANYENINI

January 20, 2018