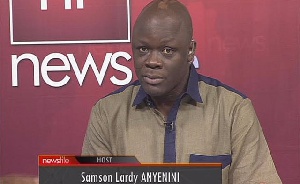 I should be starting my series on what I said is the inequality that has left 3.5 million of Ghana's children in such poverty that a child in Accra is 10 times better off than a child in the Upper West Region, while a child is twice as likely not to reach age 5 if born in the Northern Region - according to UNICEF.
But I am asked to preserve that for January, and deal with matters of elections expected in some 10 days.

So, why are the peace officers talking like thugs? That's a question a no-nonsense-talking good friend is asking.

Nana Ama Agyemang Asante is worried and shocked that in announcing their preparedness to provide security, Army Chief Samson Oje and Police Chief in Ashanti Kofi Boakye both spoke about "dealing ruthlessly with troublemakers" on Election Day.  Air Marshal Oje was addressing the press in Accra while COP Boakye addressed senior police officers and the media in Kumasi.

This choice of rhetoric they resort to in election season, is certainly wrong and a sad commentary on our democracy of rule of law. It's the same rhetoric employed when they are hunting wanted criminals.

But wait a minute! Why will peace officers not talk like thugs, or as though they were in a backward military regime, and sent to cause mayhem instead of keep the peace? Why will they not when the mere exercise of queuing and voting is given a semblance of a war front by our politicians?
Tell me why our politicians see this process as a matter of life of death. Why do they engage thugs (macho men), and tell me what the hoards of jobless, hungry uneducated foot-soldiers seek at the polling stations.

Stop this rethoric that psyches up and encourages specially political fanatics in uniform to cause trouble, mistreat perceived opponents on Election Day in the name of providing security. 

Let politics be a decent affair to seek the welfare of citizens, and elections be about the contest of ideas to afford citizens the choice to freely select their MPs and President.

I am sure it is not lost on our security officers that citizens have constitutionally guaranteed human rights, and that it is only the domain of the courts to determine how the republic deals with those who violate the laws and breach the peace on Election Day.

So, let the security chiefs stop talking like thugs. Your job is to professionally enforce law and order, not to "deal ruthlessly" with anybody.