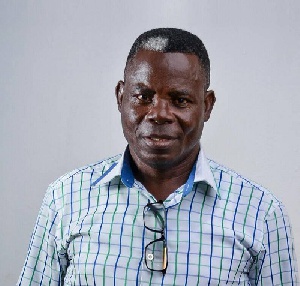 A Western Regional Chairman Hopeful of the New Patriotic Party Mr. Frank Etti, is calling on the leadership of the party to consider as a matter urgency a system to support party members who are battling with all forms of ill-health conditions.
According to Mr. Etti, who is also called Chairman FRANKETT, searches conducted across the country shows several staunch NPP members are struggling with various forms of health issues and some have even died without the party being aware.

His appeal seems to have been echoed by a comment by Hon Maxwell Kofi Jumah, a former mayor of Kumasi and once MP of Asokwa constituency when he visited the indisposed former Central Regional Minister Hon. Isaac Edumadzie.

"I just left the home of Hon. Edumadze, former MP and Former Central Regional Minister at Ajumako. His condition is extremely bad. Is it worth sacrificing for Ghana and NPP? What? God should punish each and every one of us if we do not do something about his condition". These were the words of Hon Maxwell Kofi Jumah, a Board Member of the GIHOC Distilleries Company Limited as he visited a colleague former MP who is now indisposed.
"In fact, the words of Kofi Ghana, as he is also called, left me dumbfounded and I began pondering over them asking myself, How can we identify the hundreds who are in similar state like Hon Edumadze? If a former minister of state can be in such a troubled state as Kofi Ghana is describing then what has happened to the ordinary party footsoldier at that remotest part of the country" Chairman Frankett noted.

Chairman Frankett further noted that this is an opportune time to go out there, look for the hundreds of our members who are in ill-health conditions to support them than to wait for the unfortunate thing to happen before we parade ourselves in the name of offering condolences.

He suggested that a welfare scheme of providing support to party members should be established whose mandate, among other things will be to help locate such members and support them in one way or another.