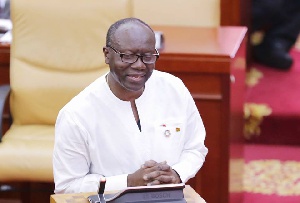 When our soft spoken and taciturn current finance minister – Ken Ofori-Atta says,
"I think as a nation, we are really soft about enforcement of laws and hopefully what we are going to do in the banking sector, everybody will begin to realize that those periods are gone, and if I am going to have to spend 5.6 billion [Cedis; US$1.2billion] to bail out the banking system because I have to protect depositors, the question is not one of a banking failure.

I need to be able to tell you that that managing director or that shareholder stole that money and it has to be very upfront because that's five billion that I'm using as opposed to school feeding [grants], maternal issues, and the issue of sentiments are out of it.

It is not a bank failure.

It is individuals who have done something to bring us to this compromising position and I think it is that same sense of social justice that we should bring to bear in the tax administration system", then you know that we have crossed the Rubicon.

He was speaking at a press conference in Accra to inaugurate the Tax Dialogue Initiative on 14 August, 2018.

Ghana's tax revenue for 2017 was GH¢32.4billion (US$6.72billion).
As a PR and integrated communications firm, we, at Writers and Shakespeares Ghana Limited, have been warning all persons involved in this scandal to own up and admit their mistakes and seek public understanding.

With this statement, we believe that time has fast run out.

All PR agencies, advertising firms, PR practitioners, marketing executives and legal advisers who worked together with accountants, auditors and managers to hoodwink all of us are in danger of serious repercussions when the axe falls.

During the Nuremberg Trials following World War II, it was established that each individual must answer personally for (her)his own decision.

'DO NOT OBEY UNLAWFUL ORDERS' was the mantra that came out of those historic trials of the Nazis.

Do we not know or have we forgotten that important lesson?
And if you were indeed misled into obeying unlawful orders in issuing statements to shareholders, Ghana Stock Exchange, Securities and Exchange Commission, organisers of Ghana Banking Awards, you've now known since 1st August 2018, when the Bank of Ghana governor spoke, that you've been misled.

So, what are you waiting for?

Is the world to assume that you were deliberately complicit in putting out fraudulent information?

During the Montie Trio trial in Ghana in 2016, the Supreme Court held, further, that apart from the three who spoke of violence on radio, the owners and board of directors of Montie FM were equally guilty and were also sentenced (vicarious liability).

As a public relations practitioner, banking awards analyser, marketing consultant or advertising agency, you can no longer hide behind your assumed Animal Farm's Squeler role as minister of propaganda.

When you hear the soft spoken NPP finance minister talk about SOCIAL JUSTICE, a term often heard from the military regime of Jerry John Rawlings, then you know that something very serious is amiss.
So if you are culpable it's about time you recalibrated and restrategised.

Meanwhile, at about the same time, Ghana's finance minister was speaking of naming names in Ghana; the Italian interior minister (who is also deputy prime minister) was speaking in Italy about the Genoa bridge collapse that killed at least 20 persons (May their souls rest in peace).

Matteo Salvini, the minister in a statement quoted by the BBC said,

"I have crossed that bridge hundreds of times.

Now, as an Italian citizen, I will do everything to get the names and surnames of the managers responsible, past and present, because it is unacceptable to die like that in Italy."

Have Ofori-Atta in Ghana and Salvini in Italy gone a bridge too far?
We do not think so.

All those whose acts have led to the disasters in both places ought to be exposed and punished.