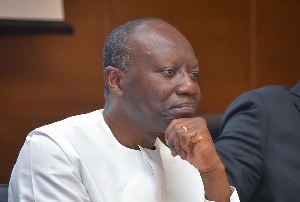 It is with heavy emotions that we heard of conclusion of investigations into the Ghana Banking scandal and the start of formal prosecutions.
"People who are supposed to be jailed should be jailed," said a work colleague as we discussed those allegedly involved, monies lost and shared experiences.

It is sad that some of the persons to be prosecuted have at the same time lost monies as shareholders and directors. Many employees have done their owners and directors in by non-adherence to integrity rules.

The Daily Graphic newspaper of Accra reports in its 23 May, 2019 story that "Sources close to the receivers [KPMG and PwC] said for one of the failed banks, more than GH¢3.8 billion did not pass through the loan books but was captured through a special audit because it was distributed among the directors".

This obviously presents a headache especially if you have family or friends involved in such criminal acts.

Our own analysis of the Daily Graphic story shows that the defunct Royal Bank's 752 defaulting customers, for example, who owe collectively GH1.142 billion will each cough out an average of GH¢1,518,617 or over USD300,000 average per defaulting customer.

The Daily Graphic story stated that Dr Ernest Addison, Bank of Ghana Governor, expressed worry at the Ghana CEO Summit in Accra that "some of the loan defaulters and shareholders of the defunct banks were engaging in frivolous legal cases to sabotage the process".
Respectfully, we disagree.

In an article published on theguardian.com on 29 April, 2019, Kate Hodal explained a report by the Task Force on Justice and stated that "of the 5.1 billion people with no meaningful access to justice, an estimated 1.5 billion – one in five people worldwide – have been left with justice problems they cannot solve, whether that involves a land dispute, consumer debt or being the victim of crime".

Without a question, the regulatory authorities have had to pump in over 10 billion Cedis (about USD2 billion) to pay depositors and solve other problems.

We do not believe that every accused person has stolen money. Some may have been negligent or sidestepped procedure. And it is important that they go through the legal process to explain what happened.

Therefore, let them exhaust all the integrity rules – rules they may have sidestepped or denied others when they were in positions of power. We trust that they will learn the right lessons.

This will serve as a big lesson not only to those being prosecuted, but to other persons who while in various official positions choose to act outside the rules because "everyone is doing the same thing".
Or worse because the pervasive "bigman, (small mind) syndrome" in Ghana which is hoped ensures protection from prosecution or comeuppance.

As the prosecutions are about to begin, it will become increasingly clear to Ghanaians that each one of us must answer individually for his own actions and we must always have eternity in view.

Feedback; ato@writersghana.com; LinkedIn, Isaac Ato Mensah; Instagram, @atomenswriters; Twitter, @Atomens; Facebook, Isaac Ato Mensah; Telegram, Isaac Ato Mensah; Quora, Isaac Ato Mensah. WhatsApp (233) 020 022 0353.

Writers and Shakespeares Ghana Limited exist to be a moral and intellectual guide to the best practice of PR and integrated communications around the world, beginning with Ghana.