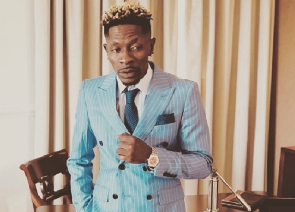 There is an inextinguishable feud between Shatta Wale and Stonebwoy judging from the incident of May 18, 2019, during the 20th edition of the Vodafone Ghana Music Awards, a situation that gave the entertainment industry a bad name.
While it is true that we cannot deny the level of competition between these two great artistes in the industry is the foundation of the feud between them, it is also unsavoury on the part of Shatta Wale l think as a fan to always hear him either mocking or making references to Stonebwoy's physical impairment.

This incessant behaviour must be discouraged because he, Shatta Wale has a huge following in this country and beyond and therefore must be mindful of what he says.

It is not anyone's choice to be physically impaired, besides this, some imminent physically impaired people have contributed massively to humanity than the rest of the human populace.

For instance, Stephen Hawking, a theoretical physicist and author of 'A Brief History of Time" was a doyen in the field of general relativity despite his physical impairment.
Nick Vujicic, a preacher and a motivational speaker also contributes to this world by giving smiles to people despite his physical impairment.

I doubt if these two people could make it to this height if they were born in our culture.

If as a people we continue to wink our eyes on social issues like this, it may certainly get out of hand and those brothers and sisters who are physically impaired will find it difficult to be part of our society happily.

Shatta Wale should know that with great power comes great responsibility.