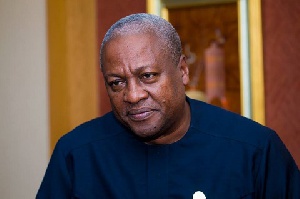 Should a President (any President) of Ghana receive a gift from a private person, Ghanaian or not? Was it right for President John Agyekum Kufuor to have accepted an offer from Mr Kwame Marfo, who donated 41 million old cedis to settle the amount, spent on the renovation of the private residence of the President? Was it right for Flight Lieutenant Rawlings, as Head of State, to accept the offer of a private citizen (identity still unknown) to pay for his child's education through Medical School? Was it right for Kwame Nkrumah to have accepted the gift of Peduase Lodge from a contractor, even though he (Nkrumah) turned it into a state property?
The answer to these questions is implied in a slogan established by the Centre for Civic Education set up in 1967 and headed by Dr Kofi Abrefa Busia. It said simply: "Don't accept gifts; they are bribes. Don't accept bribes, they corrupt". Part of the answer is also implied in a code of conduct for public officers by our first President, Dr Kwame Nkrumah who, in 1964, laid some form of Moral Code for public officers in his 1964 dawn broadcast, a code which the public later reduced to: "One man one house; One man one car".

It is simple. Whether a gift is a bribe or constitutes a conflict of interest should not be left to the public to decide. As a people, post-1992 Ghanaians have lost the moral right to pronounce on these matters because as we see in the latest example of a gift of a vehicle to President John Dramani Mahama, the debate will be mired in politics.

At the risk of my words being misinterpreted, I declare that I am happy the Presidential gift saga is making its way to the Commission of Human Rights and Administrative Justice (CHRAJ). It is good for the President himself because as it has done for President Kufuor, President Mahama stands a great chance of getting his name formally, officially and legally cleared of wrongdoing once and for all time.

In my own mind, I find it difficult to prove a case of "bribery" because the bribe went through official channels. Since God created Adam, bribes have been secret affairs. Besides, I am sure the CHRAJ panel or any court judge will consider the extenuating circumstance of the gift having been turned into a state asset. Having said this, let me declare: I know no Law; I write only as a layman.

And it is precisely because my "mouth no be gun" (with my layman's views) that the case going to CHRAJ has come fortuitous for the people of Ghana. A formal legal hearing either at CHRAJ or the law courts will set the ground rules for governance, something we need badly in a multi-party democracy.
I submit that matters involving the conduct of public officers, from the President to the messenger, should not be determined by a court of public opinion: a panel of legal luminaries such as CHRAJ or the courts of law should be trusted to handle them. This will not be about John Dramani Mahama; Ghana needs it.

Whether the gift is a bribe or not is not, and should not be, what the Minister of Communication says. In our highly polarised nation, matters such as this should not be left in the mouth of the Convention People's Party (CPP) or Progressive People's Party (PPP) or New Patriotic Party (NPP). It should not even be what a private legal practitioner or a Law lecturer says. The Law is what the judges pronounce.

The greatest days in the history of our democracy were when President Kufuor voluntarily faced the Law via CHRAJ, preceded by P.V. Obeng who was followed by Richard Anane.

President Mahama's handing down a Code of Conduct to his appointees was, for me, the latest in the evolution process for Ghana and Africa. The operative word in that Code is "perception". By the use of that word, the President was telling his appointees that "it does not matter that you are guilty or not; what matters is what Ghanaians think about a case; that in this thinking, Ghanaians do not need to prove guilt perception is guilt", and we must clap for that.

If you ask me, this is one of the wonderful legacies of the Fourth Republic. That, however, is why I find it disappointing, and painfully so, that the man who gave Ghana this Code should be the one to breach it. The breach, as far as I am concerned, has nothing to do with the value of the gift. Simple: private citizens, especially people with commercial interest, should not give personal gifts to Presidents.
That is what set me off writing this piece. But for the PPP case at CHRAJ, my humble opinion was that the President should apologise, confessing not necessarily to bribery but admitting that going by the word "perception", which he used in his Code of Conduct, he concedes that with the benefit of hindsight, he should not have accepted the gift. With such an apology, the matter should die, counting on the magnanimity and ever-forgiving nature of the 25 million people in this landmass called Ghana.

Of course, even as I make this proposal, I can foresee a problem. Many people, especially those who advise the President, would disagree with me, and I can understand them. Their point of disagreement would be based on the fear of what the opposition would capitalise on the apology to do, especially in an election year.

I take note that the President, at Ashaiman, said he was not guilty. That makes me happy.

The point of this article, however, still stands: We should make it impossible for any President of Ghana to accept a gift from anybody not representing another country. Ghana is not too broke that we should accept the gift of a vehicle. In fact, that vehicle should be returned.