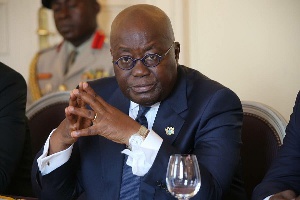 Folks, very recently, Akufo-Addo (head of the sub-standard NPP government) complained loudly that he was being heavily criticized for failures as if he had been in power for 5 years!!
The obvious conclusion? Ghanaians talk too much. Instead of taking him on barely 7 months into his 4-year tenure, they should cut him the slack and judge him only at the end of this tenure.

Makes sense? Not at all. In politics, criticism (whether for good or ill) has its ups and downs and cannot be tied to any timeline. Those who know what it entails will welcome it, even if it cuts them to size and threatens their political viability. It offers lessons that they need to learn to shape up or be shipped out.

By criticizing Akufo-Addo all too soon, are Ghanaians being heavy-handed or difficult? (We recall Matthew Opoku Prempeh, Minister of Education's claim that Ghanaians are difficult to rule---a throwback to what the late Kutu Acheampong had said in the late 1970's).

Oyiwa, folks!! Those who choose to present themselves as Messiahs to solve the existential problems of the people should have a big heart for the people's reaction to how they do or fail to do things. After all, once in power, they wield the people's mandate. It doesn't disempower the people, though.

Just take the United States' Donald Trump, for example, who had said several times that he was seeking political power to "drain the swamp" in Washington. From what has happened so far, it is clear that it is rather his own head that has to be drained!! Haaaaaaaaaaa!!
So it is with what Akufo-Addo is telling us. We won't stop criticizing him today or tomorrow. We will look for all the traces of abject incompetence and U-turns made by him and Dr. Borrowmia to prove to them that governance entails more than their whims and caprices deceive them to believe.

We have been criticizing them all these years and won't stop just because they are now in the kitchen, feeling the heat, and using empty rhetoric to avoid being scalded. Once they don't know how to soak up the heat, they should expect to be scalded. That is what public criticism will do to them. A think skin they may want to develop but it will only turn them into celebrated cut-ups ("Concert Party" actors), which we have known them to be all these years.

Others before Akufo-Addo had taken on this Messianic role only to flop. Some ended up disastrously and paid the maximum price for it. Here is a list of them:

1. The Great Osagyefo (Dr. Kwame Nkrumah) stepped forward to prove to the world that the black man was capable of managing his own affairs. He did his best for which he remains a huge icon, even as his detractors cut him to size at the Feb. 24, 1966 cowardly putsch. Ghana didn't make it out of the woods under him.

2. The sell-outs constituting the National Liberation Council couldn't do better. No wonder they could neither liberate the country nor uplift themselves. The heavy price paid by the treacherous Akwasi Amankwaah Afrifa may continue to hurt those anti-Nkrumah elements who propped him up, but it reminds some of us of the chicanery that motivated their overthrow of the Great Osagyefo (in collusion with external forces).
3. The effeminate Dr. Busia registered nothing different, even though his outbursts "No Court... No Court!!" remain as the most disgusting instance of intolerance toward the Ghanaian Judiciary. No more on that.

4. The late Kutu Acheampong brought about the National Redemption Council but ended up not being able to redeem himself.

5. Bring in Dr. Hilla Limann here and you can tell that his administration was a complete washout.

6. Flt.-Lt. Jerry Rawlings' Armed Forces Revolutionary Council had only one aim: to attack the military top notch and punish them for tarnishing the image of the military. No wonder that the firing squad took away those identified as perpetrators. And it went beyond that scope to deal with the civilian accomplices. The "house-cleaning exercise" (interpreted here as the fight against corruption) resounds loudly and clearly. Whose house ended up being cleaned, anyway? Ghana still stinks!!

7. When Rawlings re-emerged on Thursday, December 31, 1981, to kick out the Limann administration, he challenged Ghanaians to send him to the firing squad if he failed to do what he had come to do for them the second time. He is still alive, challenging Ghanaians. No more from me.
His Provisional National Defence Council (PNDC) went all out to give Ghana this stable 4th Republic, running since January 1993. Congratulations. But will Ghanaians eat this 4th Republic?

8. Bring in what transpired under Kufuor, Atta Mills, and John Mahama so you can circle the square, if possible.

9. Then, wind the clock forward to what we have today. Akufo-Addo got to power on the basis of the huge promises that he and his supporters had made. Some of those promises were fixed on a timeline, meaning that Akufo-Addo had given Ghanaians when he would do whatever he promised. And time flies!! Ghanaians aren't dead to time as it ticks off.

As the situation is now, they are quick to feel the pinch and to suggest in their reaction that what Akufo-Addo promised isn't what they see now or expect top happen soon. Shouldn't they complain? And by complaining, what raw nerves haven't they touched?

How tolerant is Akufo-Addo? (Hello, Dr. Nyaho-Tamakloe, Dr, Charles Wereko-Brobby, Dr. Arthur Kennedy, and Co.!!).
And if Akufo-Addo can't take the heat now, when again can he, especially as time rolls by and nothing emerges to prove that the electorate were right in voting against Mahama?

The Akufo-Addo administration is capitalizing on all that the Mahama administration and its predecessors had already put in place. What is new under Akufo-Addo apart from the state of insecurity that his entering the Flagstaff House has ensured? (We note here that his government's re-designation of the "Flagstaff house" to "Jubilee House" hasn't even caught up. The official name remains "Flagstaff House" as changed by the Atta Mills government. We are told the Indian government has even given a grant of one million Dollars for renovation of this "Flagstaff House", not the "Jubilee House". Confused sub-standard government!!).

In effect, what has the CHANGE at Election 2016 brought about that Ghanaians haven't seen before? And if they complain, should they be condemned?

I shall return…

E-mail: mjbokor@yahoo.com Join me on Facebook at: http://www.facebook.com/mjkbokor to continue the conversation.