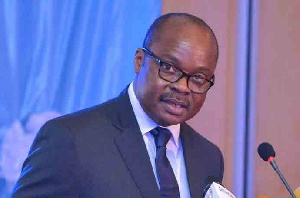 One of my grandfather's favourite phrases was, 'Don't be a Shylock!'
'The goal of public relations is to reconcile or adjust in the public interest those aspects of our personal and corporate behaviour which have a social significance,' is one of the popular definitions of PR practitioners.

This definition came in most handy yesterday when the Bank of Ghana revoked the licenses of five banks.

They are Unibank, The Royal Bank Limited, BEIGE Bank, Sovereign Bank Limited and Construction Bank Limited.

Consolidated Bank Ghana Limited, established by the Government of Ghana, has been granted a universal banking license, and to all intents and purposes, will take over the clients of these affected banks and do business with them.

These announcements were made by Dr Ernest Addison, the governor of the Bank of Ghana, yesterday.

The whole nation has been thrown into confusion but, it needn't be so.

We've been informed that commercial banks operating in Ghana have been asked to raise their minimum capital to GH¢400 million by December 2018.

On 15 September 2016, peacefmonline.com quoted now Vice President Dr Bawumia as saying eight banks would fail because of 'non-performing loans'.

Since the subsequent collapse of UT Bank, Unibank and Capital Bank, we've come to know that contrary to what their communications teams tell us, their reality was not in synch with their respective brand images.

So what's the problem then?

The problem is that public relations (PR) practitioners haven't guided their organisations through this crisis.

When the announcement was made by the Bank of Ghana in September last year, of the new minimum capital requirement, with at least a one-year timeline, an issues management strategy was automatically triggered.

Obviously, the affected PR practitioners couldn't detonate this time bomb.
The current PR crises affect the individuals as well as the respective organisations involved.

Who are those with a PR crisis on their hands?

BANK OF GHANA

The Bank of Ghana (BOG) is in this crisis together with the affected banks.

The respective individuals and the Banking Supervision Department of the BOG have questions to answer.

As individuals and as an institution, they witnessed awards being given to banks and endorsed these banks' monthly returns.

Thus they tacitly approved the numerous marketing awards in the banking sector.

The affected individuals and the Banking Supervision Department of the BOG must explain themselves to the public so as to win back the public's confidence.

MINISTRY OF INFORMATION AND NATIONAL MEDIA COMMISSION

There's enough research evidence to show that advertising makes us believe what's being promoted.

Hence, the Advertising Standards Authority (ASA) of the UK for example, even gives rules on gender and race representation in adverts.

The ASA's codes ensure that, 'before distributing or submitting a marketing communication for publication, marketers must hold documentary evidence to prove all claims, whether direct or implied, that are capable of objective substantiation'.

When the ASA determines a complaint against an advert, it could recommend various sanctions including the withdrawal of the advertisement.
In short, our (Ghana's) Ministry of Information and National Media Commission also owe the public some answers and searching questions must be asked of them.

FAILED COMMERCIAL BANKS

Individuals and these collapsed banks must engage the general public to explain their role.

Some of these have been accused of criminal conduct by the BOG.

Yes, the affected banks have their licenses revoked but in law they're still registered and in PR their respective brand images still exist.

There is an urgent need to spend an appropriate amount of resources on crisis management.

It doesn't have to be expensive; there're many media houses and journalists dying for exclusive interviews at this stage. With the right PR expertise, you can salvage your image.

ACCOUNTING AND AUDIT FIRMS

The accounting and auditing firms which have handled these institutions up to the present have suffered a serious credibility crisis.

They too must seek every opportunity to explain to investors and the general public what their role has been and what advice they have been giving so far.

MARKETING, ADVERTISING AND PUBLIC RELATIONS AGENCIES

The marketing, advertising and public relations agencies that have handled the publicity and image of these banks have suffered collateral damage.

The brands they sold to the public are going down together with them.
The professional associations of the individual actors, as well as their umbrella bodies, must come clean on what their ethical principles are.

EXISTING BANKS

The existing banks must also spend some resources and effort to assure investors, customers and the general public of the measures they are putting in place to avoid any crisis.

It is not enough just to be in the good books of Bank of Ghana.

The same Bank of Ghana has told us that some banks obtained their licenses fraudulently.

CRISIS MANAGEMENT STRATEGY; TRUTH AND INTEGRITY

Some affected persons and banks have publicly accused the Bank of Ghana of treating them unfairly.

Whatever the issues are, these public engagements must be done with the moral and intellectual compass that communicate truth, integrity and sound logic.

The integrity compass details the systems and procedures that have been laid down.

All the institutions involved should tell us if they followed due process and if not, why.

PR practitioners must take inspiration from the violinists in the Titanic movie, and keep playing to the end; they must stay on course.

Shylock with a knife demanding his pound of flesh from Antonio. Portia showed mercy. Photograph courtesy of shaltzshakespearereview.com

The theatre provides some important insights into our current situation and also a possible course of action.
Shakespeare's Merchant of Venice could prove an important resource.

In the play, the plot begins with a conflict when bank customers (Bassanio and Antonio) are in desperate need of a short-term loan.

The bank (Shylock) knowing how desperate the situation was, decided to sport with their feelings by charging cut throat interest rates and imposing further harsh conditions on the loan.

The climax is reached when the customers default on their loans because business did not turn out as expected.

The resolution came when Shylock begged for mercy.

Portia led the people of Venice to grant Shylock mercy under certain conditions of performance.

Individuals and institutions affected in this scandal should admit their shortcomings to the public and seek understanding, cooperation and mercy.

They are assured of receiving mercy, for, 'the quality of mercy is not strained' in the Ghanaian.

Some aspects of this crisis may well turn out to be a comedy, just as the Merchant of Venice.

For example, some of the banks are owed monies by state institutions. Some individuals may be exonerated.

Cash flowing in from some debtors may change the affected banks' fortunes.

As for the tools to use in pleading for mercy- whether press conferences, lobbying, live and recorded interviews, press releases, advocacy and the rest- PR practitioners already know what works best for them.

They should rally quickly and get back to work; this is crisis management!