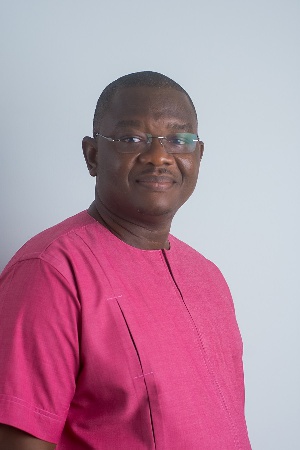 Sylvester Adinam Mensah received many international and local awards and he was often invited as an international resource person to many international conferences in Europe, America, Africa and Asia.
He was a key resource person for the African Development Bank and delivered technical papers in Zambia and Tunisia.

IMANI Ghana elected and awarded him the Best Public Sector Chief Executive in Ghana for the year 2014. He was subsequently elevated and reassigned the following year to the office of the President as a Presidential Staffer.

Even the NPP on assuming office in 2017 invited him as a key resource person to a high-level stakeholder conference on Health and Health Insurance. A formal letter of invitation was signed by the current Minister of Health.

The evidence is available but the General Secretary and Former National chairman of the NDC who granted him permission to attend can testify to this.

Efforts from within to destroy him because of his rapid rise to international fame and unequalled performance failed.

Truth is, he achieved so much as NHIA boss and acknowledged both locally and internationally to the obvious envy of some of his own party colleagues in government who expressed their hatred the way they did for their self-centered purposes. Some who have future leadership ambition felt threatened by his calm and focused demeanour.

Under his leadership at NHIA, he:
1. Changed the vision and mission of the scheme to align with the law and the desired future image of the scheme;

2. Initiated and ensured the replacement of the then exiting enabling Act, Act 650 of 2003 with the current Act 852 of 2012 as the new law to establish a unitary scheme and improve administrative and operational challenges as well as ensure greater efficiency;

3. Introduced Clinical audit regime and a quality assurance directorate as an integral function of the NHIA to reduce abuse and fraud; and to place Ghana's scheme above many others in Africa, Asia, Europe and the Americas;

4. Replaced the use of the 2 barcode manual ID cards which, took up to 9 months for subscribers to secure their ID cards after registration with an instant biometric ID cards regime with security features that prevent abuse and fraud;

5. Built regional offices in all ten regions to reduce huge rent payments now and into the future; thereby reducing cost for the scheme;

6. Constructed the most inexpensive head office complex to save the scheme from paying in excess of GHC1 million a month for rent. What the scheme would have otherwise paid as rent from then to date would have been 3 to 4 times the cost of the headquarters complex; a cost-saving strategy;

7. Introduced the auditing of all district schemes across the country for the first time in 2011 and changed the law to cloth the Authority with the power to authorize the random and planned auditing to reduce the high level of abuse;
8. Introduced a consolidated account regime for all subscriber premiums and fees across the country to be lodged as a financial efficiency measure and an accountability regime that could be monitored from the headquarters;

9. Established an HR, M&E, Procurement and internal audit directorates consistent with international best practices for greater efficiency;

10. Introduced the concept of measuring Active membership, consistent with international best practice as a key performance indicator;

11. Introduced the concept of measuring Subscriber utilization, consistent with international best practice as another key performance indicator for objectively measuring performance. It is refreshing both are still in use to date; and,

12. Established a call center to allow subscribers to log complaints of challenges in accessing healthcare to inform management decisions.

Are you aware Sylvester Adinam Mensah took a pay cut as Chief Executive of the NHIA?

Talking to the then Deputy Chief Executive responsible for Finance and Fund Management was insightful.
Are you aware he refused to accept the purchase of an official car for him in his second term and opted for a private loan to buy the car intended for his official use?

There is more the public needs to know about this gem, a true cadre and fine gentleman for NDC leadership.

A very senior NPP government official told me in private that about four (4) other officials at the NHIA Head Office had their accounts unreasonably frozen under the NDC government to give a false impression of impropriety against the former Chief Executive but their investigations recommended an instant de-freeze of those accounts which, had wickedly remained frozen when the NDC left office. Is that not instructive?

What they don't know is that by trying to destroy their own, they gave their opponents the opportunity to pull them from behind the power steering.

The reason I decided to do this revelation is that an NPP supporter on Facebook called such a noble man who has contributed so much to his party and country a thief who destroyed NHIA and when I confronted him he told me that his own NDC people are those responsible for what he thinks of him.

I hope John Mahama has learnt his lessons right. Not all who report their colleagues and government functionaries mean well. Some are vicious people who are in search of nothing but their selfish parochial interest.

From the First to the Fourth Republic, party members have written letters to presidents reporting their colleagues and requesting that they are investigated for various reasons some of which, are out of sheer jealousy, envy and hatred.
I honestly think Sylvester Adinam Mensah suffered that. And, now that the truth is out, everybody is quiet about it.

Be measured in your hatred for those seeking leadership in your party, NDC.

One can understand why despite the evil wishes of NDC apologists Sly remains untouchable - not by an NDC government nor NPP.

Adore your heroes. Don't destroy them.

Email: presidentablorh@gmail.com