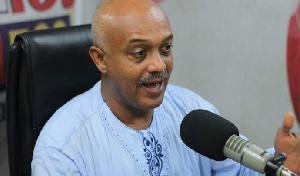 We must take a critical look at how we all engage in this fight to move away from aid dependency and stand our ground, on our own two feet, beneath which we have more resources than Noah ever gathered in his biblical ark as he weaved to Mount Ararat.
Somewhere between the banks and the likes of BOST, we signal doom to everything this country needs and is trying to achieve on the long road to financial independence.

I cannot accept that banks in this country can only offer service at the kind of ridiculous rates they charge and that institutions can continue raping the public purse in torrents of brazen fraud and theft in whatever form they can conjure.

I took the following extract from Citifm website during the week and need to share this gang rape with you all.

The average interest rate for vehicle loans among commercial banks for August increased to 32.9 percent as against the 31.1 percent recorded in July 2017, the Bank of Ghana's latest Annual Percentage Rates (APR) and Average Interest (AI) report has revealed.

The APR and AI report shows that Unibank still offers the highest rate on vehicle loans. Its rate stood at 41.7 percent; up from the 39.8 percent it recorded in July 2017.

Premium Bank, HFC Bank and the Royal Bank follow closely at the second and third positions with interests on vehicle loans between 35.9 and 35.5 percent.
Meanwhile, the fourth and fifth highest are offered by Omni Bank and Barclays Bank with interest on car loans at 34.4 and 34.2-38.5 percent.

Following closely at the sixth, seventh and eighth positions are Cal Bank, Ecobank, Prudential Bank and Energy Bank. Their interest on car loans stands at 34.1, 33.6 and 33.3 percent.

At the ninth and tenth positions are the United Bank for Africa and GN Bank with their interest on car loans pegged at 33.1 and 32.0 percent.

The eleventh, twelfth and thirteenth positions are occupied by ADB Bank, GCB Bank and BSIC. They offer interest on car loans at 31.8, 30.7 and 30.3 percent.

At the fourteenth position is Zenith Bank with a 30.1 percentage of interest on car loans.

Stanbic Bank and Bank of Baroda occupy the fifteenth and sixteenth positions.
You cannot run a profitable business when rates are this high. How do the banks realistically expect any business to survive with this? They cannot manage if it were not for playing on the ignorance and desperation of SME business.

At this level they will purposefully destroy the government turnaround and render our hope to even sell cocoa and gold a total waste of effort, let alone bauxite or even tomatoes.

And I borrow further from some questions a friend asked me on this very issue.

How can any business survive on 30+% interest for long term capital and then for working capital?

What's their gross margin? >50%??? And, Is this sustainable?

Then you have the forex issue of cedi depreciation – most businesses import most of their raw material to process or finished goods to trade; most businesses working cycle is 3-6 months – depreciation within that period used to be 5-10%. That erodes your margin further, and that's why things are so expensive in Ghana at least 1.75-2x the Origin country FOB price; just check from the traders that go to China or second-hand parts dealers!!!.
80% of people who take loans for business will default if not in the first cycle then sooner or later.

Most loans on banks books should be classified as bad but remain classified good – maybe a lax Regulator?

Most loans should be classified as Term Loans but Overdrafts are given which are renewed daily so this may miss the scrutiny by the Banking Supervision Department.

Banks need to start doing good credit analysis and stop the greed in booking loans just for the sake of meeting target; they need to have underwriting standards – a guide on what they will do or not do i.e. Sectors, tenors , credit ratings etc, etc

They must be wary of taking over a new client's loan from another bank.

Another thing is that there is a lot of multiple banking of a client and these banks do not have an inter creditor agreement and most times they do not know the extent of their clients exposure to these other banks nor do they know the payment history of these clients; they are just happy to have the client mainly due to the sales targets set and the lax risk management practices.
And I can go on ad nauseum, but what is the point?

Banks really have no vested interest in this economy. There is an opportunity to cream super profits while we are all still reeling from massive fraud and theft and theirs is no different. Just more brands doing what is easy to get away with.

And so BOST and others get away with theirs too. Who lays an oil pipeline, pays for it in full and never uses it? Who builds barges to transport fuel from the south to north in Ghana and never once carries a litre of oil?

And isn't it sad irony that the bank with the highest rates is owned by a former minister of finance, once governor of the central bank?

This is why it probably won't matter who runs this country. The vultures are permanently poised to win as they feed on rotten economic fodder.

By: Sydney Casely-Hayford